'Soviet Jump Game' Devs Discuss the Story of Their Retro Battle Royale
The battle royale genre rose to popularity with the release of PlayerUnknown's Battlegrounds in 2017, and it has since spawned a revolution both in mechanics and in game type. What started out as a mode built primarily for first-person shooters now has puzzle games and platformers to its name. The latest among these is Soviet Jump Game, a title that launched in Steam early access earlier this year and recently made its free, public debut.
In the days after launch, Newsweek spoke with the game's developers at Fantastic Passion and Publishers at Game Grumps to discuss what separates their pixelated, precise platformer from other offerings in this very crowded space.
Soviet Jump Origins
The story of Soviet Jump Game began in early 2019 as a joke from the game's would-be Director and Level Designer, Thom Glunt, who believed the battle royale genre had effectively spread its wings beyond what was feasible. He chuckled at the possibility of a battle royale platformer and Tetris game, and was surprised by the sudden smash-hit release of Tetris 99 on Nintendo Switch.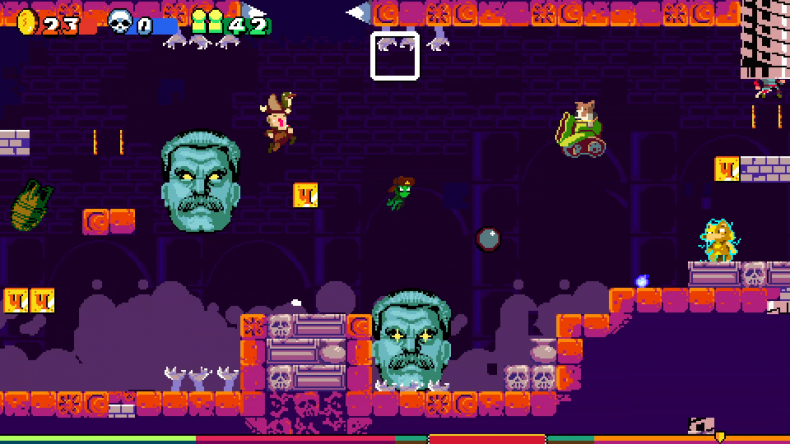 "I'm like, this joke I had actually has legs," Glunt recalled. "This is a good f**king game. So I said, what does a 2D platformer battle royale look like, just as a fun thought experiment. I started designing it out on paper, thinking about how the circle handled. What's the lobby look like? How does the gameplay feel? And as I was just having fun developing this, it became very clear that I would actually play this game."
That retro-fueled concept, though, needed a throwback narrative. For inspiration, Glunt and his team looked no further than the golden age of 2D platformers, the 1980s. And, what could be more synonymous with '80s culture than discussion and speculation about the Soviet Union? Acknowledging that the choice of humor could be divisive, Glunt said, "It made us laugh the hardest. We could switch it to anything else, but the fact that this idea was what was giving us that little flame, that little fire, it's like, 'OK, let's not overanalyze it.'"
And so, the idea of a large-lobby game in which Russian electricians fight for supremacy among their workforce was born. Amid the moment-to-moment action of collecting power-ups, jumping across pits and avoiding a shrinking map, statues of Stalin were installed across its biomes, and Fabergé eggs stood in for end of match loot boxes. Perhaps most critically, it reinforced an aesthetic inspired by Russia's version of the Nintendo, the Dendy.
With this basic idea in mind, Glunt approached the YouTubers and game developers at Game Grumps for a pitch. "I thought the idea of making a 2D platformer battle royale was genius, and why hadn't anyone done it before. And the aesthetic completely appealed to me as a 30-something who grew up playing NES games," Game Grumps co-founder Arin Hanson said of that initial discussion.
But, even though his company would be in charge of funding and directing Soviet Jump Game, Hanson kept his distance in the creative process despite offering regular input.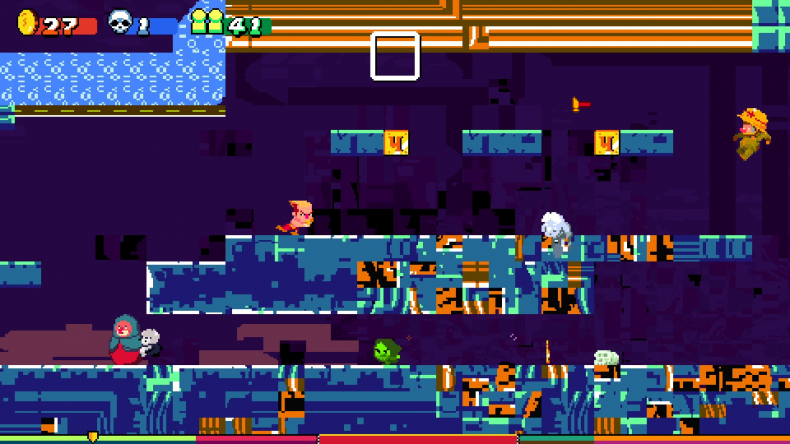 "Being a cartoonist myself, who came up doing cartoons and doing graphics for games before Game Grumps, I sort of understood the value of feeling trusted by the person that's putting me in a position where I can create something for them," Hanson explained. "Because I always feel like too many cooks in the kitchen is bad, and also this is a vision." True to that style, Hanson also declined to personally attribute anything in Soviet Jump Game exclusively to his own comedic stylings. "It was a collaboration," he insisted. "We sat in that room, we all laughed at the same jokes. Who knows who came up with what?"
Project approved, it was up to Glunt and the rest of Fantastic Passion to continue developing a game that was originally more inspired by existing battle royales than it would eventually become. Taking cue from the likes of PUBG, combatants previously had to quickly loot the play area in order to grow big to deflect initial hits. Pit deaths were also too challenging, which forced developers to rethink their strategy.
"At that point, we kind of pivoted the design into interesting elements that can keep you in the match for at least two to three minutes if you're a competent player. And that means starting big so that people are more bold early on, kind of eliminating any type of heavy looting mechanics and just keeping it barebones and simple," Glunt described.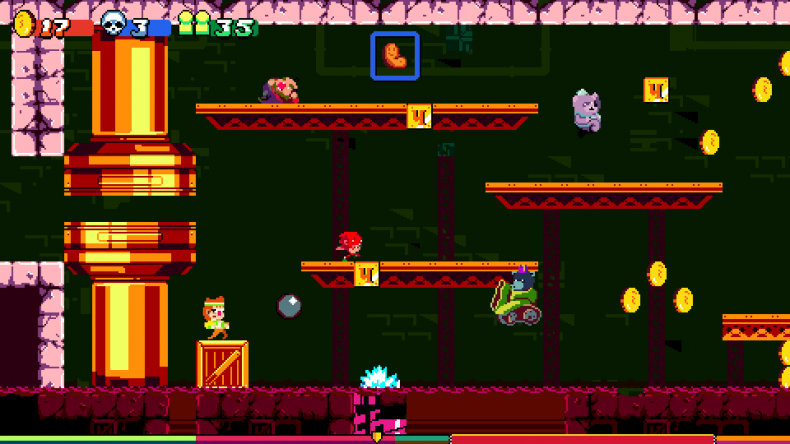 Perhaps the biggest creative risk and inspiration for the vision came after abandoning the genre's staple lobbies of 100 players in favor of something smaller.
"The game was originally 100 players and the map was twice as big," revealed Game Grumps development lead, Greg Batha. "And for both networking reasons and just gameplay reasons, we found that that was actually not that fun."
By cutting lobby sizes in half to 50 players, the early access post-release candidate for Soviet Jump Game was solidified: a short-burst experience where players start powerfully but could use power-ups to gain an additional edge to be the last surviving shock worker on a progressively shrinking map.
The Comeback Comrade
Moving forward into promotion, Hanson and the larger Game Grumps collective started secretly teasing Soviet Jump Game, starting with a playthrough of select Dendy titles on the main Game Grumps YouTube channel. This campaign later evolved into a mockumentary designed to flesh out the title's existing lore as "the first-ever battle royale" made for an obscure console. In a 15-minute clip called "Lost piece of gaming history UNCOVERED," Hanson receives a text from a friend who mentions the supposed existence of a Dendy ethernet adapter. This finding leads Hanson to discover "Spot-On Jumping Friends," that, when refigured, essentially becomes Soviet Jump Game.
For some both inside and outside the Game Grumps community, however, the video was maybe a little too real and incited further investigation. The fervor even prompted a comment from Video Game History Foundation Founder Frank Cifaldi, who pleaded on Twitter, "please stop asking me about the fake Dendy game."
Given that "Spot-On Jumping Friends" wasn't a genuine Dendy product, some of Hanson's harshest critics accused Game Grumps of false advertising. To those inside, however, creating controversy wasn't the desired effect.
"It certainly wasn't exactly what we wanted, right? But at the same time, I think it was fun," Hanson admitted. "I think the people who engaged in the way that we wanted did very strongly. It ended up, I think, building a very dedicated core fan base. And it was just entertaining and interesting and weird and it got people talking. So I think in that way it was successful."
He continued, saying, "And in terms of if I would do something like that differently, I don't know, because so much of the core concept behind what this game was sort of lent itself to that ARG. It was very intertwined with the narrative of what this game was. So if we did another ARG for something like that, it would also be very organic and very inspired in that way."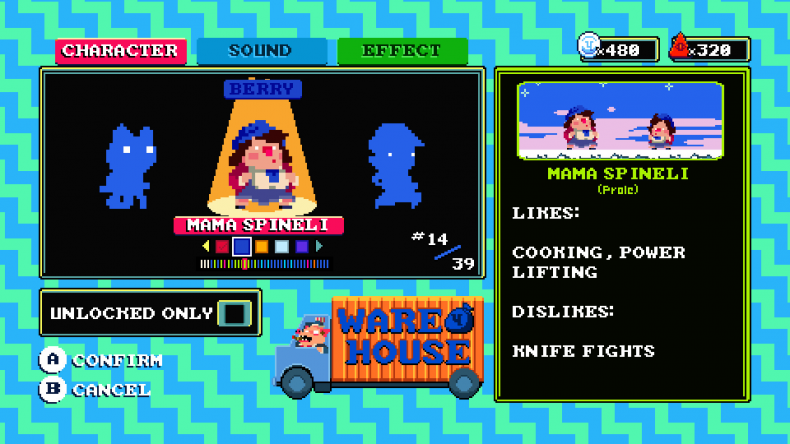 With that impassioned community, Soviet Jump Game entered early access in January of this year, as what Glunt calls "a battle royale that fits in your life around everything else that you're playing." Batha furthered this notion, adding, "Soviet Jump Game isn't the thing you went to the grocery store to get, but it's the candy bar that you got at the checkout aisle on your way out."
But, in order to make the idea work, Glunt and his developers knew letting a large group of gamers test things first would offer the best results.
"I think that having something out into the public and having people interacting with it, you tend to get different points of view, different ideas that we don't have. So there've been little ideas here or there that have just really went like, 'How did we miss that? That seems so obvious, of course, that's the game,'" Glunt recalled. "So it's not just the technical side. I think that having a fanbase as creative as the Game Grumps fanbase, when they come to the game and they start playing it, we've been able to really elevate what we've been doing."
So, now that Soviet Jump Game is out of early access and in the wider Steam marketplace, the hope is that players get the most polished and refined version of that original vision. Like many battle royales, though, Fantastic Passion doesn't intend to stop with the game players see today. Developers told us there are plans for new maps, characters and gameplay elements in the works, but how those come to fruition depends on how active the audience is.
Proud of his team's creation, Hanson hopes as many people as possible experience what the retro-inspired battle royale has to offer. "I feel like the underrated part of it is just that it's a really fun game, and just give it a shot. That was sort of [what] the aim was [for] making it free was, so there's no reason not to give it a shot. It's free, just download it. It's the smallest download in the world, but it packs such a huge punch," the Game Grumps founder assured. With almost no barrier to entry, will you take the plunge to be the best shock worker in the union?
Soviet Jump Game is available now on PC.
What do you think of Soviet Jump Game so far? Does a platformer battle royale actually make sense? Tell us in the comments section!