To Sow Seeds of Peace, One Camp Puts Teens Face-to-Face With Their 'Enemy'
In a remote part of Maine shrouded by trees, 14- and 15-year-olds from the Middle East, Asia, Europe and the U.S, many of whom have long considered one another "the enemy," spend three weeks side-by-side united by one goal: to open their minds and their ears. At the Seeds of Peace camp, the teens eat, interact and engage in dialogue with people from countries some of them are banned from visiting.
While it may be a "summer camp," Executive Director Leslie Adelson Lewin said it isn't about s'mores and campfire sing-alongs. It's about being a catalyst to global change. Campers agree.
"I do really want to see where she comes from and meet her family and sleepover on her couch. Those little things that friends can do because they're friends," Habeeba, a 22-year-old Egyptian, told Newsweek. But those simple bonding moments so many people take for granted aren't possible solely because her friend, 22-year-old Adaya, is Israeli.
In public, Seeds of Peace campers are identified by only their first names because, for some, the release of their full identity could put them in danger.
Blossoming out of emails about ordinary teenage girl topics like crushes on boys, Adaya and Habeeba's seven-year friendship began when they were bunkmates at Seeds of Peace. Their relationship has defied discourse, stereotypes and distance, but without the camp, their nationalities would have likely kept them from meeting.
"I walked into camp with a lot of hatred and lack of understanding and respect," Habeeba told Newsweek. "I wanted to prove a point and walk away. I wasn't looking to listen or learn."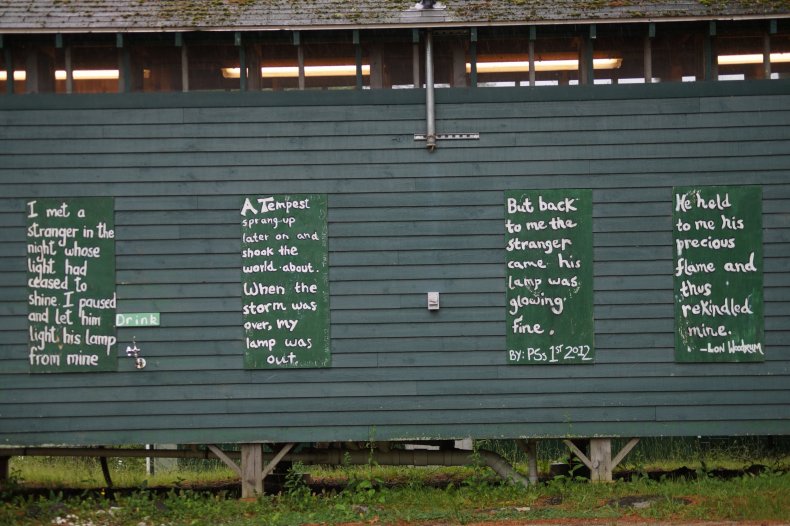 Growing up in Cairo, her immersion in the Middle Eastern conflict began a year before she attended Seeds of Peace. When she told her parents she wanted to go, they had starkly different ideas about it. Her father was all for her having this new experience, but on principle, her mother declared it was unacceptable to have a conversation with an Israeli.
At the same time, 460 miles away, Adaya was preparing to attend Seeds of Peace, a program she learned about from her mother. Feeling lucky that both of her parents were supportive of her attending the camp, Adaya acknowledged that at 14, she'd encountered only a small taste of the conflict.
Unlike her peers growing up on the bordering Palestinian side, Adaya said her town, located in northern Israel, was very peaceful, so war wasn't part of her daily discourse. Adaya may not have had the strong opinions Habeeba came to Seeds of Peace with, but she was still apprehensive about sleeping in a room with girls from places she'd known as "enemy countries."
Broken up into groups of about 15, campers aren't only asked to share their own narrative. It's also time spent listening and engaging in conversations with people whose opinions are often contrasting and even offensive. A milestone, Lewin noted, their parents, teachers and world leaders aren't able to reach.
"It's a gift to be able to engage and to learn and to speak and to listen with people of such diverse backgrounds, with people who you wouldn't otherwise have the chance to engage with in any sort of positive environment. That doesn't make it easy. What we're asking them to do is extremely courageous because for some of them it comes with very real risks," Lewin said.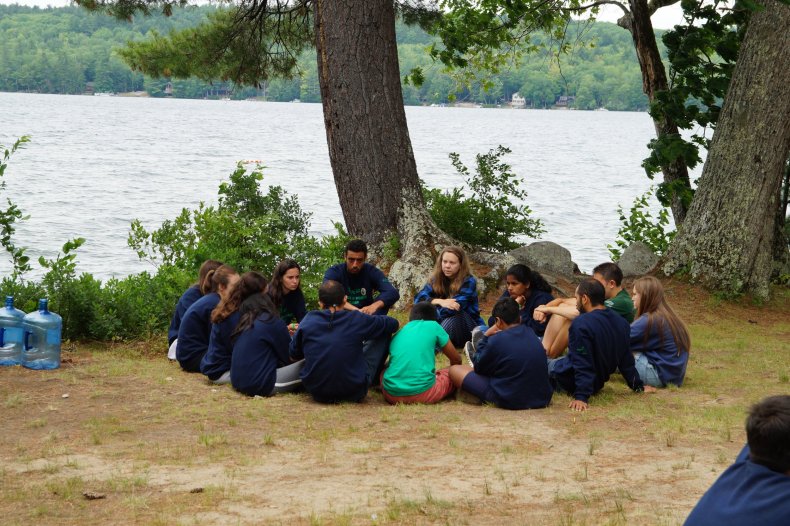 Some campers like Adaya and Habeeba can freely come to camp, but for others in the Middle East, it's an experience that has to be kept secret. No one can know they're attending camp, and a Seeds of Peace T-shirt finding its way into their suitcases could jeopardize the lives of the campers and their families.
Campers being unable to share stories about what they did and learned over the summer when they return home saddens Lewin, but she conceded that it's also exactly why Seeds of Peace exists.
"I think that speaks to the realness and the power of this program—the fact that you have so many young people that are choosing to be here despite the fact that in their communities this is very unpopular [and dangerous] work," she said.
Seeds of Peace isn't looking for teenagers to have one definitive experience, so dialogue sessions take on a loose structure, giving them the space and time to explore the complexity of their worlds. Moderators are in the session and rules have been established to help foster productive dialogue.
Habeeba grappled with being able to vocalize how she felt in a constructive way. Across the camp, Adaya, whose uncle was killed serving in the military, found her own beliefs about the Israeli Defense Force (IDF) being tested.
"When I was 14, that was really hard," Adaya said. "I couldn't figure out what was right and what was wrong because I was hearing these stories [from other campers] that sounded crazy to me, but then I knew from my family that soldiers were heroes."
Given the sensitive nature of the dialogue, Seeds of Peace purposefully keeps teenagers in discussion groups separate from those who are at a camper's table for meals or in their bunk. Interactions between members of a discussion group aren't limited to conversations, though. They're also placed together for a physical group challenge.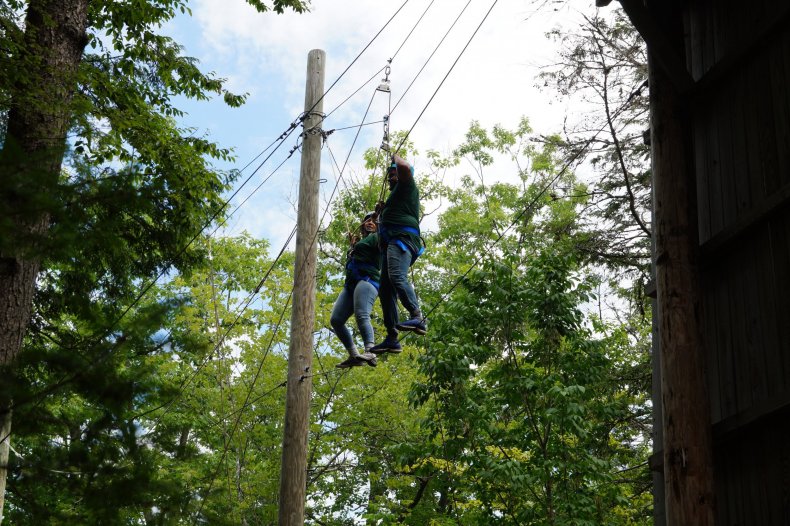 Habeeba found herself paired with the Israeli, who in dialogue group was so vocal and resolute, she couldn't establish one piece of common ground. Blindfolded, she had a single choice: to depend on someone she couldn't trust or risk falling. As he guided her through each step of the course, she felt a shift in herself, finding an ability to care about a person she never imagined was possible.
"He is just as human as me. He's also 14 or 15. I am him and he is me," she realized. "Up on the high ropes, I didn't care that he was Israeli and that I disagreed with him; I cared that we wouldn't fall."
At the same time Habeeba was tackling the ropes course, Adaya, who admitted to hating group challenge, was learning the same lesson as her bunkmate. Unlike other activities—like art class, when she could choose to sit next to someone else—when it came to rock climbing, there was no running away from the person you disagreed with.
"I obviously had to hold their hand if I wanted to move up," she explained. "It wasn't immediately melting away animosity; it was addressing it. It was hard, and I didn't like it."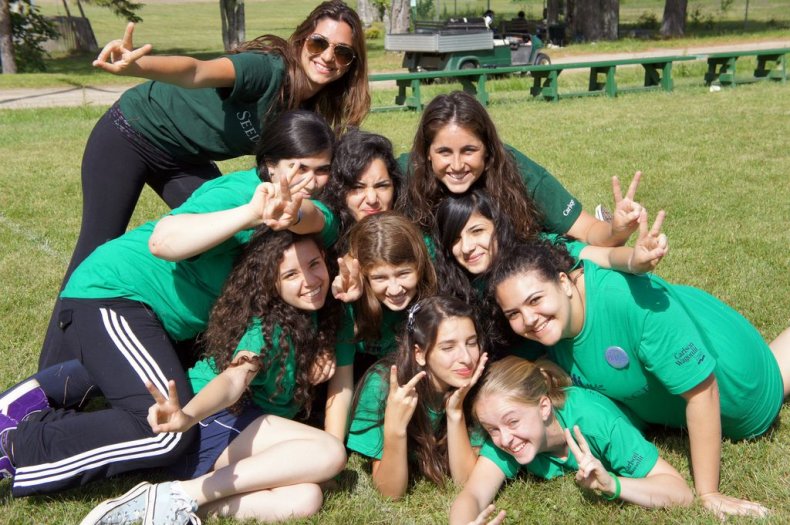 After just three weeks at Seeds of Peace, the trajectory of Habeeba and Adaya's lives and who they would grow to be changed forever. One email led to another, which led to returning to camp together two more times, including once as counselors.
"Seeing the humanity in people is something that I was not able to do before camp," Habeeba explained. "I'm now able to acknowledge that [these] people are humans too; they aren't just these masks that we grow up thinking that they are."
A friendship that people around the world believe shouldn't exist is rooted in the staunch confidence that every word, every action is done out of love and with good intentions. There's no water at Seeds of Peace that magically transforms campers from ordinary 14- and 15-year-olds into sages bound to change the world.
What Seeds of Peace does have are the tools needed for these teenagers to break out of a world that wants to force people into one ideological box. It's up to campers to challenge themselves to reach a place of understanding and the journey after Seeds of Peace isn't always easy.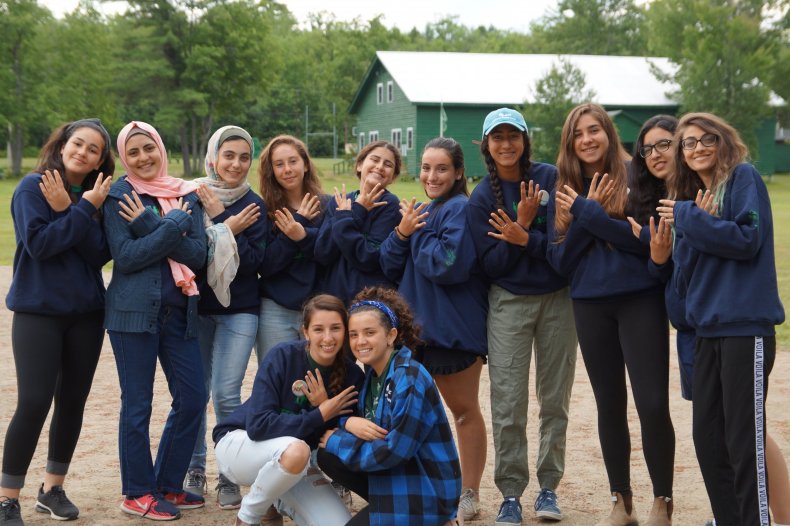 For Adaya and Habeeba, one of those challenging moments came about three years after they first met at camp when Adaya enlisted in the IDF.
Adaya believed that to have a strong, respected voice in her country during both times of praise and criticism she had to serve her nation. Adaya and Habeeba had lengthy discussions to prepare their friendship for her service, but, when a photo of her friend, dressed in her military uniform, appeared on Habeeba's Facebook feed, it struck an uncomfortable chord.
It would have been easier for her to let the feeling fester or to cut Adaya out of her life. It would have been easier to unleash her emotional wrath in the comments section below the photo. Instead, she went to Adaya directly with an email.
"It's about us and our relationship, so we write to each other privately," Adaya explained. "That's the difference."
She didn't get defensive that Habeeba was uncomfortable. She was glad because it gave her the opportunity to share what was going on in her life beyond what the photo showed.
The photo hadn't changed Adaya. She was still the same person who had always loved, supported and cared for Habeeba. But, it took a conversation for Habeeba to see that through her emotional cloud. A sight she may have missed had she just rattled off her feelings in a comment for everyone to see.
"If I post in public, it's not inviting Adaya into a conversation. It's me inviting everyone who sees that comment into a conversation," Habeeba said. "Not everyone on either of our Facebook pages would be understanding of that conversation if they had seen it."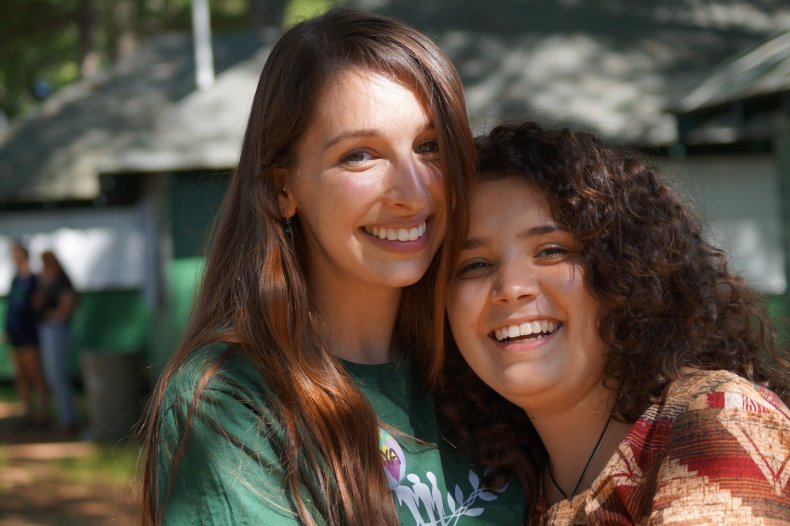 For some, Facebook serves as a gateway to the rest of the world. For others, it's a way to close the door on dissenting opinions, a choice the two women can't fathom.
Adaya said it would be impossible to engage every person who holds a contrary opinion in a life-changing discussion. But, to not even be able to see that opinion? It's something she called "pretty unhealthy."
"I connected it to the culture that seems to be growing in the United States in universities today of needing a safe space and being triggered very easily," Adaya said. "If you're not able to engage someone that you disagree with, how are you going to grow? You have to challenge yourself from different directions in order to know that your opinion stands."
A friendship between an Egyptian and Israeli may paint a pretty picture, but it takes a back seat to the humble, yet more important skill Seeds of Peace has given them.
"Seeds helps you facilitate a really good conversation with yourself and that's something that can't be born out of nothing," Adaya explained. "The ability to ask myself why I do the things I do, why I think the things I think and where I'm getting my information from."
​