Space Ace Frehley in a Groove Exploring Musical Origins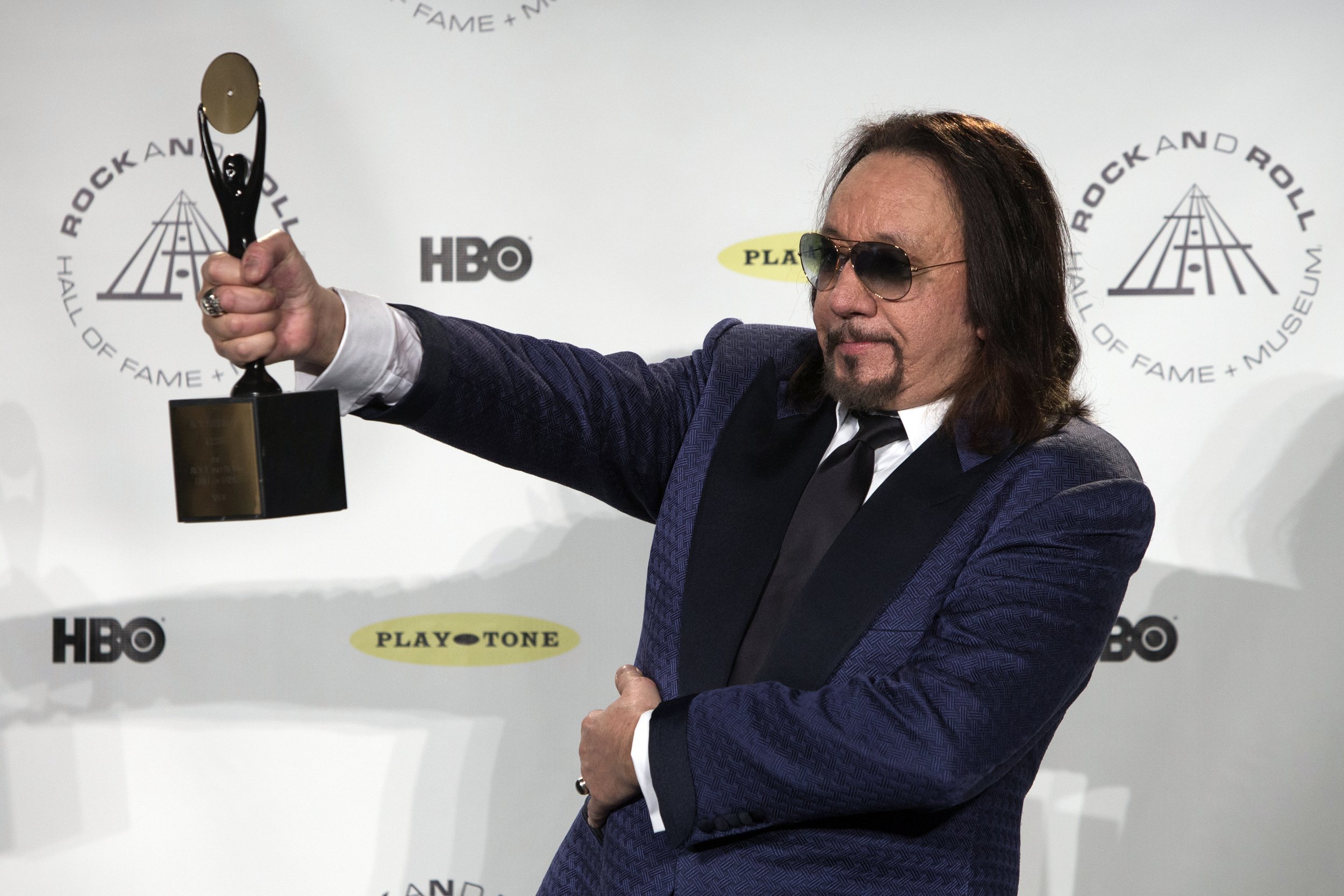 Ace Frehley has had a far-reaching influence on hard rock. The late Dimebag Darrell of Pantera had the former Kiss guitarist's face tattooed on his chest, and today, Eagles of Death Metal frontman Jesse Hughes sports a lightning bolt guitar strap similar to Frehley's. That's not to mention the countless ax-slingers who continue to gain tons of inspiration from Frehley's fiery solos on songs like "Rock and Roll All Night," "Detroit Rock City" and "Shock Me" (the first Kiss song Frehley sang lead vocals on).
In the '70s, while sporting his iconic spaceman costume—a persona arguably more intriguing than bandmate Gene Simmons's Kabuki monster—Frehley helped Kiss become, as the announcer proclaims on 1975's concert double album Alive!, "the hottest band in the land." He performed on all of the group's platinum-selling albums, including Destroyer and Love Gun, before leaving in 1982, when tensions and his own addictions got in the way.
But when he was still in Kiss, Frehley also proved to be a talented solo artist with his 1978 eponymous album, the most critically acclaimed and highest charting of the four Kiss solo albums released that year. It featured his famous Top 20 single "New York Groove."
"It was a turning point in my career," he tells Newsweek. "We had all decided to go off and do our own records at that point. Nobody knew what anybody else was doing, and I guess there was competition, healthy competition, unhealthy competition [laughs], whatever you wanna say. But I was really lucky. I really put everything I had into that record, and it turned out to be the most popular one of the four."
Frehley's solo career has continued to flourish. Last month, he released Origins Vol. 1, a collection of cover tunes that pays tribute to the legendary guitarists and groups who inspired him to launch his own musical voyage, including Jimi Hendrix ("Spanish Castle Magic"), Led Zeppelin ("Bring It on Home") and Cream ("White Room"). On Thin Lizzy's "Emerald," Frehley and his buddy Slash trade leads; on the Troggs' "Wild Thing," Lita Ford sings and plays lead.
And on Free's "Fire and Water," Frehley collaborates with his former Kiss bandmate Paul Stanley. Some Kiss songs also show up on Origins Vol. 1, including "Parasite" and "Cold Gin." Only this time, Frehley finally got his chance to sing on them.
What inspired you to do a covers album?
The album consists of nine covers, and all those are pretty much covers of groups I grew up with, and influenced me and influenced my guitar playing, and the other three tracks are Kiss remakes, "Cold Gin," "Parasite" and "Rock n Roll Hell"—I didn't sing lead on the original tracks so I'm giving the fans a chance to hear what they would sound like with me singing lead on them and playing guitar.
Looking back, did you want to sing those songs originally?
I wrote "Parasite and I wrote "Cold Gin," but at the time, it was early on in my career. I really didn't consider myself a strong lead vocalist. It took me a while to develop, and get enough nerve to compete against Paul [Stanley], Gene [Simmons] and Peter [Criss]. who were established lead vocalists.
Then finally, you sang lead vocals on the Kiss song "Shock Me," from 1977's Love Gun ? What was that like in terms of confidence building. Anything to recall about nailing the vocals for that?
I was a little apprehensive at first but once I performed it live at Madison Square Garden, I didn't lack any more confidence after that. And obviously, down the road I wanted to do more and more. And that's what happened.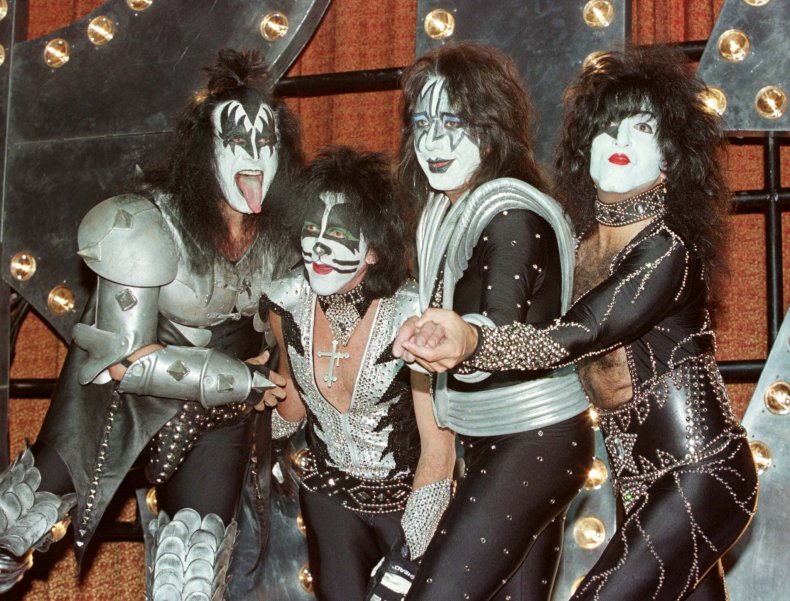 What was it like bringing Paul Stanley aboard for "Fire and Water" on the new solo album?
It was great. I called Paul a couple months ago and told him about the project. Our biggest problem was—and he was excited about it from the outset—was figuring out what song to do. We kicked around a Clapton, we were thinking about doing a Who song, and then finally, we go toward the deadline, and I came up with the idea to do "Fire and Water" by Free. And we just knocked it out over a weekend, and I'm thrilled with the end result.
Anything to say about how you combined your lead guitar work with Paul's rhythm guitar during your Kiss years?
I always tried to complement Paul's rhythm guitar. I use to always play inversions, an octave of what he was playing, and that gave us a nice thick sound. Me and Paul always worked well off each other. In the beginning, it was that collective thought that really made everything happen. The chemistry was very special.
On your new album, Slash plays on "Emerald" by Thin Lizzy with you. What was so appealing about Thin Lizzy's guitar work, their two-guitarist approach, that might have influenced your playing?
Well, I always thought Thin Lizzy and those two guitar players really worked well together. And I always loved that song "Emerald." When I tracked it, I had Slash in mind from day one. I thought me and him would be able to really take that track to another level. I had recorded some leads prior to getting him in the studio, and I was gonna have him fill in the holes, so it would be very expeditious for him to get in and out of the studio, I didn't want to take up too much of his time.
But during the process, he thought it was a little stagnant trying to play off stuff that I had already recorded. Slash looked at me and said, "Come on Ace, let's just do it live." So I plugged in, he plugged in, we were right next to each other, and we just knocked it off live.
How did recording in the studio with Kiss often work out?
It wasn't always the easiest thing for me, but somehow, some way, it all came together in the studio with the help of Eddie Kramer, Bob Ezrin and the [other] different producers we worked with over the years.
Which were your favorite Kiss tours?
The Destroyer and Love Gun tours. Those were two of our biggest tours. We had the amazing stage set, elevators going up, going down [he laughs]. It was like a rock 'n' roll circus. A once in a lifetime experience.
Anything particularly crazy to remember about the performances?
Well, I got electrocuted in Lakeland, Florida, one night, that kind of comes to mind [he laughs]. It was actually in the beginning of the show. I grounded out to the railing when I was trying to [walk on] the staircase, and I had burns on my hand. It kind of knocked me out for a minute. And it delayed the show about 10 minutes. Everybody started chanting my name. and my adrenaline started to kick in, and I ended up finishing the show.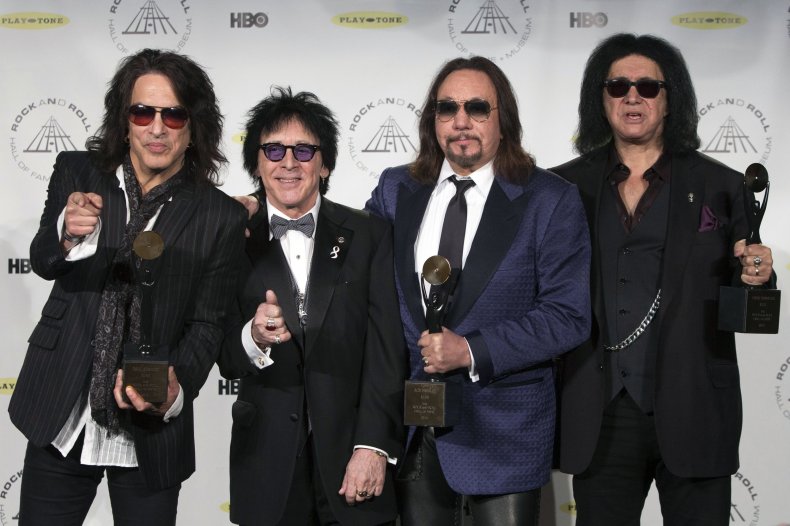 Your first solo album features "New York Groove." How does it touch upon your life as a musician and a person who is from the Bronx?
It was my highest charting single to date, and ironically, it wasn't a song that I immediately gravitated towards; in fact, I told my producer Eddie Kramer I wasn't that crazy about doing it because I didn't think it was indicative of the other songs on my record. But he pushed me and pushed me and said, "Ace, you gotta do this song," so we tracked it and just became magic, and now it's become a trademark and it's played at sporting events in New York and all sorts of things.
How did your spaceman persona come about?
I was always fascinated with science fiction and space travel, it was a natural extension of my personality. You know, Gene was always fascinated with horror films, he became the monster, so on and so forth. Every character we created was pretty much an alter ego of the person.
What are some of your favorite science fiction movies?
The Day the Earth Stood Still —they did a remake of it not that long ago with Keanu Reeves, I still like the original; Forbidden Planet, The Silent Earth, Invaders from Mars.
Some of the tracks on your new album are cover songs that features your favorite guitarists. Who would you say are your biggest influences?
I would have to say three: Eric Clapton, Jimmy Page and Hendrix.
How did Page influence you?
I saw Led Zeppelin's first New York appearance at the Fillmore East. They were opening up for Iron Butterfly. And they blew everybody away. That changed my life, and I studied everything he did from that point on.
What has been your favorite Ace Frehley solo album?
Probably my first one, with "New York Groove." It was a turning point in my career. We had all decided to go off and do our own records at that point. Nobody knew what anybody else was doing, and I guess there was competition, healthy competition, unhealthy competition [laughs], whatever you wanna say. But I was really lucky; I really put everything I had into that record, and it turned out to be the most popular one of the four.
What about that competition?
We all had big egos. And we were always trying to outdo each other. Trying to get in front of the camera. Trying to get the most press. Especially Gene, back in the early days. You couldn't get away from that tongue, ya know? [I laugh]. And that's normal in a band. Everybody tries to get the spotlight; sometimes you succeed, and sometimes you don't.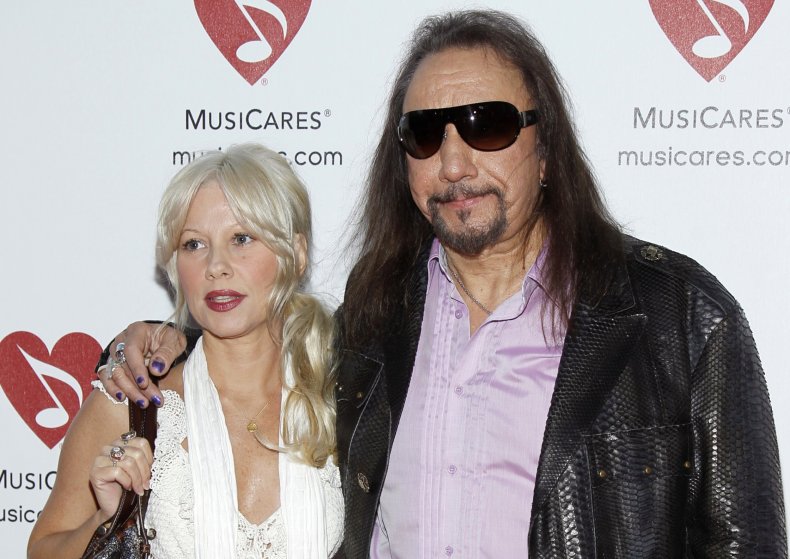 In Kiss, you had four guys who were stars in their own right.
Well, we were a very unique band. We had four lead singers, we had four very recognizable guys. Everybody knew Peter was the cat, everybody knew I was the spaceman, Gene was the monster, Paul was the star child. And there was no mixing 'em up—four distinct personalities.
How did the 1996 reunion tour, Kiss Alive Worldwide, turn out for you?
That was great. I was almost like time traveling. I remember the first show was in Detroit, at a sold-out stadium, and here I am in the same makeup, the same costume, playing the old songs, it was like time traveling.
What was it like being back onstage with Gene, Paul and Criss again?
It came back pretty naturally. I had been doing that for so many years, even though I had taken several years off; it was like riding a bicycle. You never forget how to do it.
On the new album, your rendition of "Cold Gin" features Mike McCready of Pearl Jam on guitar.
He played the first guitar solo. I've been friends with Mike for many years. I got up onstage with Pearl Jam here at Madison Square Garden, and did [the Kiss song'] "Black Diamond" with him. I also jammed with Pearl Jam in Atlantic City at the Borgota Casino. It was a natural extension for Mike to play on my record, so I was thrilled that he could do it.
Guitarist John 5 is also on the new album.
I got to know John 5 around the time we kicked off the reunion tour. And we've been good friends ever since. and kept in touch. And we've done a couple of charity events together. I had been wanting to get John 5 on the record, and he was available. The weekend I was up in the L.A., I got him and Lita Ford to perform on the record, and Paul [Stanley] did his vocal the same weekend in a different studio. And it all just came together rather rapidly.
Anything to say about coming up as a guitarist with Kiss, about those early days of gigging and carving out a niche with a band that had such a unique stage show and costumes?
We put out three albums and toured extensively and stlll hadn't become the big arena act that we are today, but our fourth album, the live record [Alive! ]— that kind of broke everything wide open. But there were several years where [he pauses]; we persevered, we didn't give up.
That live album is the kind of album that stands out on its own as just a great album, period, live or not.
The great thing about that album was that it was like a souvenir from our live show. It had the booklet, it was just a nice package, and everybody seemed to love it. It was on the Billboard charts for years, in the top 200 .
Would you say Kiss was, by nature, a live band ?
The answer to that is obvious. We were known as a live act, a spectacular spectacle that everybody wanted to see. I mean, sometimes I'd read reviews that talked more about the show than the music—you know, that used to bother me at times. Because for me it was always about the music first, and the show second. But being it as it may, you know, what we were doing was very special, for two hours you could come to a Kiss concert and forget about all your problems, and go into a world of fantasy.
Are you working on any new material?
Absolutely. My next album will be a studio album of original material. I don't have a release date. I'm probably going into the studio in the fall. or the end of the year. That will be happening down the road, probably 2017.
Any plans of collaborating with any of your former Kiss bandmates on that?
No plans of yet, but we'll keep you posted.