The Space Force commander removed from his post for claiming Marxism is invading the military is now a bestselling author. His self-published book, which touts the same theories that lead to his temporary reassignment, appeared at No. 1 on Amazon's Bestselling Books list on Monday.
Lieutenant Colonel Matthew Lohmeier's Irresistible Revolution: Marxism's Goal of Conquest & the Unmaking of the American Military debuted at No. 1 on Amazon's New Releases bestsellers, as well as topping its list of bestselling print books.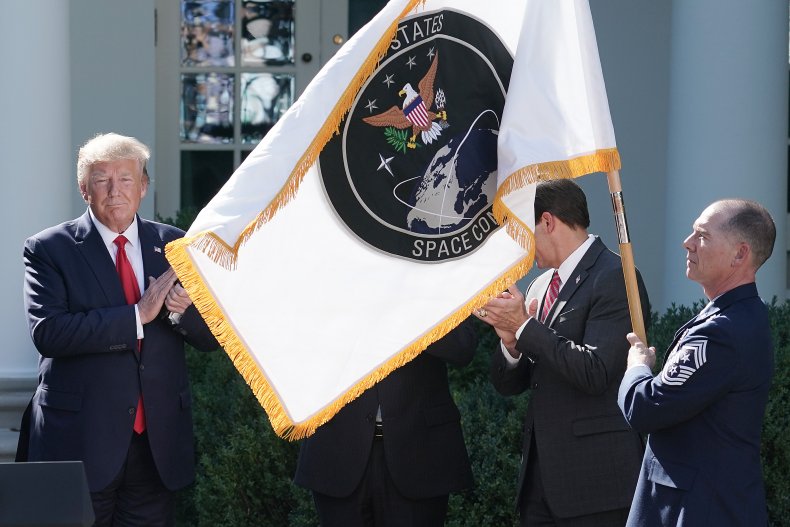 The military man-turned-author received criticism after appearing on the conservative podcast Information Operation last week. During that appearance, the then-commander of the 11th Space Warning Squadron at Buckley Air Force Base in Colorado told podcast host L. Todd Wood that "diversity, inclusion and equity industry and the trainings we are receiving in the military...is rooted in critical race theory, which is rooted in Marxism."
The official description on Amazon of Irresistible Revolution, taken from the book, says that Lohmeier "provides answers to many important questions that Americans are currently asking: Is systemic racism a reality, or is much of our talk about race merely a rhetorical tool used to divide Americans? Why has the Defense Department suddenly shifted to a focus on extremism within the ranks? Is there really a white supremacy or white nationalist problem within our armed forces?"
The description continues, "Are the many Diversity and Inclusion trainings that are being conducted in our federal agencies helping solve these problems, or are they creating conflict where none previously existed? What is Marxism, and what does it have to do with all of this?"
Lohmeier joined the recently created U.S. Space Force in 2020 after more than a decade in the Air Force. He was fired from the military's newest branch this past Friday, as first reported by Military.com. The Washington Post confirmed his removal on Sunday.
A Space Force spokesperson said in a statement that Lieutenant General Stephen Whiting, head of Space Operations Command, relieved Lohmeier of his command of the Colorado-based squadron, which detects ballistic missile launches, "due to loss of trust and confidence in his ability to lead."
"This decision was based on public comments made by Lt. Col. Lohmeier in a recent podcast," the spokesperson told the Post, noting that an investigation is underway "on whether these comments constituted prohibited partisan political activity."
In an email to the Post, Lohmeier said he consulted with a military public affairs officer and legal counsel before publishing the book. He reportedly said a team of attorneys read the manuscript. The Post wrote that he said in the email, "I complied with what I understood was required as part of the pre-publication process."
During the Information Operation podcast appearance, Lohmeier alleged that Pentagon press secretary John Kirby had said "there are too many white pilots" in the Air Force and Space Force.
"If you want to provide that kind of messaging to your already-struggling pilot force, you can already expect to see further retention problems," Lohmeier said about that alleged comment.
Kirby released a statement on Friday denying he made the comment about "too many white pilots." He said, "This department has an open door to any qualified American who wants to serve. Diversity throughout the force is a source of strength. We can't afford to deprive ourselves of the talents and the voices of the full range of a nation that we defend."
While his comments on the Information Operation podcast were cited by Military.com as the cause for his reassignment, Lohmeier also made appearances on other conservative outlets recently to push his book. One of those was The Steve Gruber Show, a radio program.
During that talk, Lohmeier referenced Mao Zedong's Cultural Revolution, which led to well over a million deaths in China. He said, "What we saw taking place in the country— and in the military, frankly, during this past year, especially—was reminiscent of Mao's Cultural Revolution where you had to toe a certain party line."
Over the course of recent interviews, Lohmeier has also denounced critical race theory and referred to the "1619 Project"—a collection of slavery-related articles in The New York Times—as "anti-American."
Newsweek contacted the U.S. Space Force for further comment but did not hear back before publication.