'Space Force': Could the U.S. Military Lose the Space Force Trademark to the Netflix Show?
Space Force on Netflix may have been inspired by President Donald Trump's creation of the new branch of the armed services of the same name, but it seems as if the streaming show has beaten the real-life organization to trademark rights to the name.
Per a Hollywood Reporter article, Netflix has secured trademark rights to the name "Space Force" in Europe, Australia, and Mexico among other territories. The U.S. government, meanwhile, only has a pending application inside the U.S. based on intent to use.
Though this has left fans wondering whether the military could lose the Space Force trademark to the Netflix show, this is not likely to be the case. However, this could mean that the U.S. government is unable to release merchandise using the Space Force name.
This could result in the military and Netflix facing a legal battle over licensing the "Space Force" brand in the future outside of the U.S.—despite the fact that, according to the Air & Space Forces Intellectual Property Management Service, almost two dozen companies have already been authorized to use U.S. Space Force marks after the Air Force applied to use the name of clothing in March 2019.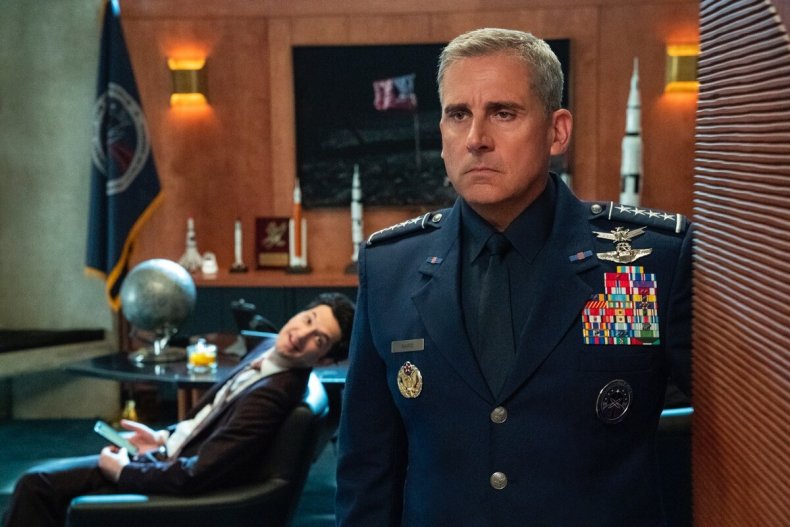 In a Law & Crime article tellingly titled, "If Trump Administration Sues Netflix Over Trademark for Space Force, It'll Probably Lose," it is explained that the streamer may have a good claim to using the name first. They started submitting trademark applications for Space Force in January 2019, months before the force was established as a formal organization in December 2019. And, though the U.S. has a "first-to-use" trademark system, Netflix may have the earlier claim.
What this means for future Space Force merchandise remains to be seen, but the trademark-savvy current president may be in for a legal battle.
If the real Space Force does secure the U.S. trademark, meanwhile, per Law & Crime it is likely that Netflix would be able to continue creating merch using the name under the parody and satire exceptions to trademark law.
In a statement to THR, and Air Force spokesperson said: "At this time, we are not aware of any trademark conflicts with the fictional program Space Force produced by Netflix. We wish Netflix and the show's producers the best in their creative depiction of our nation's newest branch of the military."
An example of how this potential trademark conflict could resolve itself can be seen with the term "NCIS." According to Justia, both the Navy and CBS have trademarks for the term, with the latter registering the trademark in 2011—six years before the Navy.
At the time of writing, only CBS creates NCIS merchandise, though the majority of this features the term "NCIS: Based on the TV Series," presumably to differentiate the merchandise from actual military garb.
Space Force is streaming now on Netflix.