'Space Force' Season 2: Everything the Cast and Crew Have Said About the Next Season
Space Force is the latest hit comedy on Netflix from former The Office collaborators Steve Carell and Greg Daniels. Though the show is currently riding high in the streamer's top 10 lists across the world, Netflix has not ordered Season 2 of the show yet.
However, that does not mean that Space Force showrunner has not started planning things out for a potential Season 2. The writer told Digital Spy, "We have some writers already plotting out what we're going to do just so that we don't waste any time...But we haven't got a pickup quite yet."
He added in a Collider piece, "We have started to assemble the senior writers to discuss what would happen next year… There's a lot to follow up on based on where we ended."
According to that article, Daniels wants Netflix not only to order Space Force Season 2 but eventually a few more years of the workplace comedy. He said: "We're certainly hoping for a few more seasons."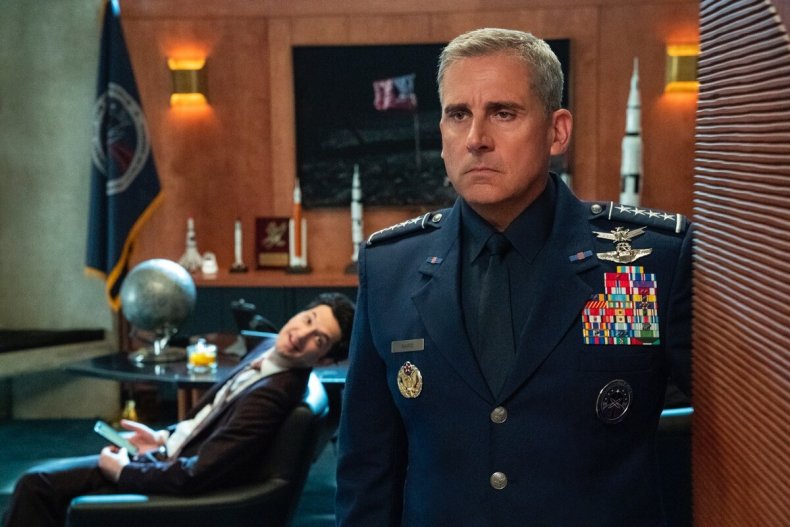 In a Thrillist article, meanwhile, the showrunner revealed that lead actor Steve Carell was involved in the process of creating the next set of episodes. He said: "Steve and I and three other writers have been plotting out season 2 for a while. And, yeah, we know where it's going."
Asked by Entertainment Weekly what he wanted for his character in a potential Season 2, Carell said, "I have to look for the next big stress-relief song scene. For General Naird, I always want to look for some new opportunities for him—and the odder and more surreal, the better to see how he might deal with some of the stresses and strains of his job.
"That's something that I'm kicking around at this point. What other odd, quirky ways of dealing with his life are we going to see? And whether it's a song or something else, I find stuff like that really funny, when something comes out of the blue in a surreal and an odd way. I'd like to see some more of that."
Per Daniels' talk with Thrillist, Space Force Season 2 is likely to further develop the unconventional friendship between Naird and Dr. Adrian Mallory, as played by John Malkovich.
Daniels said: "There's some character change for Mark and he starts off with certain positives and certain negatives in his character. He's a bit inflexible and he needs to be a bit more creative and he has this friendship developing slowly with John Malkovich's character. They are rubbing off on each other and improving on each other."
Whether fans ever get to see that, however, will depend on whether Netflix renews the show for a second season. Usually, Netflix waits at least a month to analyse the viewing data before making a decision on a series.
Space Force is streaming now on Netflix.