Space Force Uniforms 'Complete Rip-Off' of Sci-Fi Shows, Social Media Users Say
The new U.S. Space Force uniforms were presented at the Air Force Association's Air Space & Cyber Conference in National Harbor, Maryland, on Tuesday and social media users wasted no time comparing them to costumes from popular science-fiction shows and movies.
The Space Force uniform features a dark navy coat with six buttons on the right side that represent its status as the sixth branch of the military. Those enlisted in Space Force will be known as "guardians." Space Force was established as the nation's newest military branch in December 2019.
The U.S. Space Force described the prototype uniform as modern, distinctive and professional, but the reveal unleashed a series of jokes online.
Valerie Insinna, an air warfare reporter for Defense News, tweeted, "A friend just texted me: 'Tell me the space force uniform isn't a complete rip-off of Battlestar Galactica."
Tara Dublin, a contributor for The Hill, tweeted that the uniforms, "look like they went to Party City & bought generic "Military Person" Halloween costumes. More like Space Farce than Space Force."
Twitter user Tamarra Turner wrote, "I did not know we were still doing space force. However, as a Trekkie I believe it should be renamed Starfleet."
Another Twitter user, @Hail_Void, wrote, "at this point i think the gene rodenberry estate needs to sue the space force."
User Em Vega also tweeted, "So the forces at #SpaceForce have new uniforms, and someone has been watching too much Battlestar Galactica (the cut on those pants, ouch!). And, as much as I love #space, can we have universal healthcare and #climate change budget first?"
One Twitter user, Laura Sorenson took a close-up screenshot of the woman's pants and wrote, "I think they need to go to anatomy class and learn to properly design pants for females." Another user, @SFD911 replied, "That's what happens when you use men's trousers for women. A tailor can only take in so much."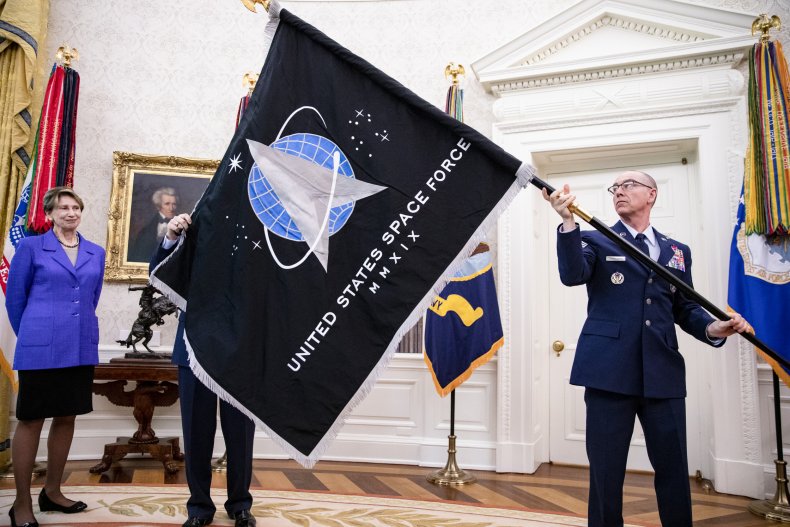 Other social media users criticized spending taxpayer dollars not only on the uniforms but the Space Force program overall.
However, some social media users were excited about the design and the future of the Space Force. Twitter user hapoo111 tweeted, "Idc what anyone says space force is sick."
Twitter user Mack Turner also wrote, "I will say, if you're between the ages of 18-24 and have no idea what to do with your life, sign up for Space Force. You'll get pay & benefits and you won't have to do sh*t."