Here's What LeBron James Said to Inspire the 'Space Jam 2' Crew When He Wrapped Filming
NBA icon LeBron James reportedly finished filming the upcoming blockbuster Space Jam: A New Legacy more than a year ago, but fans can now hear the heartfelt and moving speech that the Los Angeles Lakers forward delivered to the film's cast and crew when he wrapped, thanks to newly leaked audio.
A recording of the speech, delivered on the basketball player's final day of filming back in summer 2019, was recently published by TMZ Sunday. In his closing words, James shared his gratitude, talked about his childhood, explained how much the role meant to him and recalled the large impression that the 1996 original Space Jam film—which teamed up Michael Jordan and Bugs Bunny—left on his life.
"I'm gonna be completely honest with you guys—when I found out about the project, I was like, 'It's Space Jam!'" James said. "It's a movie that I grew up watching. People in the movie that I idolize. I was like, 'Absolutely, I gotta do it. There's no way I can turn down Space Jam!'"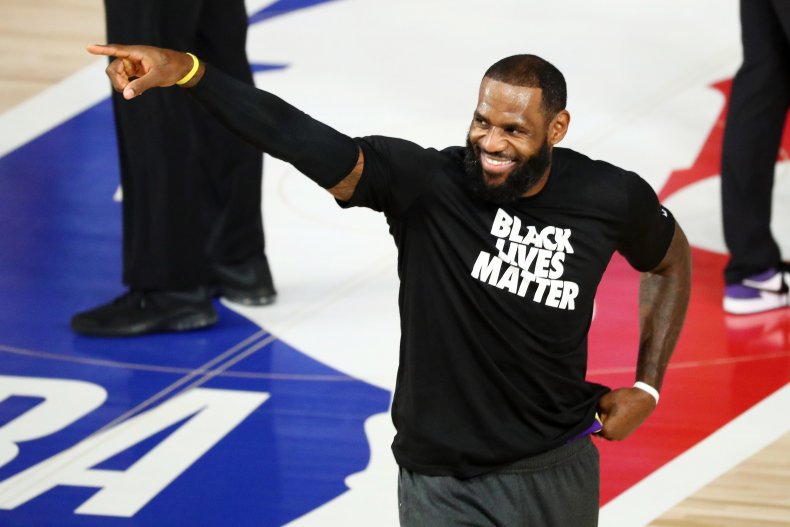 But then James was confronted with the reality of shooting a movie, and described his initial shock at the daunting filming schedule for the sequel.
"I showed up on set on June 17, and I grabbed my first script, and in the corner that f**king thing said Day 1 of 58 days, and I was like, 'What the f**k,'" James explained, before describing how an intensive production schedule can bring people closer. "No matter how long you're together, three months, two months, when you're together 12, 13, 14 hours a day, five days a week, something sticks and you become family. You start to learn names. You start to learn what people like, what they dislike. How you make them laugh, how you make them feel. In closing, I'm super-stoked about this film. Like I said, I grew up idolizing the Space Jam everything. The uniforms. I remember I put this uniform on and tried it on and I was like, 'I can't believe it.' And then I see the uniform that was the Monstars when I was growing up and I was like, 'Oh my God.' I was like, 'This is really happening.'"
James was born in 1984, which would have made him 11 years old when Space Jam came out in theaters. In the movie, former professional basketball player Michael Jordan (who's in the middle of his first retirement from the NBA) is recruited by Bugs Bunny to lead a squad of cartoon players against the Monstars—mutated aliens who plan to kidnap the Looney Tunes crew for an outer-space amusement park called Moron Mountain.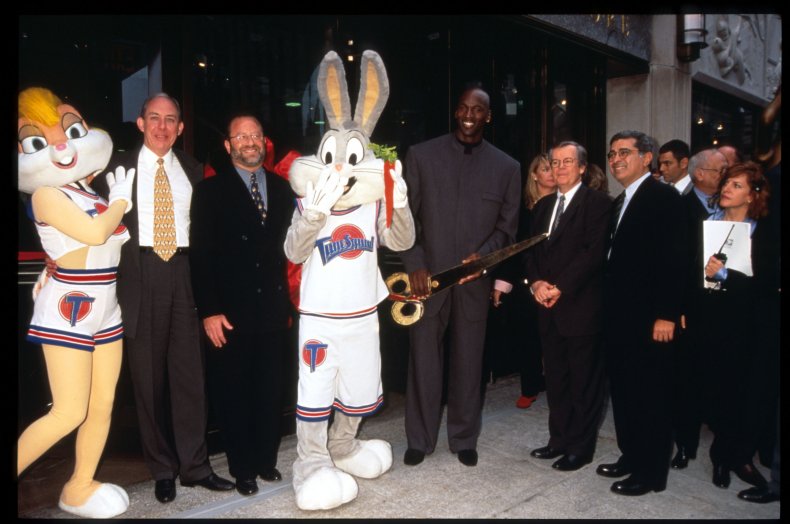 "I'm just a small kid from Akron, Ohio—a very small town outside of Cleveland," James said, describing his childhood. "From a single-parent household, I'm the only child, my mother had absolutely nothing. She was walking around high school when she was 16 years old and she was pregnant with me as a high school sophomore. So, I'm really not supposed to be here. Growing up in the inner city, as an African-American kid, there's no way you're supposed to f**king make it out. And, the fact that I'm who I am, as an African-American adult now with three kids of my own, and I made it out of the situations that I was in. This s**t is like extra credit for me, man."
To periodic clapping and callbacks from the assembled Space Jam 2 cast and crew, James finished by thanking everyone, naming a few different production teams in particular.
"In closing, thank you guys. I see my readers over there, I see you all over there in the back. I got my goon squad here: mo-cap and my toons, you guys have been amazing," James continued. "Every f**king department, we all became a family. We all gave our s**t; we all gave everything that we had. I know you all still got some more shooting to do, but I just wanted to make sure you all know that I appreciate you all. You all say you all appreciate me, but I'm s**t without you all. So, thank you."
Space Jam: A New Legacy, directed by Malcolm D. Lee (Girls Trip, Night School), will be out in theaters on July 16, 2021.