'Space Jam: A New Legacy' Cast: Is It LeBron James' Real Family?
Space Jam: A New Legacy brings far more people into the fold than the original Space Jam movie. This time, LeBron James' entire family is pulled into the madness, when an evil computer algorithm threatens their existence.
The movie centers around James' relationship with his middle son, Dom, who wants to make computer games rather than follow in the family basketball business.
Dom's older brother, Darius, is into basketball and looks set to follow in his father's footsteps, while the youngest child, daughter Xosha, is not featured as heavily, and instead stays with James' wife Kamiyah.
Given many already know James is married with three children, and his eldest son is a basketball star, some have wondered whether these could be his real children making their first step in the entertainment world.
Does LeBron James' Real Family Star In Space Jam: A New Legacy?
While the family in Space Jam: A New Legacy is based on James' real relatives, they are played by actors in the movie.
Dom, James' middle son who wants to abandon basketball in favor of other avenues, is played by young actor Cedric Joe. Before the movie, he had small roles in TV series Game Shakers and Modern Family.
His character is based on Bryce James, James' middle child, though there are some differences.
In the movie, Dom does not want to play basketball, despite having some talent, and instead wants to make video games.
It seems Bryce James, on the other hand, is a talented player and attends Sierra Canyon High School where there is a renowned basketball team.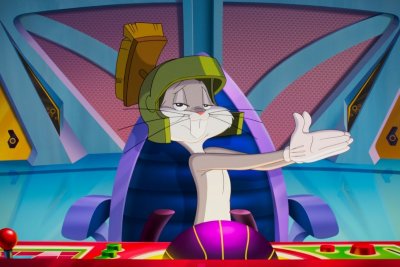 Darius is played by Ceyair J. Wright, who similarly has had small roles in various TV series before Space Jam.
His character is based on Bronny James, or LeBron James Jr., James' eldest son.
Bronny James is on the roster as a player on the Sierra Canyon High School basketball team, the Trailblazers, and some have pegged him to be a potential star.
LeBron's daughter Xosha is played by Harper Leigh Alexander, who made her debut in Space Jam 2.
Her character is based on Zhuri James, the youngest child in the James family, who has her own YouTube channel, All Things Zhuri.
The channel and its Instagram page, which is managed by her mother Savannah James, shows her doing everything from painting to yoga and cooking with her mom.
Savannah James is LeBron James' wife of eight years, having met at high school.
In the movie, the character based on her is Kamiyah James, played by Sonequa Martin-Green.
Martin-Green broke into the acting world with her recurring role on The Good Wife, before she took on the role of Sasha Williams in The Walking Dead.
As well as guest-starring in other big shows like New Girl and Once Upon A Time, she landed the lead role of Michael Burnham in Star Trek: Discovery.