SpaceX Launch of 4 Civilians: Who Are They, How Much Training Did They Get?
Elon Musk's SpaceX will launch the first all-civilian spacecraft mission into the earth's orbit today where four individuals, none with experience as professional astronauts, will spend three days in space.
The launch will be executed using SpaceX's fully automated Dragon capsule, which will carry the four riders to a targeted altitude of 357 miles, far deeper than the altitudes of 53 miles and 66 miles previously reached by billionaires Richard Branson and Jeff Bezos, respectively.
"This is the first step toward a world where everyday people can go and venture among the stars," Jared Isaacman, the 38-year-old billionaire founder of Shift4 Payments, who financed the trip and will lead the mission, told the Associated Press.
Isaacman has not entered outer space before, but he set a world record in 2009 for the fastest trip around the globe in a light jet. He's previously flown a number of different aircraft, holding qualifications for multiple military fighter jets. "[The Dragon capsule] is very comparable to almost any jet I've flown," he told Newsweek during a July interview.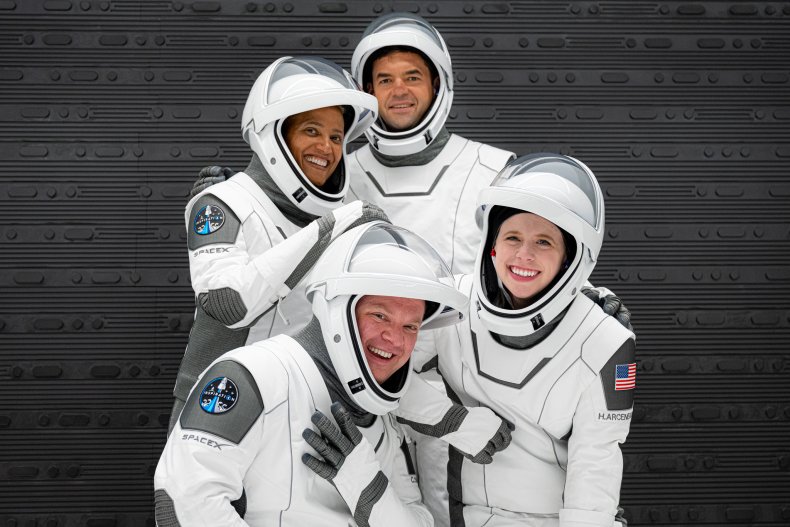 To prepare for the trip, Isaacman and his team underwent months of spaceflight training since March. Their training included rides in the centrifuge at the National Aerospace Training and Research Center to experience the feeling of G-force, Space.com reported. They went on a number if hikes in extreme terrains to improve their bonding and communication, a practice first implemented by NASA pilots, and later, they spent time in flight simulation, practicing operating the Dragon in case a communications error were to force the vessel the fly manually.
In his interview with Newsweek, Issacman said this mission was significant because it represents a milestone for space travel in that a member of the crew would not previously be permitted to enter space under NASA's "ultra-rigorous health screenings."
Being that part of the mission's intent centers around effort to raise charitable funds for St. Jude Children's Research Hospital, Issacman elected to donate one of the missions four seats to 29-year-old Hayley Arceneaux, bone cancer survivor and former St. Jude's patient. Arceneaux was diagnosed with at age 10, which resulted in her receiving a prosthetic bone. She now works as a physician's assistant at St. Jude's and will become the youngest American to enter space.
Joining her and Isaacman are Chris Sembroski, a 42-year-old U.S. Air Force veteran and aerospace data engineer, and 51-year-old Sian Proctor, a geoscientist and licensed pilot. Sembroski entered a lottery for the seat after making a donation to St. Jude's. He didn't win, but a friend of his did and gave him the seat, the AP reports. Proctor, who was a NASA astronaut finalist over a decade ago, vied with 200 other Shift4 Payments clients for the spot, ultimately garnering attention through her space-themed artwork business and winning the spot.
The four of them will launch into space at at 3:45 p.m. ET later today. Their flight can be watched on SpaceX's YouTube channel.