Spacewalk Cut Short Due to Water in NASA Astronaut Tim Kopra's Helmet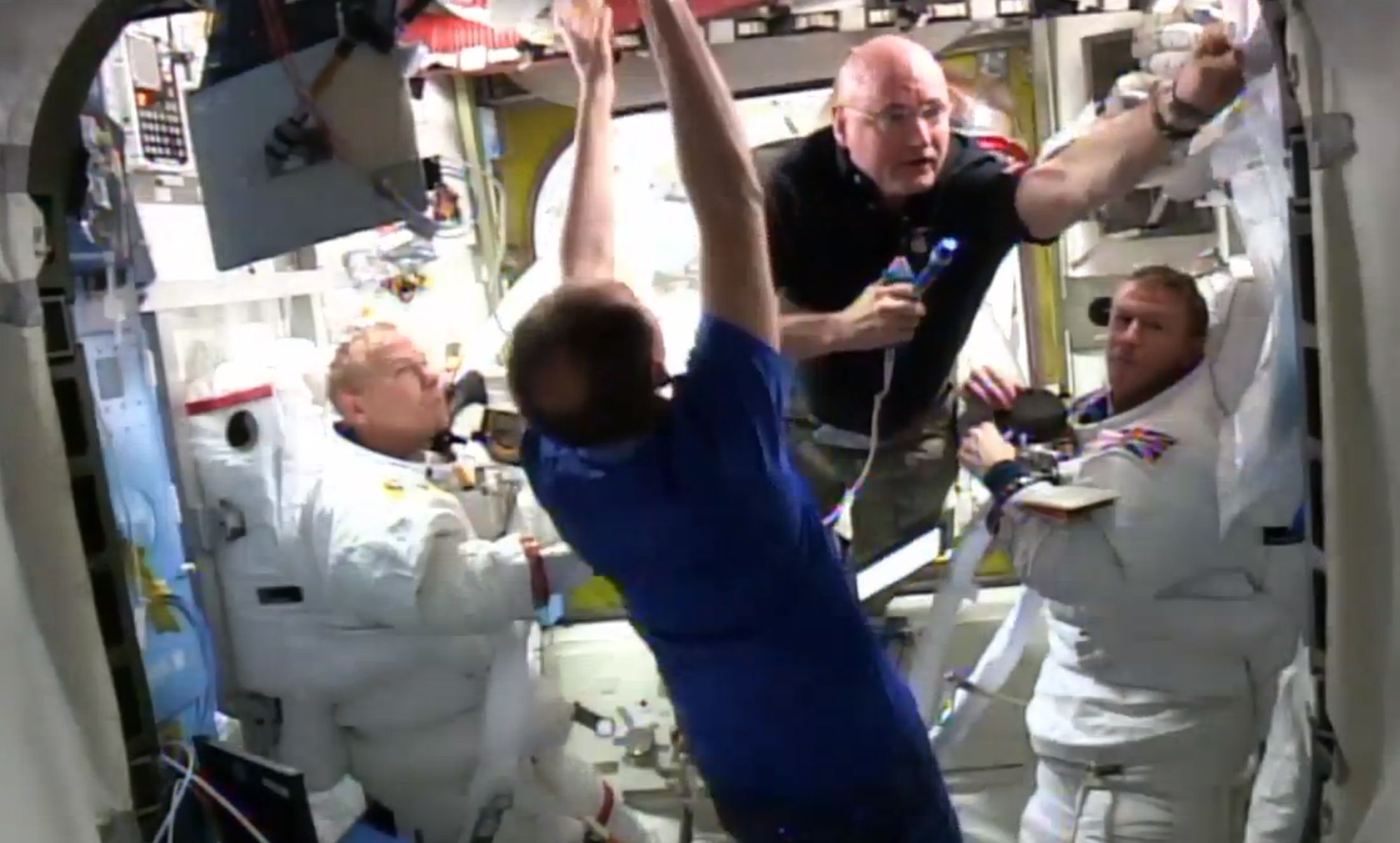 Two astronauts, both named Tim, went for a spacewalk Friday. NASA's Tim Kopra and his colleague from the European Space Agency, British astronaut Tim Peake, set out for a roughly six-hour spacewalk Friday, but the mission was cut short after less than five hours due to a water bubble forming in Kopra's helmet.
The main objective of the spacewalk was to "replace a failed voltage regulator that compromised one of the station's eight power channels last November," according to a NASA press release. The Tims completed this primary task early in the spacewalk, with the International Space Station tweeting on its official account that "2 hrs, 11 mins in to today's #spacewalk, replacement power unit is installed bringing station back to full power." The astronauts moved on to other duties, such as routing cables for future commercial crew and cargo vehicles.
Several NASA and ESA-affiliated accounts were sharing spacewalk updates and information via social media, including NASA astronaut Douglas Wheelock, who was responding to questions submitted using the hashtag #askNASA.
For Peake, the mission was a personal and national first as he became the first British citizen ever to walk in space, the ISS account tweeted. He also plans to run a marathon in space, albeit inside the station, in conjunction with the London Marathon in April.
In Kopra's case, the spacewalk was his third. NASA said in a blog post that "the crew was never in any danger," but that the spacewalk was terminated early as a precaution. Station commander Scott Kelly, also a NASA astronaut, helped Kopra out of his space suit and the astronauts collected water from the helmet to try to determine the cause of the leak. According to Wheelock, the crew reported that the water was "cold," which would indicate it came from the space suit's backpack.
Kopra may not have been in any danger, but an Italian astronaut, Luca Parmitano, reportedly had a near-drowning experience when water leaked into his helmet during a spacewalk in July 2013. A NASA report about the incident said 1-1.5 liters of water had entered Parmitano's helmet, causing "impaired visibility and breathing with water covering his eyes, nose, and ears." The astronaut later described his spacewalk, which was cut short after only an hour and a half, in a video.
"I experienced what it's like to be a goldfish in a fishbowl from the point of view of the goldfish," Parmitano said. Perhaps it's not exactly the same, since fish are meant to be in water. He described how the water continued trickling into his helmet until it was covering his eyes and ears. "It was really hard to see. I couldn't hear anything," he said. "It was really hard to communicate. I went back just using memory...going back to the airlock."