SpaceX Completes 100th Landing, Carries Christmas Presents, Holiday Feast to Astronauts
SpaceX completed its 100th successful rocket landing Tuesday after launching from NASA's Kennedy Space Center with Christmas presents, food and other supplies for astronauts at the International Space Station. The aerospace manufacturing and space transportation company confirmed the successful landing onto a droneship early Tuesday.
"Falcon 9's first stage has landed on the Just Read the Instructions droneship, marking the 100th successful landing of an orbital class rocket booster!" SpaceX tweeted.
Holiday gifts from the astronauts' families were among the items packed in the Dragon capsule, as well as smoked fish and turkey, green beans and fruitcake for the space travelers to hold a holiday feast. Joel Montalbano, NASA's space station program manager, would not say what else would be transported while speaking to reporters on the eve of the launch.
"I won't get in front of Santa Claus and tell you what's going to be sent up," he said.
The capsule is also bringing several experiments to the International Space Station, including one that revolves around laundry detergent. Astronauts have to wear the same clothing items multiple times before trashing them when new clothes are delivered on resupply missions.
"Limited cargo capacity makes this a challenge, and resupply is not an option for longer missions, such as those to the moon and Mars," NASA said in a press release.
To solve this issue, NASA partnered with Procter & Gamble to create a fully degradable detergent called Tide Infinity. The P&G Telescience Investigation of Detergent Experiments plans to study the effectiveness and stability of this product in microgravity, NASA said.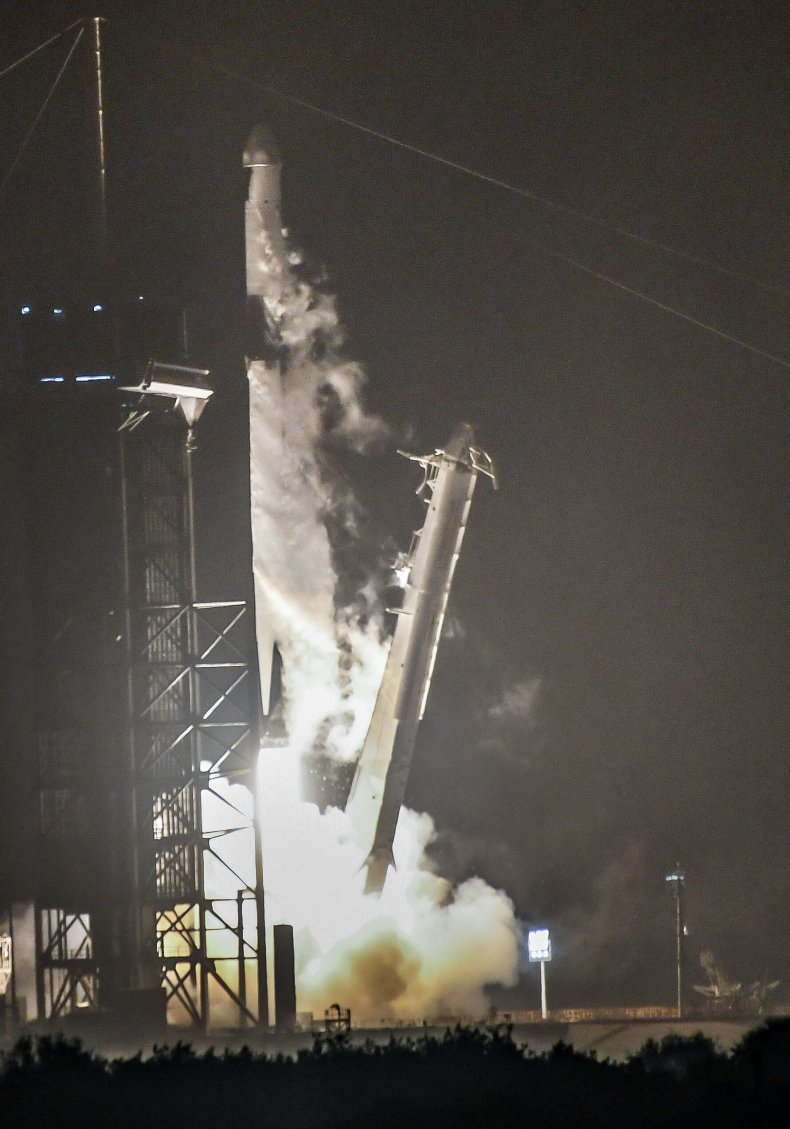 The predawn liftoff from NASA's Kennedy Space Center was barely visible in the fog and clouds, as the Falcon rocket hoisted a Dragon capsule loaded with more than 6,500 pounds (2,950 kilograms) of gear for the station's seven astronauts. Several minutes later, the first-stage booster landed upright on an ocean platform, six years to the day that Elon Musk's company accomplished its first booster touchdown in 2015.
This particular booster was making its first flight. A few days ago, a SpaceX booster made its 11th flight.
"It's critical to lower the cost of spaceflight to continue to reuse these boosters more and more times. A hundred is a big milestone, so we're excited about that," said SpaceX's Sarah Walker, a mission manager. "We're also excited to see how few new boosters we have to produce as the years go by."
SpaceX is ending the year with 31 launches, the most ever by the company.
The Associated Press contributed to this report.