SpaceX Crew Dragon Astronauts Return Home in First Water Landing Since 1975
NASA astronauts Douglas Hurley and Robert Behnken returned to Earth after a 63-day voyage aboard the Crew Dragon spacecraft on Sunday. Their successful landing into waters near the coast of Pensacola, Florida, marked the first splashdown in almost 50 years. NASA's last water landing closed out the Apollo-Soyuz outer space mission in July 1975.
The Crew Dragon's return, broadcast live by NASA Television, finished Hurley and Behnken's two-month trip to orbit took the astronauts to the International Space Station (ISS) on a test flight operated by SpaceX. The aerospace manufacturer and transportation services company, founded by Elon Musk, designed the reusable spacecraft as part of NASA's Commercial Crew Program. It is the first private company to successfully launch and recover a spacecraft in partnership with NASA, which also established a contract with Boeing for the same purpose.
In a tweet posted early Sunday morning, Musk said SpaceX designed the Crew Dragon to land in water using parachutes because the system is most conducive to moon and Mars landings. The other option, a thruster engine, would facilitate ground landings, as Boeing's commercial craft plans to do.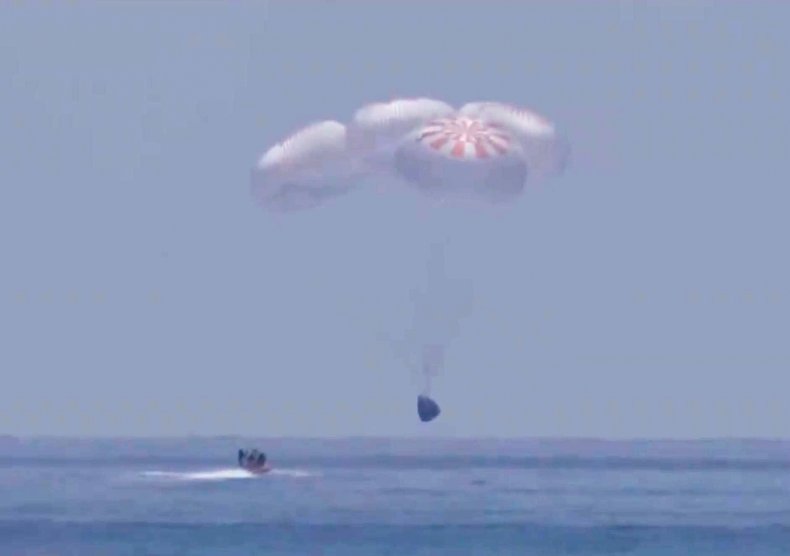 President Donald Trump, an advocate for expanding U.S. capacity for space travel, reacted to the Crew Dragon's return on Sunday.
"Astronauts complete first splashdown in 45 years. Very exciting!" he wrote on Twitter.
Former President Barack Obama congratulated Hurley and Behnken in his own message. Obama similarly pushed for expanded U.S. aerospace developments during his presidency, and NASA formed its partnerships with SpaceX and Boeing under his administration.
"Welcome home, @AstroBehnken and @Astro_Doug!" Obama tweeted. "We launched the Commercial Crew program to strengthen our U.S. space program and it's been great to see its success. This historic NASA-SpaceX mission is a symbol of what American ingenuity and inventiveness can achieve."
NASA's Commercial Crew Program aims to conduct human spaceflights to and from the International Space Station using crafts manufactured by SpaceX and Boeing. The initiative's ultimate goals seek to expand NASA's capabilities for low-orbit transportation, potentially allowing people to travel to the International Space Station for corporate research, utility repairs and tourism. In turn, delegating these pursuits to private partners allows NASA to prioritize deep-space exploration.
"The [International Space Station] is a critical testbed for NASA to understand and overcome the challenges of long-duration spaceflight," NASA said in a statement about its Commercial Crew initiative. "As commercial companies focus on providing human transportation services to and from low-Earth orbit, NASA is freed up to focus on building spacecraft and rockets for deep space missions."
Newsweek reached out to SpaceX for additional comments, but did not receive a reply in time for publication.