SpaceX First Lunar Passenger: Watch Private Moon Mission Announcement Live
SpaceX is about to make a big announcement about its private Moon mission—who the first passenger of its Big Falcon Rocket (BFR) launch vehicle will be. The individual will fly around the Moon to demonstrate the launch system as part of the company's ongoing efforts to colonize Mars.
The company, owned by Elon Musk, said it had selected its first passenger on 14 September. "SpaceX has signed the world's first private passenger to fly around the Moon aboard our BFR launch vehicle—an important step toward enabling access for everyday people who dream of traveling to space," it said in a tweet, adding details about that person's identity would be revealed on 17 September.
"Only 24 humans have been to the Moon in history. No one has visited since the last Apollo mission in 1972. Find out who's flying and why on Monday," the company said in a statement.
The announcement will be streamed live online and can be watched below or by visiting the SpaceX website here. The broadcast will begin at 9pm ET.
Who the mystery passenger is has been subject to speculation, with some asking if it would be Musk himself. On Twitter, the billionaire responded to this with an image of the flag of Japan, adding further intrigue. When the mission to the moon with the soon-to-be-named passenger will take place is not known.
Details about the BFR were unveiled by Musk at the 68th International Astronautical Congress, held in Australia last September. In the presentation, he explained how the BFR would be a two part launch system that could lead to the colonisation of Mars, hypersonic long-distance travel on Earth and a base on the Moon.
While full details about the design are unavailable, SpaceX said the BFR would eventually replace the Falcon 9, Falcon Heavy and Dragon spacecrafts. This will eventually make the BFR financially feasible—one of the biggest barriers to its development at the moment, SpaceX claims, is the cost.
"By creating a single system that can service a variety of markets, SpaceX can redirect resources from Falcon 9, Falcon Heavy and Dragon to the BFR system—which is fundamental in making BFR affordable."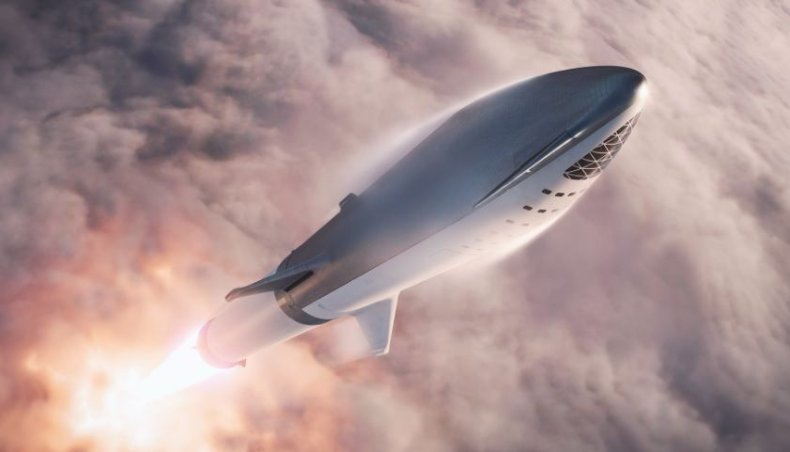 Ahead of announcing the passenger name, Musk also shared new images of what the BFR will look like, with the artist impressions show the spacecraft blasting off. He tweeted the pictures with a final message saying "OccupyMars."
At present, SpaceX hopes to send its first cargo ship to Mars in 2022. Manned missions would later follow, with the eventual view of setting up a permanent base there where humans would live.
Musk's plans have drawn criticism. In March, physicist Andrew Coats said humans will probably never live on Mars as the planet just doesn't have the natural resources necessary to support a colony.