SpaceX's Last Launch of 2020, a Spy Satellite, Heads to Space Successfully
SpaceX marked the end of an eventful 2020 by sending a new spy satellite into space on Saturday.
In a year in which it put astronauts in space, SpaceX launched a Falcon 9 rocket that will deliver a satellite for the National Reconnaissance Office (NRO).
The launch was supposed to take place on Thursday but following an unusually high pressure reading in the upper-stage liquid oxygen tank, this was delayed first to Friday, then a further day.
The website for SpaceX said it targeted "December 19 for launch of the NROL-108 mission from Launch Complex 39A (LC-39A) at Kennedy Space Center, Florida."
"Saturday's three-hour launch window opens at 9:00 a.m. EST, or 14:00 UTC, and closes at 12:00 p.m. EST, or 17:00 UTC," it said.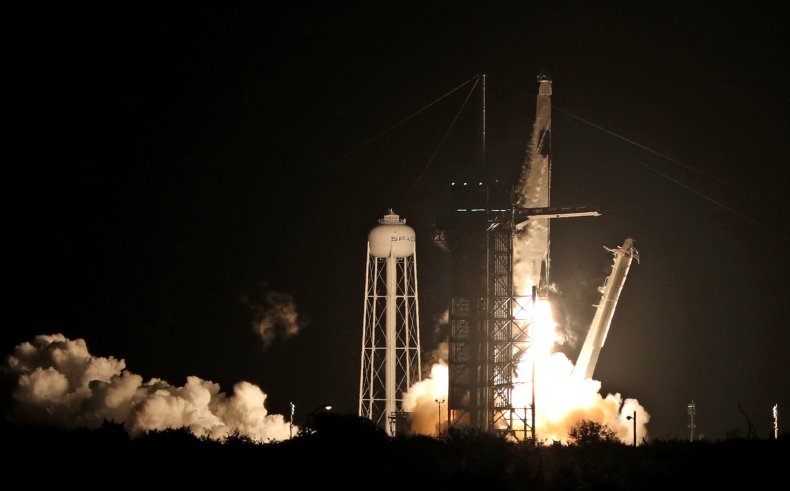 People can watch coverage of the mission at the SpaceX website as well as the Space.com website.
This Falcon 9's first-stage has already flown four times previously, having supported the launch of SpaceX's 19th and 20th cargo resupply missions to the International Space Station, a Starlink mission, and the SAOCOM 1B mission, according to CNET.
Instead of a normal drone landing at sea, the mission will feature a landing at Landing Zone 1 (LZ1) at Cape Canaveral Space Force Station. The landings at sea allowed for the recovery of rocket boosters that did not have enough fuel remaining on board to make it back to land.
SpaceX, which is owned by billionaire Elon Musk, has warned that those living nearby may hear a sonic boom during the landing attempt.
"Residents of Brevard County are most likely to hear one or more sonic boom, although what residents experience will depend on weather conditions and other factors," it said.
Saturday's launch was the sixth NRO launch this year and had been publicized via a poster and slogan of a cartoon gorilla beating its chest. In a cryptic tweet, the NRO said: "Gorillas are peaceful animals but can be fierce when necessary."
"Like the gorilla, our #NROL108 mission is constantly vigilant and ready to defend its own," the tweet said.
Saturday's mission marked the 31st launch this year for SpaceX and its Falcon 9 rocket, according to Space.com. In November, SpaceX launched four astronauts to the International Space Station on the first fully-fledged flight for NASA by a private company.
The graphic below by SpaceX gives a snapshot of its launches over the last decade and a half.