Elon Musk's SpaceX Causes Unknown Explosion During Rocket Engine Test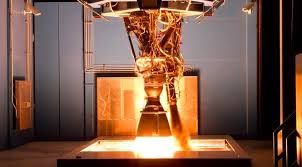 Private spaceflight company SpaceX sustained an explosion at its test site in McGregor, Texas, over the weekend when a "Block 5" Merlin rocket engine failed. The company confirmed the accident to The Washington Post on Wednesday, and is currently investigating what went wrong. No one was hurt, though CEO Elon Musk may have sustained very light bruising to the ego.
"No one was injured and all safety protocols were followed during the time of this incident," read a statement obtained by Space.com. "We are now conducting a thorough and fully transparent investigation of the root cause."
Block 5 engines haven't flown yet. SpaceX has been conducting "qualification tests" on them for potential installation in its Falcon 9 rockets, which currently use the Block 4. Space.com reported that because of this, the company says no scheduled launches will be affected.
When it failed, the Block 5 was undergoing a "LOX drop" test. This consists of filling the engine with liquid oxygen to check the seal, kind of in the same way one might test a container for leaks by just filling it with water. According to Space.com, the engine failed to fire, at some point after which the oxygen ignited. The SpaceX team doesn't know if the engine itself was what exploded, just that something did within the test bay. It'll be a couple of weeks before the facility is repaired.
Some will undoubtedly use this explosion to point to other failures from SpaceX's past—a Falcon 9 exploded in 2015 and another in 2016; no one was hurt in those explosions, either—but the company's track record as a whole remains formidable. What was once a vaguely close race to become the dominant name in private spaceflight between SpaceX and the likes of Blue Origin and Virgin Galactic ceased to be close some time ago.
SpaceX is already running missions for NASA and the Pentagon, and may be transporting astronauts to the International Space Station by 2018. SpaceX has conducted 16 successful launches so far this year, and the Falcon 9 is scheduled for three more, including the debut of its new Falcon Heavy booster engine—which will make the rocket the most powerful operational one in the world—before the end of the year.