SpaceX Hispasat Launch: Everything to Know About the Satellite
In the early-morning hours of Tuesday, SpaceX is expected to launch a new satellite into space for the Spanish company Hispasat. The Hispasat 30W-6 is a commercial satellite that SpaceX will attempt to put into geostationary transfer orbit during a launch window that opens at 12:33 a.m. ET, according to SpaceX.
Once the satellite reaches its final position of 30 degrees West, the satellite is set to replace the Hispasat 30W-4, according to Hispasat. That satellite currently helps provide television, broadband and corporate networks. The new satellite is expected to have at least a 15-year lifespan in space, according to a release from SpaceX. The satellite will help provide band capacity over a vast expanse of Earth including the Americas and the Mediterranean.
The company is the leading distributor of Spanish and Portuguese content on its more than 1,250 television channels and radio stations. The satellite will help provide direct-to-home and high-definition television as well.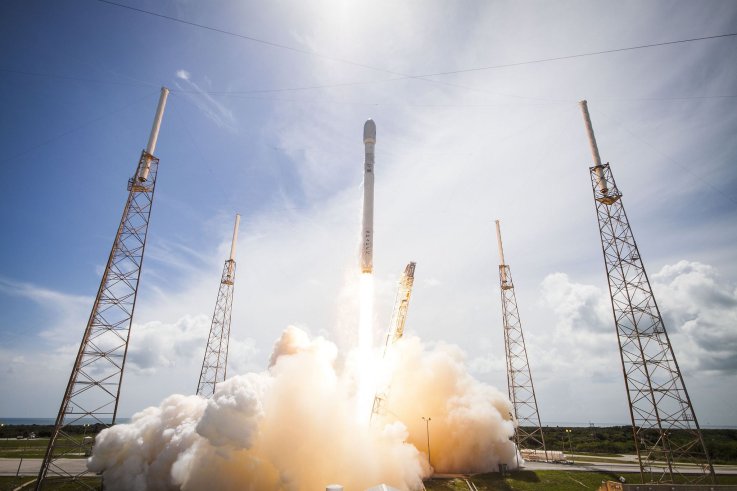 The satellite is set to launch on a SpaceX Falcon 9 rocket rom the Cape Canaveral Air Force Station. SpaceX will not make an attempt at recovering the first stage of the Falcon 9 as previously planned because of poor weather conditions off of Florida in the recovery area of the Atlantic Ocean, said the company in a release.
The launch window is scheduled to open at 12:33 a.m. ET but can last for up to two hours if necessary. The satellite is expected to deploy about 33 minutes after the rocket launches, according to a SpaceX release. If the launch scheduled for early Tuesday is scrubbed, or canceled, the next launch window is scheduled for the same time Wednesday morning. This launch was previously delayed because of issues with the fairing's pressurization system, those problems were solved ahead of Tuesday's scheduled launch.
The launch will be broadcast live on SpaceX's website but viewers will not be permitted to view the launch from the Kennedy Space Center due to the fact that the launch is expected to happen after hours.
SpaceX Hispasat Launch: Everything to Know About the Satellite | Tech & Science