SpaceX is set to attempt for the second time to launch and explode a Falcon 9 rocket today (January 19), as part of a test to prove that the company's Crew Dragon astronaut capsule could successfully propel its crew away from disaster if hypothetically something went wrong with the rocket.
The American aerospace manufacturer, founded by Elon Musk, was due to launch the rocket from the Kennedy Space Center in Florida on Saturday, but had to be postponed due to adverse weather conditions. The six-hour launch window was initially set for 8am ET, but has now been pushed back to 10am in order to "optimize for decreasing winds in the recovery area," the company said on Twitter. Nasa had previously said there was a 60 percent chance of favorable weather today, with the primary concern being a thick cloud layer.
You can watch the live stream of the rocket test in the video embedded below.
What exactly is being tested?
SpaceX is testing its In-Flight Abort (IFA) system, a safety feature that will separate the Crew Dragon Spacecraft from the Falcon 9 rocket when it is travelling at over 1,000 miles per hour. The safety feature is designed as a precaution so that when SpaceX begins launching spacecraft with astronauts aboard, the company will have a means of propelling those on board away from the rocket to a safe distance if a catastrophic booster malfunction occurred.
This process is due to trigger approximately 84 seconds into the launch, at the moment of "peak mechanical stress" on the rocket, which will be around 60,000 feet above the Earth. After this separation happens and the Falcon 9 rocket explodes, the Dragon Crew capsule will propel itself away and land safely using parachutes in the Atlantic Ocean. It will then be recovered and studied by SpaceX to see what a human on board would have experienced if the spacecraft had been manned during the IFA process.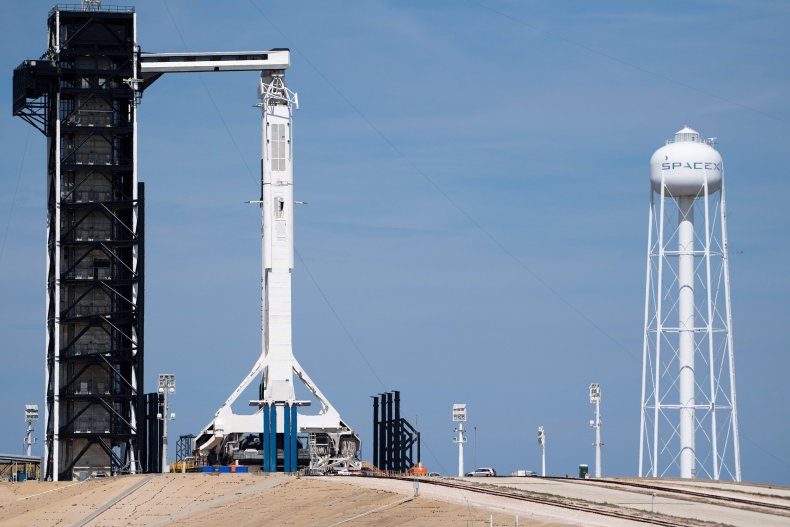 Why is it important?
Successfully testing out the IFA system is crucial for both SpaceX and Nasa, as the space agency is set to begin launching astronauts from U.S. soil for the time since the Space Shuttle program was retired in 2011. If the IFA system is successful today, it could pave the way for SpaceX's first manned mission as early as March, with astronauts Doug Hurley and Bob Behnken due to be sent to the International Space Station (ISS) on a test flight, CBS reports.
"SpaceX designed Crew Dragon to be one of the safest human spaceflight systems ever built," the company said, adding "SpaceX's in-flight demonstration of Crew Dragon's launch escape capabilities is designed to provide valuable data toward Nasa certifying the spacecraft to begin carrying astronauts to and from the ISS."