SpaceX Livestream: Watch Falcon Heavy Launch of the Arabsat-6A Satellite Live Online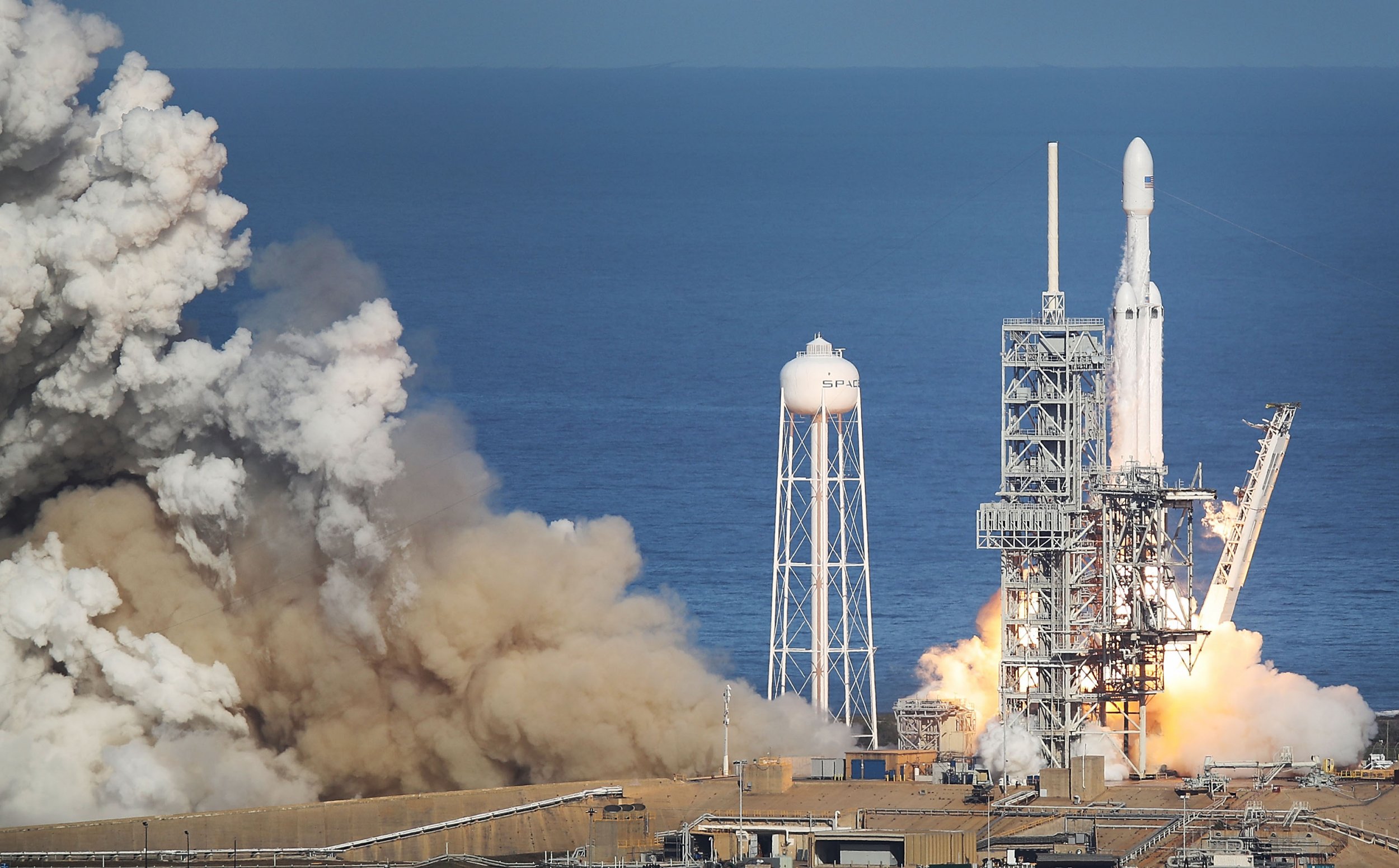 Update: The SpaceX launch was postponed due to poor weather. It has been rescheduled for between 6:35 p.m. EDT and 8:31 p.m. EDT on April 11.
After delays due to stormy weather, SpaceX's Falcon Heavy —the most powerful rocket currently in operation—is set to launch from the Kennedy Space Center in Cape Canaveral, Florida, in what will be its first commercial mission.
According to the company, the primary launch window opens today at 6:35 p.m. EDT and closes at 8:32 p.m. EST.
Around 2-3 minutes after take-off, the two reusable side boosters will separate from the center core before attempting to land at SpaceX's landing Zones 1 and 2 at Cape Canaveral. The Falcon is then expected to deploy its payload—the Arabsat-6A communications satellite—approximately 34 minutes after launch.
If you weren't able to make it down to Cape Canaveral, don't worry. You can watch the entire launch on SpaceX's live stream, with coverage starting about 20 minutes before lift-off.
"Arabsat-6A is a high-capacity telecommunications satellite that will deliver television, radio, Internet, and mobile communications to customers in the Middle East, Africa, and Europe," a SpaceX statement read.
Built by Lockheed Martin, the satellite contains several innovations, according to its manufacturer, including solar arrays that are 30 percent lighter and 50 percent more powerful, upgraded flight software and more efficient propulsion capabilities, which result in "longer maneuver life."
The launch today will be just the second for the Falcon Heavy. Its maiden flight was in February 2018, when the rocket famously carried a Tesla Roadster belonging to SpaceX and Tesla founder Elon Musk into space.
According to SpaceX, Falcon Heavy is "the most powerful operational rocked in the world by a factor of two," with its 27 Merlin combustion engines capable of generating more than 5 million pounds of thrust at lift-off.
The company says the launch system has the ability to lift nearly 64 metric tons (141,000 pounds) into orbit, which is more than twice what its nearest competitor—the Delta IV Heavy—is capable of. The SpaceX design is also cheaper to operate than the Delta, with each Falcon launch costing between $90 and $150 million.
In the history of human spaceflight, the Falcon Heavy comes second only to the iconic Saturn V rocket—which was used during NASA's Apollo moon program and last flew in 1973—in terms of power.