SpaceX Reveals Photos of Completed Crew Dragon for Launching Humans to Space
On the same day that SpaceX canceled a launch from the Cape Canaveral Air Force Station in Florida, Vice President, Mike Pence was visiting one of the hangars that houses the Crew Dragon capsule set to launch humans to space next year.
The Crew Dragon, also known as the Dragon 2, is meant to carry astronauts to space and is currently at the launch pad, along with the rocket that will be used. NASA and SpaceX are contracted to work together to launch people to the International Space Station as early as 2019. SpaceX has its first uncrewed demonstration scheduled for January and is on track for a crewed demonstration sometime over the summer.
Tuesday, Pence, chair of the National Space Council, tweeted photos of himself visiting the capsule Tuesday, he called it, "An important part of the future of American human space exploration."
The Crew Dragon, as well as the SpaceX rockets, are part of the plan to bring launches of United States astronauts back to the U.S. and to use rockets from the U.S. to launch them.
In addition to the photos Pence posted of the craft behind him, SpaceX also released two new photos of the craft as well. Those photos show the capsule in the same hangar where the vice president posed with it.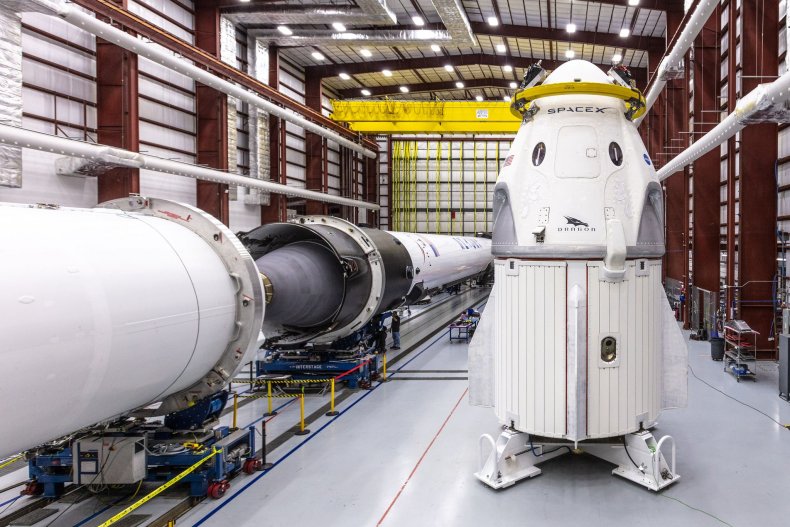 In August, NASA announced the first four astronauts who were chosen to launch in the Crew Dragon during the demonstrations and to the ISS. Bob Behnken and Doug Hurley were chosen as the astronauts who will be on board for the demonstration of the Dragon Crew, following the success of that launch Victor Glover and Mike Hopkins will be the first to launch to the ISS on board the Dragon.
As of Wednesday, the first demonstration launch of the Dragon Crew was scheduled for January 17, 2019, and that was scheduled to be uncrewed. "SpaceX's Demo-1 will provide key data associated with the ground, integrated rocket and spacecraft, and autonomous docking systems, and the landing profile ahead of the company's flight test with astronauts, known as Demo-2," according to NASA.
Currently, astronauts headed to the ISS launch on rockets provided by Russia from outside of the U.S. The plan with the commercial crew contracts is to bring those missions back to U.S. soil to make the country an independent
​