Spacious 2023 Honda HR-V Starts Under $25K, Has Civic-inspired Cabin
The subcompact 2023 Honda HR-V made its full debut on Tuesday, delivering next-generation looks and appeal. Honda premiered the redesigned exterior in April, but this is the first time buyers have seen the Civic-inspired cabin.
The updated five-passenger crossover gets a new, more powerful engine for the 2023 model year and added interior space.
It will continue to slot below the larger Pilot, Passport, and CR-V in Honda's SUV lineup. The size makes it a direct competutor with the Subaru Crosstrek, Chevrolet Traverse and Ford EcoSport.
A representative for the automaker told Newsweek that Honda's design team was aiming for a simple interior and the HR-V. It features a low, clean dashboard for good outward visibility with few distractions. Honda also moved the mirrors outward, away from the pillars to offer better views in those directions.
The new HR-V is bigger than its predecessor in width and by 9 inches in length. That leads to a small increase in cargo space; it's now 24.4 cubic feet on all trims where last year's version ranged between 23.2 and 24.3 cubic feet.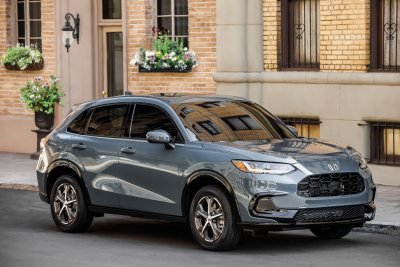 Its rear seat is wider, allowing for more comfortable rear passenger space.
The biggest piece of design lifted from the Civic is the honeycomb grille covering the air vents and stretching two-thirds of the width of the cabin. Knobs poke through to control the direction of the heat and air conditioning. The grate also visually separates the infotainment touch screen and the climate controls.
An all-digital 7-inch instrument cluster is now standard, as is a 7-inch touch screen that is centered on the dashboard, nested in place. Apple CarPlay and Android Auto come on HR-V LX and Sport models.
The top HR-V EX-L trim level gets a 9-inch infotainment touch screen with wireless Apple CarPlay and Android Auto, wireless charging pad and an upgraded audio system with eight speakers.
The 2.0-liter four-cylinder in the 2023 HR-V makes 158 horsepower and 138 pound-feet (lb-ft) of torque, up from 141 horsepower and 127 lb-ft. A continuously variable transmission (CVT) is standard across all trims.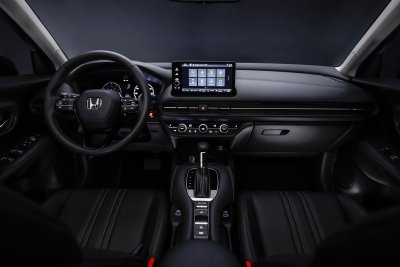 All-wheel drive is optional and hill descent control, which controls speed automatically when going down a steep hill, is also available. Front-wheel drive HR-Vs have a combined EPA fuel rating of 28 miles per gallon (mpg); all-wheel drive versions get 27 mpg.
Those numbers are worse than the 2022 Honda HR-V in every configuration, according to the Environmental Protection Agency (EPA). The 2022 model achieved 28 to 30 mpg, depending on configuration.
The 2023 Honda HR-V starts at $24,895 including destination. All-wheel drive adds $1,500. The top EX-L trim with all-wheel drive is $30,195. The base price of the model has gone up about $3,000 with this redesign while the top-out point has been pushed similarly higher.