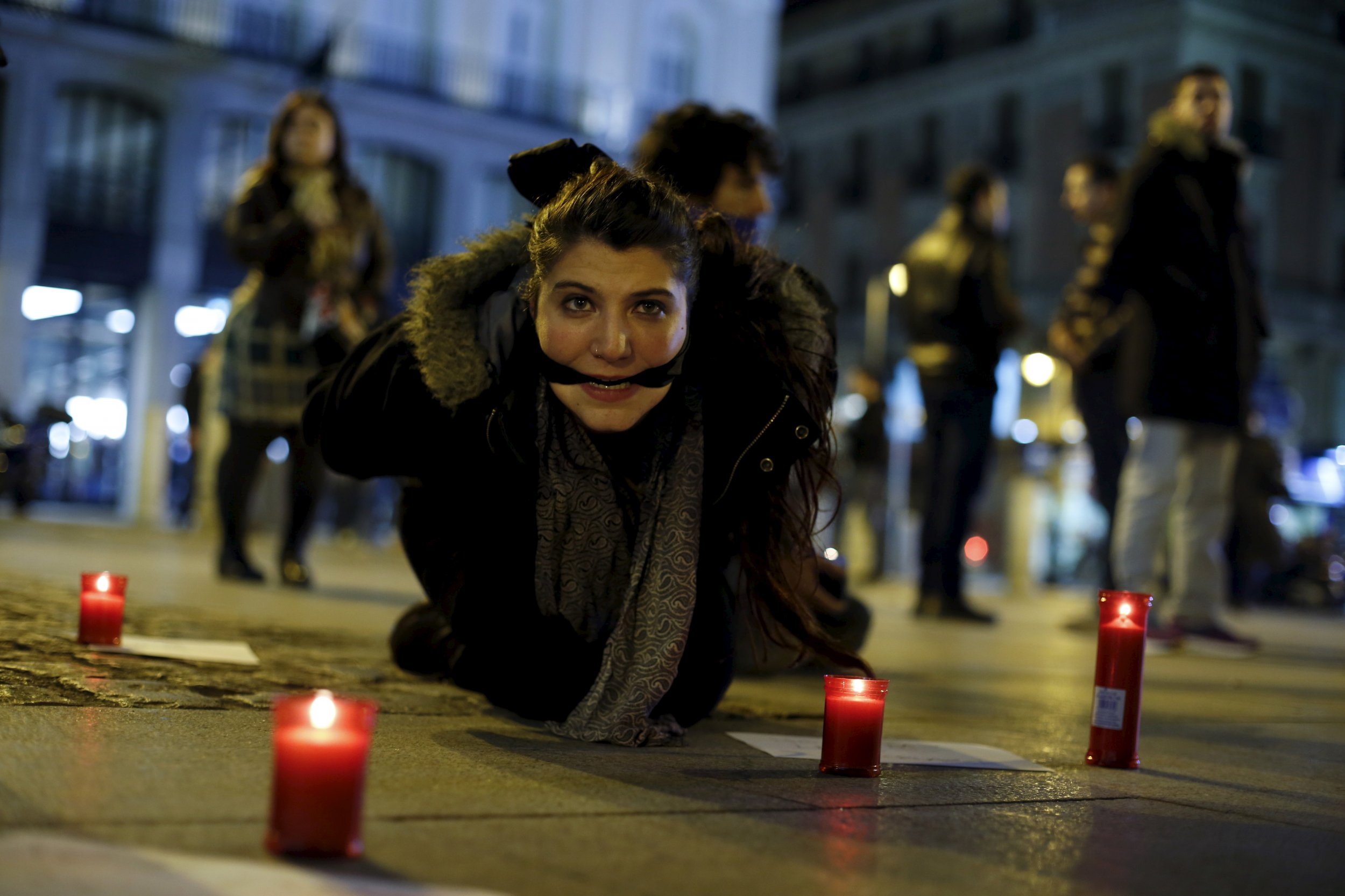 The Spanish parliament passed a controversial "gagging law" yesterday, sparking outrage among rights groups who accuse the government of "bullying" protestors and quashing freedom of expression.
Demonstrators will now be hit with fines for committing a public order offence, which could be as high as €600,000 for unauthorised demonstrations outside certain buildings, including the Congress, Senate and regional legislative assemblies, nuclear power plants, docks and airports.
Despite disapproval from all 14 opposition parties, the ruling Popular Party (PP) used its majority to pass the Citizens' Security Law (popularly known as the ley mordaza, or gagging law) which will come into force in July.
Spain has seen many protests against austerity since the 2008 financial crash pushed the country into economic crisis, which have occasionally turned violent.
Members of Greenpeace Spain staged a protest outside the Spanish parliament yesterday against the passing of the law. Raul San Mateo, communications officer for the organisation, says the PP are using their parliamentary majority to hinder protesters as they make the government and their policies look bad.
He says their attempt to counter protests goes against the fundamental values of democracy and freedom of speech.
"This law means the government and police now have the power to put fines on people, rather than a judge doing it after a trial, so people can't defend themselves," he says.
He adds that the new law directly targets Greenpeace, setting a fine of €600 for protesters who hang banners, try to climb public buildings or monuments, or "disrespect" police officers.
Luis Aznar, public security law rapporteur for PP, told AFP that there are "uncontrolled and anti-system groups" that took advantage of the previous system. But San Mateo argues the majority of protests do not pose any risk to public health.
"In 2013 in Madrid there were more than 3,000 demonstrations, around 50 a day. Some were small, some were big, but they only needed police at 1% of them, so most were peaceful, showing there's no real need for this law, as there's no public health risk," he says.
Under the new law, a demonstrator who tries to take a picture of a law enforcement officer during a protest could face a fine of €30,000. Amnesty International's deputy director for Europe, Gauri van Gulik, says this rule in particular is very worrying, as in previous protests where police have been shown to use excessive force, the only way this came to light was through pictures and video footage.
She says many of the new laws drafted in this bill are vague and unclear, generating insecurity among the Spanish public.
"A lot of normal people are afraid to do what they want to do and what they have a right to do," she says. "I am deeply concerned that this will have a chilling, stifling effect on demonstrations, especially spontaneous ones."
She adds: "In one fell swoop, Spain is stifling freedom of expression and freedom of assembly."
The new security law will also enable authorities to deport migrants arriving at Spain's north African enclaves, Ceuta and Melilla - the only two land borders with Africa - to avoid illegal entry.
Van Gulik says Spain are trying to justify a practise which is illegal under international law and contradicts the European Court of Human Rights, which prohibits collective expulsions.
"They must give people a right to claim asylum if they're refugees," she says. "Rounding up migrants and sending them back without any proper procedure is illegal. They'll be sent back to Morocco where they're at risk of human rights violations."
The PP also approved a bill to reform Spain's criminal code to reintroduce the possibility of life sentences, with a minimum term of 25 years, for serious crimes including acts of terrorism and murdering a child or handicapped person.
According to local press, opposition parties have branded this move "inhumane" and "unconstitutional".
Amnesty International called it a "dark day for Spain", deeming the ruling a "two-pronged assault that targets rights and freedoms of Spanish citizens, migrants and refugees".