Man With Half Kilo of Cocaine Hidden in Wig Arrested at Airport: 'His Toupee Was Very Curious'
A Colombian man's attempt to smuggle cocaine into Spain under a toupee last month failed spectacularly after authorities noticed his overly-large head, police said.
Policía Nacional said the man was detained after landing on a flight from Bogotá, the capital of Colombia, into Barcelona–El Prat Josep Tarradellas Airport. His plane had been assigned extra security checks, a normal procedure for countries that are known for drug trafficking.
In this instance, agents became suspicious after spotting a man wearing a disproportionately large wig under his hat and acting nervous enough to attract attention.
Citing the Spanish national police, EFE news agency reported a search of the suspect revealed a package containing more than 1.1 lbs (500 grams) of cocaine glued to the top of his head. The drugs had an estimated street value of more than €30,000, the equivalent of $33,700.
A statement from the law enforcement agency said: "Performing routine controls on arrival flights considered 'hot,' the officers detained a Colombian citizen from Bogotá [Colombia] who had the appearance of a tourist on first impression but later attracted their attention due to his notable nervousness and the disproportionate size of the toupee he wore.
It added: "When proceeding with his identification, officers saw that underneath his hat, he was wearing a wig that because of its size prompted suspicions he could be hiding an illegal substance underneath it." The suspect was later charged with public health crimes.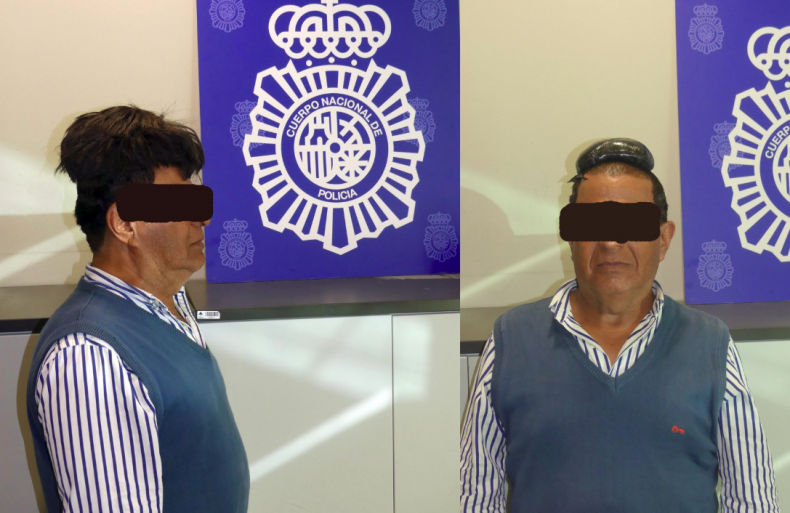 The alleged smuggler's full identity was not released by police, but media outlet La Vanguardia reported he was 65-years-old. The arrest took place on June 18. A police spokesperson told the daily newspaper: "His toupee was very curious but the agents there are experts."
Policía Nacional posted multiple images of the man posing for a mugshot to its Twitter account today—quickly attracting hundreds of shares and thousands of likes on the site. The caption stated: "Arrested in Barcelona with drugs in his toupee... his hair is going to fall out!"
The first picture, taken from a side perspective, showed the man wearing the large toupee. The second image posted to social media showed a package, allegedly containing the seized drugs, on his head. In both, the man's face was partially obscured with a black bar across his eyes.
A police statement obtained by Reuters noted: "There is no limit to the inventiveness of drug traffickers trying to mock controls."
Piñera del Olmo Canals, a Barcelona-based law firm, explains on its website that drug cases fall under "crimes against public health" in Spain and criminal sentences will vary case-to-case.
It explains online: "Punishment for drug-related crimes depends on the type of drug involved and whether they carry a serious health risk. For trafficking of a drug which seriously affects the user's health, our lawyers have seen sentences of between three to six years and a fine."