The Spanish army's uniform has become all the rage on the Internet.
Photographs of members of the army's La Legión, a regiment known as the Bridegooms of Death (very metal), went viral after people began fawning over the army force's notable pastel green uniforms and the distinctively low-cut shirts the men were wearing.
"Spain is deploying its army to help manage their coronavirus outbreak and not to be insensitive at an anxiety-inducing time but uh... I think I speak for all New Yorkers when I say, Spain, hi, can you deploy some of that in our direction? We will comply with your orders," author Jill Filipovic wrote on Twitter on Sunday alongside images of the army men patrolling the streets.
She added: "Just saying there are a lot of singles in this town who need to be put under house arrest and these are just the men to do it."
Thousands of people shared in Filipovic's sentiments, and many people were particularly fond of all the cleavage the uniforms revealed. "As a woman with eyes, I appreciate that their shirt lapels are practicing social distancing," one Twitter user wrote.
"Not that I've blown it up or anything but it seems important to note that the buttons only START halfway down. This is BY DESIGN (of god maybe but I let the viewer decide)," another wrote.
Some people found themselves even more attracted to the regiment's uniforms after learning the ensemble was specifically worn by the La Legión, an elite sector of the Spanish military known for extreme toughness and force.
"Me, always looking for the lie: there's no way that's the real Spanish Army. no way. that cannot possibly be the uniform. I'm gonna debunk this in thirty se—<touches earpiece>I'm being told this is not, in fact, the Spanish Army uniform," a Twitter user wrote, "it is the ELITE Spanish Army uniform."
Not everyone was amused by all the sexualizing of the military unit, though. Some folks on Twitter pointed out the damning history of the La Legión and its connection to Francisco Franco, a leader of the regime who was ruled as dictator of Spain from 1939 to 1975.
"Spanish Legion, the only reputation they had was for murdering civilians under Franco," one person wrote.
This isn't the first time the regiment's captured the attention of the masses online. Back in 2018, the famous unit made headlines after it was revealed that 6 percent of its members were obese, resulting in Spanish officials immediately placing soldiers on strict diets and exercise regimens.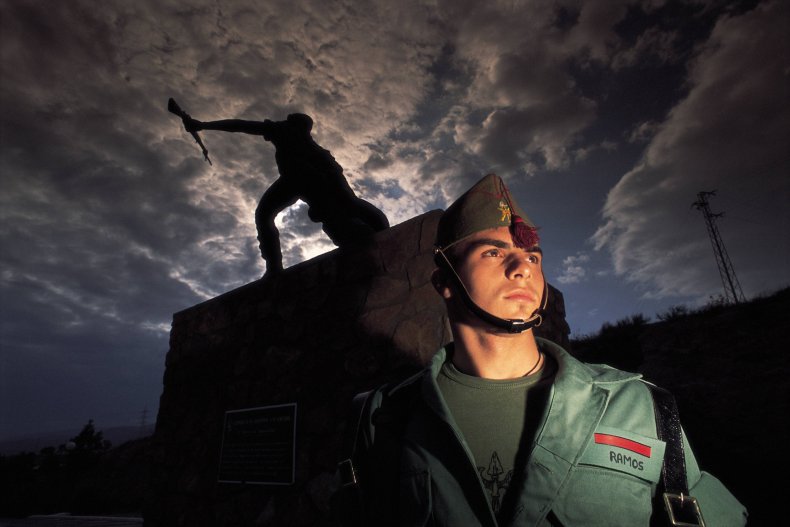 Spain deployed a number of its military members to help city officials combat the coronavirus outbreak. More than 25,000 people were infected with the virus as of Sunday.
See a few more reactions to the Spanish army uniforms below.