Viral Video Shows Bullfighter Wipe Away Animal's Tears Before Killing It, Sparking Outrage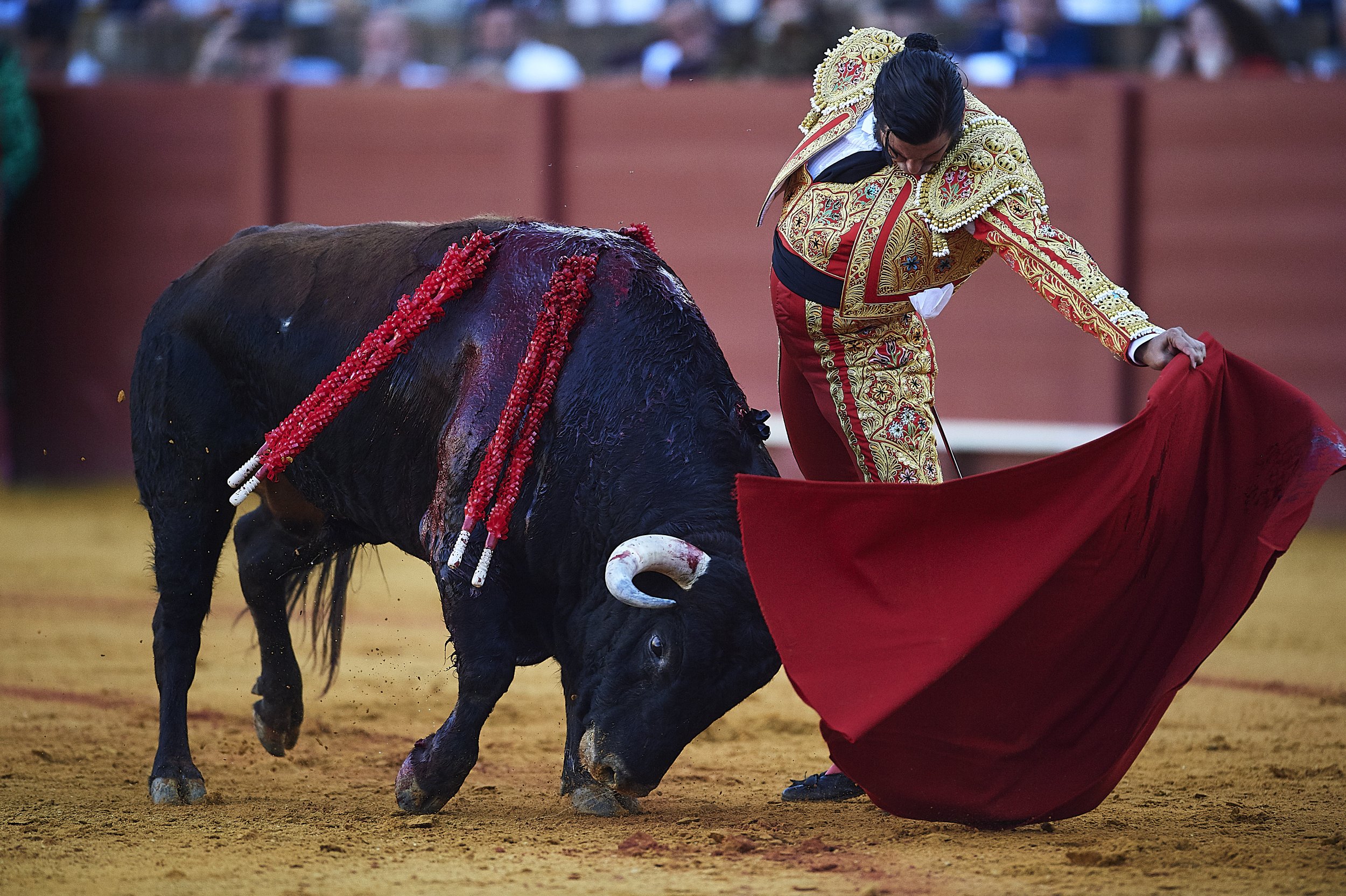 Social media users slammed a matador that wiped a bull's eyes before killing it at a fight in Spain. Twitter users labelled the actions of bullfighter Morante de la Puebla "sadistic," "disgusting" and "psychopathic."
The fight took place during the Feria de Sevilla (Fair of Seville) at the city's Maestranza bullring on Friday. Although members of the audience applauded the matador's gesture, internet users condemned his actions as the news spread over the weekend, Spanish outlet Público noted Sunday.
Several clips of the incident went viral online, with one hitting more than 2.35 million views by Monday 3.30 p.m. local time (9.30 a.m. ET). Another, from user PabloMM, had reached 379,000 views by Monday.
"Morante de la Puebla took a handkerchief out of his pocket to dry the tears of the bull he had been torturing for half an hour. This borders on psychopathy, it's a sick sadism," PabloMM wrote alongside the post.
Silvia Barquero, president of the Animalist Party (PACMA) tweeted: "Only a twisted and perverse mind would be able to torture an animal until blood drips down its paws and wipe a piece of paper from its face with a handkerchief. The matador disguises his eerie lack of empathy. Abolish bullfighting NOW!"
"What a disgusting person," user Brioenfurecida commented on one clip shared to Twitter. "Can you be more sadistic?" added user Gundislavus.
But others defended the clip. User Raphael J Cortes, who posted the video seen more than 2.35 million times, wrote: "The antis distort everything. I am not going to deprive myself of sharing interesting things… This detail of Morantes caught my attention and I shared it."
The role of bullfighting in Spain is controversial. Proponents argue it's a vital cultural event and should be preserved. But many animal rights activists consider it cruel.
Nonetheless, the ancient sport is still popular in Spain. A 2014-15 government survey estimated that almost 9.5 percent of Spaniards have been to see a bullfight—a rise from 8.5 percent in 2010/11, El Pais reported back in 2016.
Some regions have tried to ban the sport, which is viewed by many as a key part of Spain's cultural heritage. Catalonia famously banned bullfighting in 2010. But Spain's constitutional court eventually overturned the ban, arguing that Catalonia's regional government had acted beyond their power, as The Guardian noted at the time.
Instead of an outright ban, judges decided Catalonia could "regulate the development of bullfights" or "establish requirements for the special care and attention of fighting bulls."