Man 'Proposes' to Girlfriend on Beach During Spain's Coronavirus Lockdown, Gets Fined
Since the government in Spain declared a state of emergency on Saturday, people have been banned from leaving their homes unless they are going to work, helping those in need or buying essential supplies.
However one man in the northern Galicia region thought that there might also be a dispensation for matters of the heart when questioned by police about why he was walking along a beach with his girlfriend.
Law enforcement officers reportedly stopped the pair as they walked along the seafront of the town Ares, A Coruña, at around 6 p.m. on Thursday and asked for an explanation as to why they were not at home.
The unnamed man told officers that he was there to ask his partner to marry him, according to the local newspaper La Voz de Galicia.
The publication reported that the police in Ares were unimpressed with the explanation, whether it were true or not, and said that they were "negligent" for endangering their own safety and that of residents and were fined.
Across the country, 48 people have been arrested in the last 24 hours for flouting the restrictions, The Local reported.
A video released this week by the National Police Corps union showed officers questioning a man who was trying to trick officers in Palencia by walking a stuffed dog to take advantage of a loophole in restrictions allowing pet-owners to take animals outside for walks or to go to the toilet.
The union tweeted: "You can not be more irresponsible, some believe that this is laughable and take it as a joke. This is very serious." Also this week a man who was in the street dressed in a Tyrannosaurus Rex outfit was ordered by police to return home.
In Tenerife, five people were fined after they went to play with a ball on a sports court in the town of Güímar and posted the picture on Instagram boasting about it.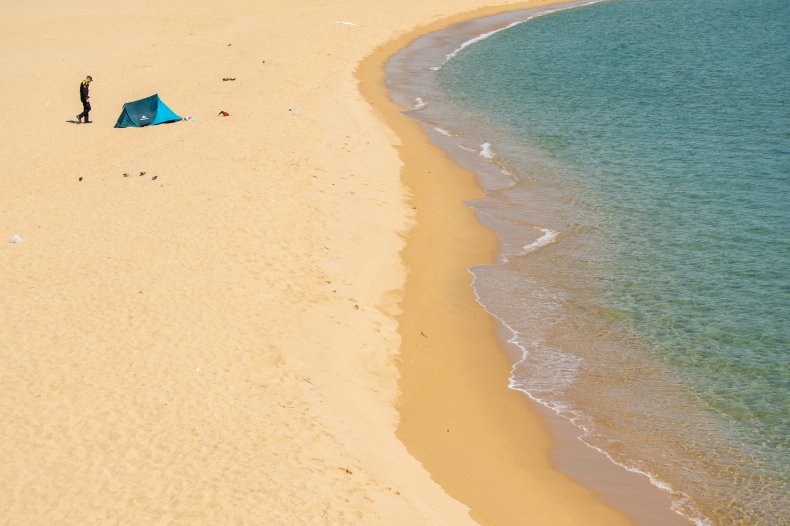 Spain is the most affected country by the coronavirus in Europe after Italy, and the number of people who have died after testing positive climbed to more than 1,00 on Friday after 235 people died in the previous 24 hours.
This is according to the health ministry whose emergencies coordinator Fernando Simón said that the overall number of cases had risen to 19,980, more than 16 percent higher than the previous day.
In Madrid, where more than a third of the total infections are, police have been using drones in public areas to urge people who are out to go back home, Reuters reported, and troops have been deployed in 14 cities to enforce the lockdown.
With people cooped up in their homes, there have moments of solidarity. Footage of people applauding doctors, nurses and healthcare workers as they leave work has been widely shared on social media, as have scenes of people playing music and singing from their windows.
The graph below by Statista shows the global extent of the coronavirus as of March 20.