Mexico's president has asked Spain and the Catholic Church to formally apologize for the "abuses" they committed against indigenous Mexicans about 500 years ago.
"I have sent a letter to the king of Spain and another to the pope calling for a full account of the abuses and urging them to apologize to the indigenous peoples [of Mexico] for the violations of what we now call their human rights," President Andrés Manuel López Obrador said in a video, accompanied by his wife at the historic indigenous city of Comalcalco, posted to social media on Monday.
"There were massacres and oppression. The so-called conquest was waged with the sword and the cross. They built their churches on top of the [indigenous] temples," he continued.
About 80 percent or more of Mexicans identify as Catholics and the country maintains positive relations with Spain. However, López Obrador said "the time has come to reconcile."
Spain quickly responded, refusing to apologize for the actions of its people's ancestors.
"The arrival, 500 years ago, of Spaniards to present Mexican territory cannot be judged in the light of contemporary considerations," the Spanish government said in a statement, according to the BBC. "Our two brother nations have always known how to read our shared past without anger and with a constructive perspective."
The Vatican did not release a public statement and did not immediately respond to Newsweek's request for comment. However, three years ago, Pope Francis visited Mexico and appeared to ask for an apology from indigenous Mexicans.
"Some have considered your values, culture and traditions to be inferior," he said at the time, the Associated Press reported. "Others, intoxicated by power, money and market trends, have stolen your lands or contaminated them," he continued, calling for a collective: "Forgive me." The pope also previously offered a broad apology in 2015 to all the indigenous people harmed by the church's actions during the centuries of conquest.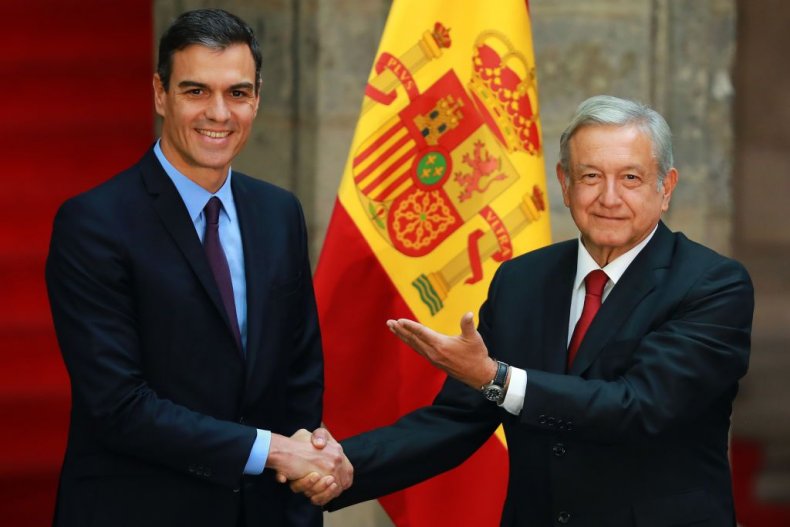 Spanish conquistador Hernán Cortés was responsible for the original brutal conquest of Mexico in the early 1500s. With about 1,000 men, superior weapons and the aid of of diseases unknown in the so-called "New World" at the time, Cortés defeated the powerful Aztec empire and implemented Spanish rule over what is now Mexico. Spanish rule lasted for approximately 300 years before the country became independent.
Cortés, along with other Spanish conquerors and explorers, are known in history for their extreme brutality, having carried out large-scale massacres of indigenous populations in Latin America. The Catholic church was integral in supporting these missions, as Spanish and church leaders saw the conquest as an important way to spread the message of Christianity.