Spain Says It's Safe for Tourists Following Outbreaks, U.K. Not Apologizing for New Travel Rule
Spain has insisted it is safe for travelers amid an uptick in novel coronavirus disease cases, but the United Kingdom is defending its decision to force those arriving from the fellow European nation to quarantine for two weeks.
The U.K. announced Saturday that those traveling from Spain would need to remain in isolation for 14 days, causing a stir among vacationers and the Spanish government alike.
On Sunday, Spanish Foreign Minister Arancha Gonzalez Laya dispelled the notion that her country posed a risk to visitors in remarks made to reporters.
"Spain is a safe country for tourists and for Spaniards. Like every other European country, we are seeing outbreaks, the outbreaks in Spain are perfectly controlled," she said Sunday.
Gonzalez Laya identified the three "most important" outbreak centers as being the cities of Barcelona, Lleida and Zaragosa, but said all three were "perfectly traced" and that half of those who are infected in Spain are asymptomatic, demonstrating the country's vigilance in detecting cases.
"We keep in dialogue with European governments to transmit this message of calm and responsibility," she added. "We are doing so with the U.K. government, who has recently adopted a set of quarantine measures for Spain."
Gonzalez Laya said talks now were especially focused on excluding the Balearic and Canary Islands from the quarantine measures. She hoped this dialogue "will bear fruit shortly."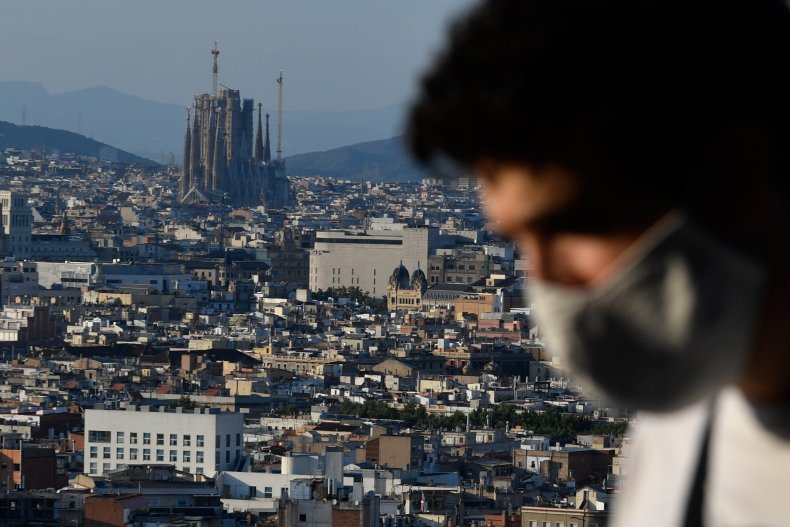 The sudden U.K. decision, which came into effect just hours after its announcement, also came at odds with some at home, where Shadow Health Secretary Jonathan Ashworth called its execution "shambolic." Thousands of U.K. citizens are already in Spain, including Transport Secretary Grant Shapps.
Shapps wrote Sunday on Twitter he held a video call with U.K. airlines and the U.K. ambassador to Spain Hugh Elliott as a result of "the rapid rise" of COVID-19 cases in Spain in order to "in order to ensure close coordination to help U.K. nationals return from Spain."
He added: "We will all need to quarantine for 14 days on arrival."
Foreign Secretary Dominic Raab told Sky News on Sunday that U.K. officials "took the decision as swiftly as we could" once the data regarding Spain's infection rate had been assessed.
"We can't make apologies for doing so," he said. "We must be able to take swift, decisive action, particularly in relation to localized, or internationally in relation to Spain, a particular country where we must take action, otherwise we risk re-infection in the U.K., potentially a second wave and then another lockdown."
Spain, a country of about 47 million people, has registered more 272,000 cases of COVID-19. The U.K., with a population of over 66 million, has recorded around 301,000 cases of the disease.
The illness, first observed in China, has resulted in worldwide lockdowns, with Western Europe among the earliest regions to witness mass infections, forcing countries to take drastic measures to avoid the spread of a disease that has since killed over 646,000 people across the globe. Some 16 million have been infected in total, over a quarter of whom are in the United States.
The European Union, which the U.K. withdrew from earlier this year, released a revised list of countries considered safe for member states to release travel restrictions on. The 13 nations include Algeria, Australia, Canada, Georgia, Japan, Morocco, New Zealand, Rwanda, South Korea, Thailand, Tunisia, Uruguay and China, whose inclusion is "subject to confirmation of reciprocity" that Beijing will lift restrictions for EU visitors.