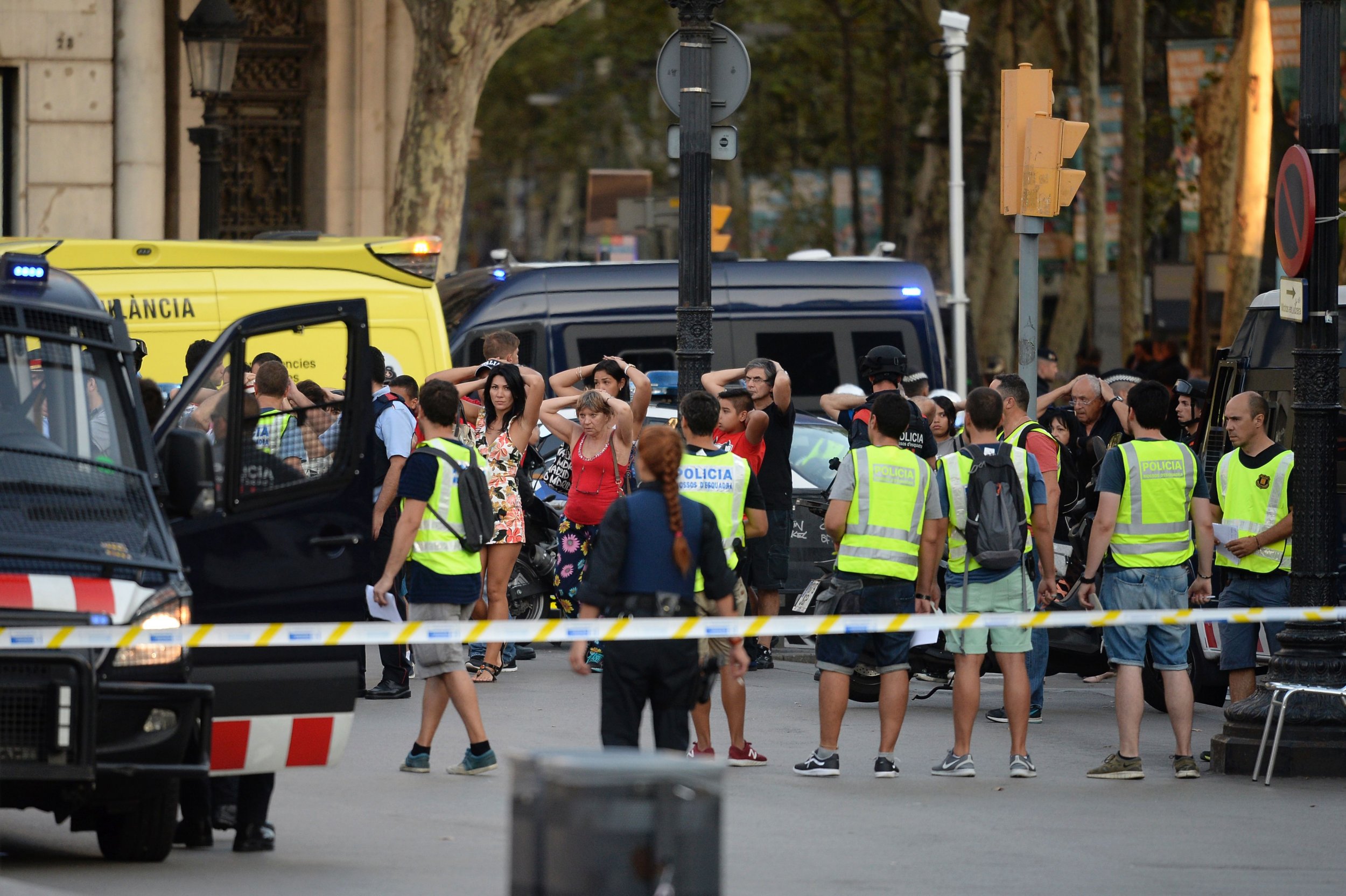 Updated | A van rammed into crowds of people Thursday in the Spanish city of Barcelona leaving dozens injured and at least one person dead, in what police have described as an act of extremism.
Referring initially to the attack as a "massive crash" in Las Ramblas, a popular tourist thoroughfare, police have only confirmed one death but local media have speculated that as many as 13 have been killed. Hours later, the Islamic State militant group (ISIS) claimed responsibility via its official news outlet Amaq News Agency.
Related: Barcelona attack live updates: Van plows into crowd on famous Las Ramblas
Terrorism analyst Michael S. Smith II said that, within an hour of the attack, the jihadist movement's supporters had shifted from "neutral" to "celebratory" toward the incident on messaging application Telegram, where they even postponed an ongoing social media campaign about the group's efforts in the Philippines to spread the news of its latest actions in Spain. He also said the country may have been in ISIS's sights for some time.
"There have been ample indicators Spain is among Islamic State's priority targets, such as the production of Spanish-language versions of official Islamic State propaganda that is used to build and reinforce support for the group in Spain and other Spanish-speaking countries," Smith told Newsweek.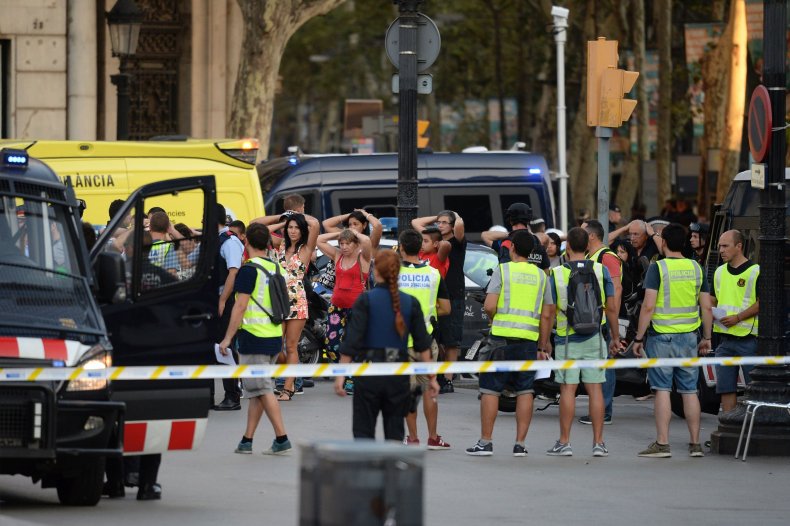 The incident comes days after an individual associated with a far-right, white nationalist rally killed one woman and injured several more when he drove his car into a crowd of counter-protesters in Charlottesville, Virgina. There is also an extensive history of vehicle attacks carried out by individuals either affiliated with or inspired by ISIS in other European countries, including in London on June 3.
Spain has suffered a number of gun and bomb attacks in past years, with most of them being claimed by the Basque Homeland and Liberty (ETA) nationalist group. The militants announced a ceasefire in 2011 and, last year began turning in their weapons as part of an agreement with the Spanish government.
The country has also been the victim of Islamist extremism, but not since 2004. That year, militants supportive of Al-Qaeda detonated a series of bombs in Madrid's subway system, killing 192 people exactly 911 days after the 9/11 attacks in New York City.
In recent years, individuals claiming affiliation to another global jihadist network, ISIS, have conducted attacks on European cities involving guns, bombs, knives and vehicles, raising concern that the same method of ISIS-inspired violence that killed eight people in London in June, five people in Stockholm in April, five people in London in March, 12 people in Berlin in December and 86 people in Nice in July 2016 has come to Spain.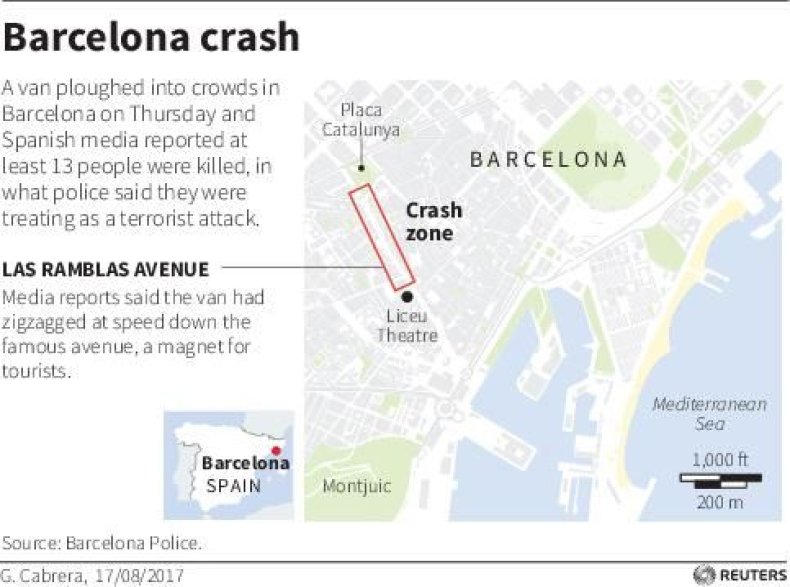 ISIS, which spawned from Al-Qaeda and its allies following the U.S. invasion of Iraq, first made headlines by taking vast swaths of territory in Iraq and Syria in 2014, and later by conducting deadly attacks abroad. In the bloodiest incident yet, ISIS-affiliated gunmen and suicide bombers slaughtered 130 people in a series of attacks across Paris in November 2015. Shortly after Thursday's attack, ISIS supporters shared messages of celebration via social media.
Spanish authorities arrested four suspected ISIS members in Mallorca, a Mediterranean island off the country's mainland, last month, and one more in April.
It is not clear yet who is responsible for the attack, but Spanish police have made two arrests.
This article has been updated to include updated details about the attack, including a claim of responsibility by the Islamic State militant group (ISIS) via its official news outlet and a quote by Michael S. Smith II, who provided additional information about ISIS's social media activity.