Spain Vs. Iran: Betting Odds, Expert Predictions for World Cup 2018 Match
Spain likely will be looking for a better result in its second match of the 2018 World Cup on Wednesday, when it will face off against underdog Iran.
Spain tied Portugal 3-3 in its opening match of the tournament and, while it didn't play awfully, the 2010 World Cup winners had no answers for Cristiano Ronaldo, the Portuguese star considered one of—if not the—best player in the world. In an incredibly entertaining match, Ronaldo notched a hat trick in an impressive individual effort that led the Portugal squad to a draw.
Spain began the tournament with upheaval. Its coach Julen Lopetegui was fired the day before the tournament kicked off after it was revealed he had agreed to take over as manager of Spanish club Real Madrid at the conclusion of the World Cup. Spain's sporting director Fernando Hierro stepped in as manager. And the new coach said he was pleased with the grit displayed by his team in their opening match.
"We have to be very proud of the boys. To lift ourselves in adversity and turn the match around, we showed character, pride," said Hierro, according to Agence France-Presse. "This is a mature team. They have been playing together a long time and it is a pleasure to have these players."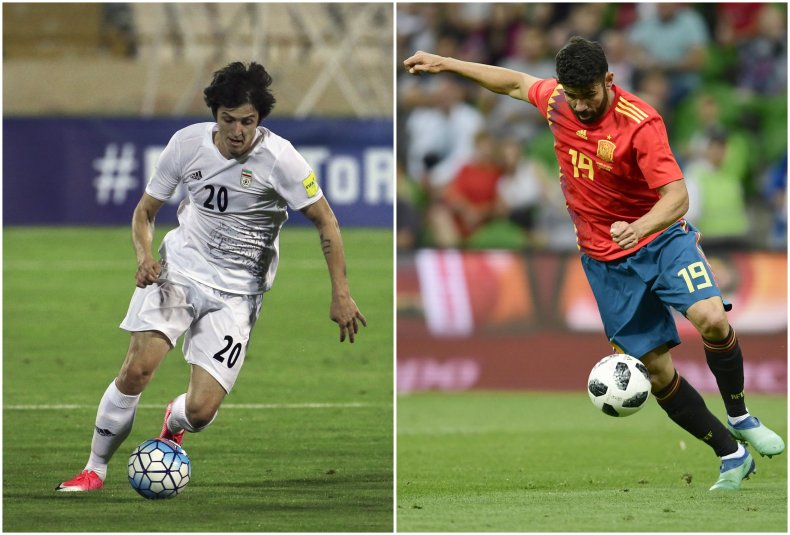 Iran, meanwhile, earned a stunning victory over Morocco in its opening match. After a solid performance, it was gifted a victory via an own goal in stoppage time.
"Superman is only in the cartoons," said Iran manager Carlos Queiroz after the match, according to The Guardian. "Nobody is Superman. What can happen once in a while is that a group of people, when they are united, they can create superstories. We work together to create super-results. Our attitude is to make the impossible, possible."
Iran may just need a heroic effort to topple powerhouse Spain, however. Spain is a -500 favorite in the match, according to Odds Shark, with Iran a +1,300 underdog. Odds Shark also predicted Spain would win the match. It's not alone in that assessment.
Sports Illustrated's Planet Fútbol boldly predicted a 4-0 victory for Spain. Goal.com also predicted a Spain win as did The Telegraph, which thought the final score would be 3-0.