Spain's PM Heads to U.S. But No Biden Meeting on Schedule
Spain's Prime Minister is spending several days in the United States this week but he won't be meeting with President Joe Biden—a notable departure from the expected protocol when world leaders cross paths.
For Spanish PM Pedro Sanchez, the U.S. Capitol is not on the agenda. He is instead traveling to New York, Los Angeles, San Francisco and Cupertino in an effort to promote Spanish businesses, according to local reports.
The Spanish U.S. Embassy didn't respond to Newsweek's request for comment.
The White House declined to comment on Newsweek's request.
An awkward relationship between Biden and Sanchez has been known but it's unusual for a head-of-government to avoid an official White House visit.
Biden called several world leaders before making his first call to Sanchez after taking office on January 20. He's hosted several world leaders since at the White House.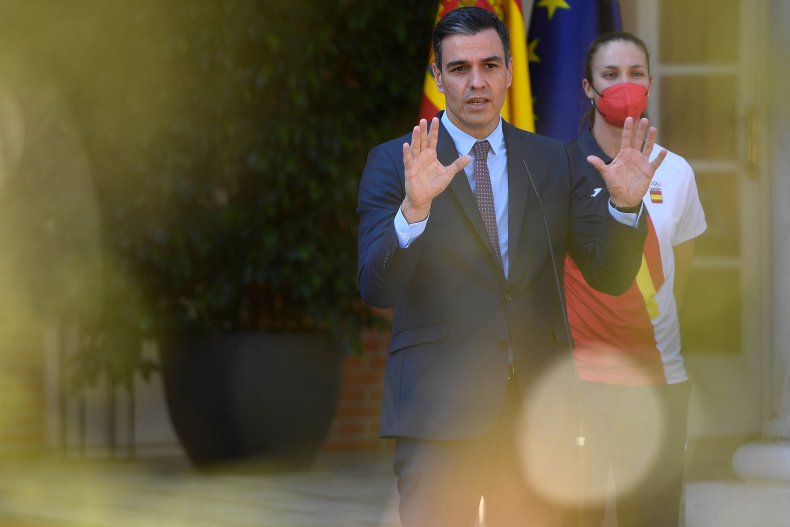 Biden reportedly held an individual conversation with Sanchez on the margins of the NATO Summit in Belgium in June, and Sanchez joined a "family photo" of attending leaders with Biden. TV cameras briefly caught Biden and Sanchez chatting while they were walking after the group photo, but there was no intimate meeting reported out from either country.
A visit in the U.S. would have been the first official visit between the two.
According to Morocco World News (MWN), Sanchez will meet investors in New York and business people in Hollywood, then tour Apple's headquarters in California's Silicon Valley. He plans to discuss the importance of the Spanish language to their operations, the outlet reported.
MWN reported that Spanish Minister of Industry and Commerce Reyes Maroto is joining Sanchez on the four-day trip across the country.
Earlier this month, Sanchez visited Estonia and held meetings with the country's president, Kersti Kaljulaid, and Prime Minister Kaja Kallas.
"The Spanish prime minister and the US president had a brief conversation after the group photo," sources from La Moncloa, the seat of power, told reporters from El Pais at the time. "As had been previously stated, the two wanted to greet each other, meet each other personally and have a first contact. That's what their respective teams had agreed. Among other things, they had agreed that the greeting would be caught on camera as proof of the excellent relationship that exists between both countries."
The June walk was the first known contact between Sanchez and Biden.
Sanchez, who took office in 2018, has met with the heads of other countries, including the United Kingdom's Boris Johnson while serving as Spain's prime minister.