Spain's Shocking Exit From the World Cup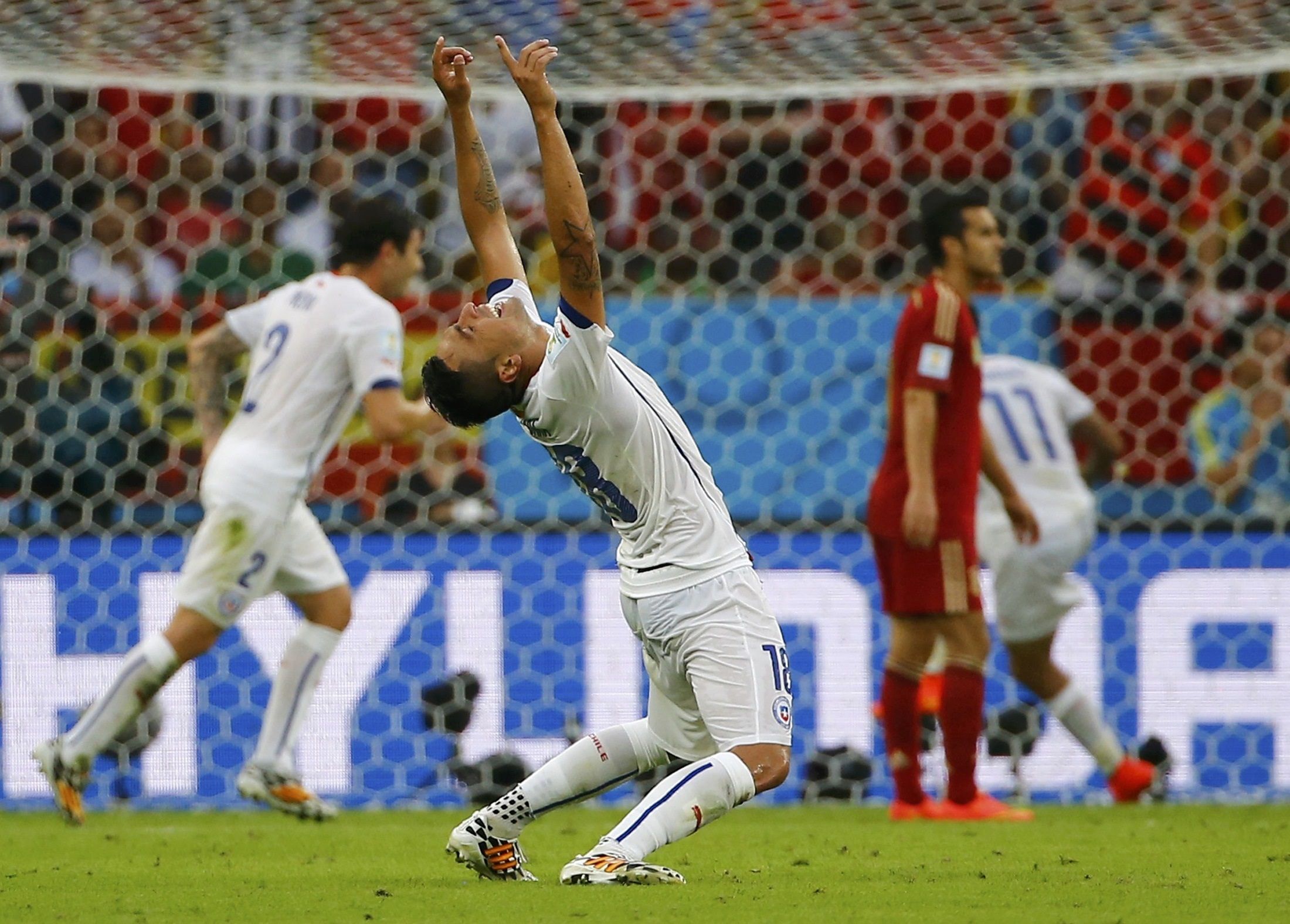 Adios, Espana.
Spain, the last nation standing at the World Cup in 2010 in South Africa, became the first to exit this edition with Wednesday's 2-0 blanking by Chile at famed Maracana Stadium in Rio de Janeiro. Maracana will be the site of the World Cup final on July 13, and while many thought Spain's World Cup quest would end on this pitch, few thought that it would occur in the month of June.
Thus endeth one of the great eras by any national team in football history: between 2008 and 2012 La Furia Roja ("The Red Fury") won one World Cup (2010), two European championships, in 2008 and 2012, and one Confederations Cup in 2009.
Like Italy before them in 2010, the Spaniards were Euro-trashed: defending World Cup champions who not only failed to advance beyond the group stage, but failed to win a match. "I can only ask fans for forgiveness," said Spanish goalkeeper Iker Casillas, who allowed two first-half goals that would go unanswered. "We did everything we could."
Casillas was one of a number of Spanish team members who played for either Atletico Madrid or Real Madrid this past season in La Liga. The two sides advanced to the UEFA Champions League final, which was not contested until the final weekend of May. In other words, many key contributors on this side barely had time to doff their professional kits before flying across the Atlantic to Brazil.
"We have no excuses," said Spanish coach Vicente del Bosque. "It's a sad day for all the players."
And the end of an era.
Chile, meanwhile, continues its semi-surprising start with a second straight victory and passage into the knockout round of 16. While three other South American nations have triumphed at the World Cup, each of them at least twice (Brazil, Argentina and Uruguay),the Chileans have only once advanced to the semi-finals (in 1962). Since the start of 2013, however, they have forged draws in matches versus Brazil and Spain while defeating Uruguay twice and England once.
La Roja is for real. They'll be sticking around Brazil for at least another 10 days, Many of their fans may not, though. Yesterday hundreds of Chilean supporters, in a bold and desperate attempt to gain entrance to the match, stormed the media center at Maracana before they were eventually subdued. Hopefully, a few of them filed stories.
Down, Under
It was right there for you, Socceroos, if not in your hands then at least at your forehead. Through 65 minutes Australia, the lowest-ranked nation by FIFA (62nd) in the World Cup, had either been tied with or led the indomitable Dutch for all but 70 seconds. Now, in the 66th minute, Tommy Oar dribbled free not more than 10 yards from the left post of the Dutch goal. Oar might have fired, but instead he lofted a cross to teammate Matthew Leckie, who was less than eight yards out.
A header might have produced a go-ahead goal, as well as maddening frenzy for an upset inside the stadium at Porto Alegre. Instead, Leckie could only manage to prod the ball with his chest, a feckless attempt.
The next time down the pitch, the Netherlands' Memphis DePay made Australia...depay with a nasty curving strike from outside the penalty box that found mesh. With that the Oranje overcame an uninspired effort to score a 3-2 win and, like their Group B peers Chile advance to the knockout round.
The Netherlands' dynamic duo, Robin (Van Persie) and (Arjen) Robben, each produced a goal and brought their respective 2014 World Cup totals to three. The goal of the match, however, belonged to Australian icon Tim Cahill, who fielded a crossing pass from near midfield and booted it into the Dutch net all in one motion. That equalizer, just 70 seconds after Robben's goal had put Holland up 1-0, set the tone for the rest of a tense match that for 66 minutes looked like a massive upset in the making.
Elsewhere, Croatia avenged its 3-1 loss to Brazil in the World Cup opener last Thursday with a 4-0 scolding of Cameroon. The Red-Checkered Table Cloths meet Mexico next week and a win would assure advancement. Croatia could still advance out of Group A if it draws versus El Tri and Cameroon defeats Brazil, but the latter ain't happening. So Croatia needs to beat Mexico in order to advance. Mexico needs only a draw.
Day 8
Match of the Day
England vs. Uruguay
3 p.m. Sao Paulo
Uruguay held out controversial striker Luis Suarez --notorious for making racist slurs and biting opponents-- for its first match against Costa Rica, giving the Liverpool forward a few more days to heal from a recent keyhole surgery on his knee and in essence saving him for today's match against the Three Lions. How'd that work out? La Celeste lost in the biggest upset of the opening weekend.
England lost, too, to Italy, which means that this afternoon's match from Brazil's largest city is an elimination game. All of the United Kingdom will be watching back home, but the stadium will be decidedly pro-Uruguayan. Greatness beckons England's Daniel Sturridge, who scored their lone goal in the Italy defeat, while aging Wayne Rooney's calls to greatness are going unanswered right now.
Spain's Shocking Exit From the World Cup | Sports