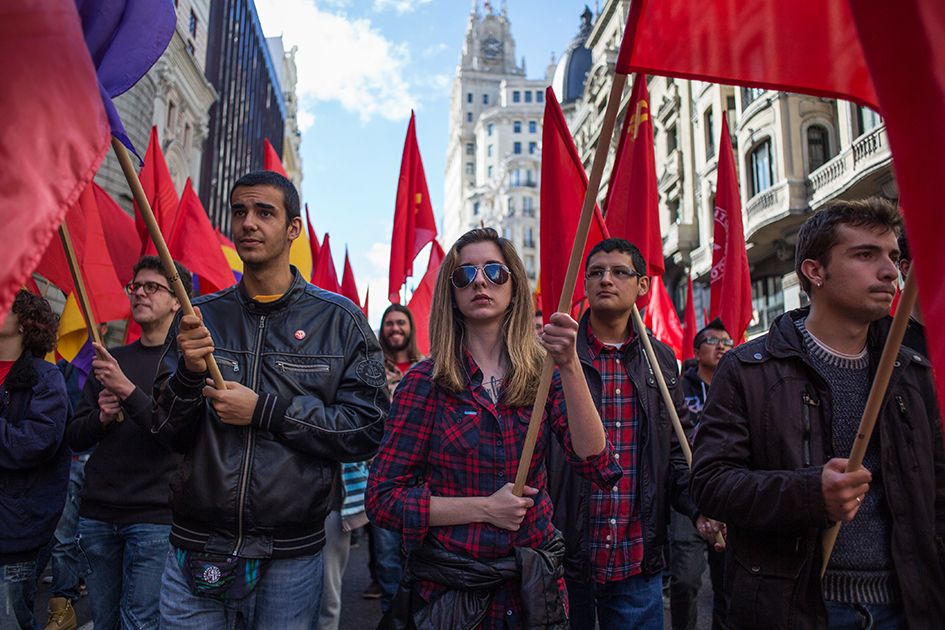 While Ukraine is settling down after its popular revolution and cities from Caracas, Venezuela, to Bangkok are roiled by street demonstrations, no one has been paying much attention to the anger boiling over in Spain.
Tens of thousands converged on Madrid last weekend to protest a myriad of grievances: the country's 26 percent unemployment rate; austerity cuts to health care and education; political corruption; and the proposed reform to the abortion law, among others.
The Marches for Dignity, attracting a diverse crowd that included teenage anarchists, firefighters and senior citizens, are the latest evidence in the streets that vast numbers of Spaniards are fed up with the direction their government is taking the country.
The protesters, who came from all parts of Spain with many walking more than 300 miles to reach Madrid, were met by one of the largest riot police deployments in recent years. While peaceful during the daytime, the march turned violent at night as some protesters clashed with police.
Since late 2008, when the world financial crisis struck, bursting Spain's property bubble, the country's fortunes evaporated. The then Socialist and now Popular Party (PP) governments have embraced austerity measures that include slashing public budgets and raising taxes.
Add to that grim economic picture the high levels of unemployment (more than double the euro zone average) and a seemingly endless list of corruption investigations into politicians, royalty, unions and bankers and Spaniards don't lack reasons for disenchantment.
Polls by Spain's Sociological Research Center indicate that 87 percent consider the economy as bad or very bad with only 21 percent saying they thought it would improve this year. Nor is there any optimism that the government or opposition will pull Spain out of the mire.
Politicians were voted the third-largest problem in Spain, behind unemployment and corruption. And 88 percent said they have little or no confidence in Prime Minister Mariano Rajoy, while 91 percent said the same about opposition leader Alfredo Pérez Rubalcaba.
As a result of this widespread disenchantment with the political process, the number of demonstrations has soared more than 350 percent since 2009. Last year, according to Madrid authorities, there was on average a protest every day every two hours.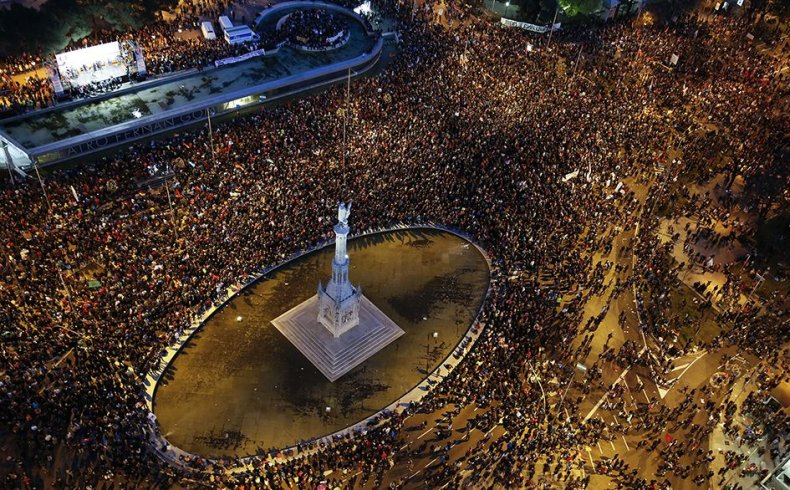 In December, for example, thousands marched on parliament to protest a controversial law proposed by the government that opponents say aims to quell popular dissent. Critics say reform of the Protection of Citizens' Safety Law—known by detractors as the Gag Law or the Kick in the Mouth Law—has little to do with protecting citizens and everything to do with discouraging protest.
"This law is designed to frighten people away, to empty the streets," said Victor Sunkel, a Madrid criminal lawyer. "No protests, no looking funny at police officers, no criticism."
Reform to the safety law was intended to ease the criminal courts' caseload by converting misdemeanors, which had to be resolved by a judge, into administrative violations that would be punished solely with fines and processed by government officials. Fines, which range from $136 to $816,000 depending on the severity of the offense, can be eventually appealed to a court.
And while the draft law contains new regulations dealing with illegal weapons, the protection of minors and hate crimes, the clauses dealing with public protest have sparked the most outcry. For one, lawyers affiliated with activist groups said, the reform shifts judicial power to the administration and away from the courts, which have largely sided with protesters.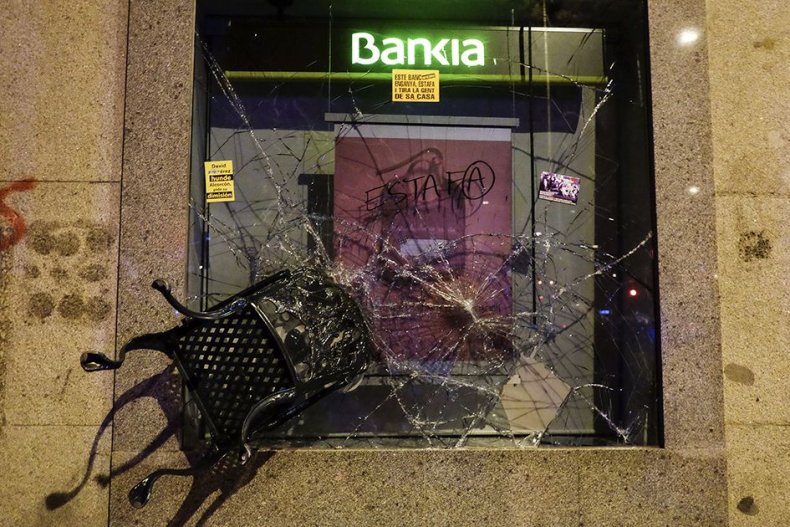 "Our team has appealed 1,041 administrative fines since 2011, totaling around $473,000, and the courts have overturned all but one," said Ana Méndez, a Madrid lawyer with the Sol Legal Commission, a pro bono legal team affiliated with the 15M movement, named after the coordinated protest movement against government inadequacy founded on May 15. "So [the government] writes this draft law to shield authorities with more legal support. And turning the government into a judicial body goes against all constitutional principles."
According to Francisco Martínez, secretary of state for security, administrative fines already exist. Non-felonious traffic violations, for example, are handled in the same way. Opponents to the draft law agree, saying that just like traffic tickets, the new clauses aim to use fines to dissuade people from attending protests.
"People are saying this is a law against protesting, but it's not true," Martínez said. "It deals with disruptions to law and order that could take place during a protest, but they could happen in other contexts as well. We are not trying to legislate specific events. That would be bad. To create a law dealing with protests after having to deal with a lot of protests is legislating in haste, and we're not doing that."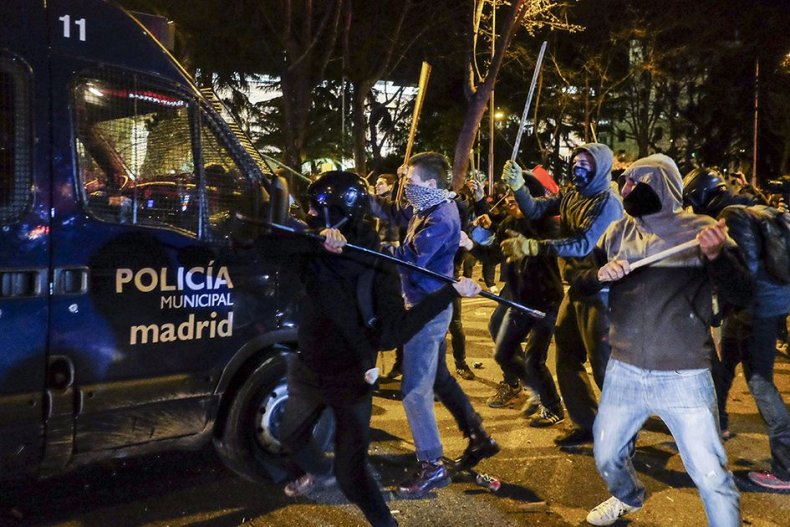 But several lawyers saw clear connections between the draft law and recent events. For instance, one clause fines the "disturbance of citizen safety" in front of the parliament and other legislative buildings—a nod, they say, to the Surround Parliament rallies. Another imposes a severe fine for assembling the day before elections, when campaigning is forbidden, and being politically "coercive."
Lawyers said this clause hails from the spontaneous rallies that took place on this day outside PP headquarters in March 2004. After the Atocha train bombings that killed 191, Spaniards denounced the PP government for trying to turn the attacks to their political advantage by blaming the wrong perpetrators.
"The government sees these demonstrations as a threat, and their way of fighting them is to discourage people from protesting by hitting them in their wallets," Méndez said.
A review of the draft law by the attorney general's office at the end of January said the clause about coercive behavior was too vague. It also cited other new additions as possible conflicts with the freedoms of expression and information.
Spain's judiciary council is scheduled to debate and vote on its review of the bill on Thursday. Should the council advise the government to make changes before a parliamentary vote, Martínez said, it will follow that advice. In the meantime, criticism—and street demonstrations—abound.