Spanish Archbishop Apologizes for Racy Video Shot in Famous 13th-Century Cathedral
The archbishop of Toledo, Spain issued an apology after backlash from Roman Catholics for allowing a racy music video to be filmed in the city's famous 13th-century cathedral.
Released yesterday by Spanish rapper C. Tangana and Argentinian singer Nathy Peluso, the music video for Ateo (Atheist) features the musicians grinding on each other as people and clergy members watching intently.
Following the video's release on October 7, members of the church demanded cathedral leadership explain why they allowed the provocative video with a blasphemous name to be filmed in a place of worship. As of October 8, the video has more than 1.5 million views.
"We humbly and sincerely ask for the forgiveness of all the faithful, whether laypeople or priests, who have rightly felt wounded by this inappropriate use of a sacred place," the archdiocese said in a statement. It added that procedures would be revised to "ensure that nothing similar happens again."
The nearly four-and-a-half-minute video begins with an image of the Toledo Cathedral and church bells begin to ring. Clergy members begin looking around as C. Tangana enters the church.
Twenty-five seconds into the video, viewers see Peluso dancing and rubbing her body in a church doorway as older men, including a priest, secretly watch her.
By 40 seconds, the couple is dancing closely together, swaying their hips and moving their hands over each other. Later in the video, the rapper begins pulling the singer's hair—which is a reference to a church painting about trying to reach salvation but being stopped— and Peluso is seen naked but partially pixelated while holding C. Tangana's severed head.
The archbishop said he "deeply regretted what had happened" and that he didn't know what the project was about.
However, the dean of the Cabildo Primate, Juan Miguel Ferrer Grenesche, took a different stance.
In his statement, the dean justified the video and said it's "the story of a conversion through human love." He cited the song's lyrics, "I was an atheist, but now I believe because a miracle like you had to come down from heaven," as proof.
He continued that the musician opposed attitudes of intolerance shared by the church in the video and although it uses "provocative visual language" it is not atypical of the current culture and does not affect faith—and that it may even bring people back to it.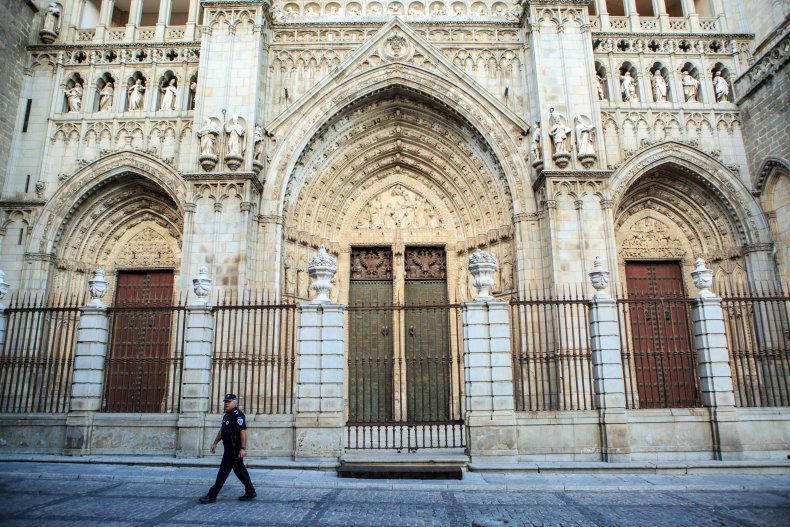 "We're sorry that some people may have been upset. We ask forgiveness for hurting their feelings. The aim was only ever to support a dialogue with contemporary culture while always respecting the faith of the church," he said.
Toledo Cathedral is considered one of the great religious complexes of Spain, according to the World Monuments Fund, and is well known because of its recognizable Gothic architecture. Inside the cathedral, several chapels are adorned with works of art as well as a collection of other "priceless" pieces.
The city itself was declared a UNESCO World Heritage Site in 1986 for its historical and culturally important sites. Oftentimes, it's called the city of Three Cultures because of the influence Islamic, Hebrew and Christian people had.