Spanish Border Police Discover Two Migrants Hiding In Glove Compartments, Another Underneath Dump Truck Over Weekend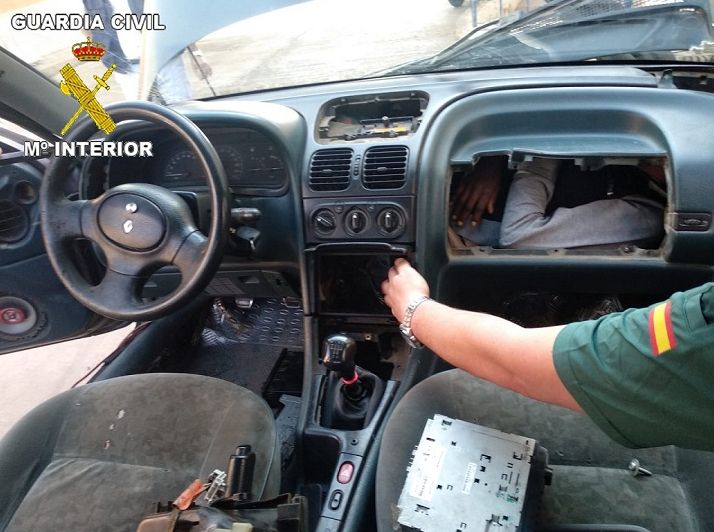 The Spanish Civil Guard made three arrests on Saturday and charged with human smuggling after the police force discovered four migrants hiding into four different vehicles.
All four individuals were placed in precarious positions, with one man hiding underneath a dump truck and in danger of being crushed by the vehicle's axles, a press release said.
A second man was found wedged behind a rear seat. The third man was resting in a hollowed out dashboard, with photos taken by the Civil Guard showing the open glove compartment with the man's torso and head clearly visible. A 15-year-old girl was also found hiding behind a dashboard.
Three of the migrants were found between 9 a.m. and 12 p.m. Saturday, the fourth migrant, stowed away underneath the dump truck, was located earlier in the day.
Two of the men discovered were listed to be ages 20 and 21 and both were taken to a local hospital to be treated for suffocation, disorientation and joint pain.
According to the press release, three of the cars were registered in Morocco and were all different vehicle brands. The names of the victims and the drivers have not been released, but the drivers were ages 19, 30 and 31.
All the migrants are believed to be from Africa, though individual countries were not named. Each of them were attempting to cross from Morocco into Melilla, a North African city which shares a border with Morocco and is part of Spain.
Melilla, along with Ceuta, another North African city that is part of Spain, are both frequent launch points for African immigrants who hope to reach Europe by sailing through the straits of Gibraltar. Both cities are separated from Morocco by double fencing and patrolled by the Civil Guard.
According to the International Organization for Migration, 9,495 migrants have reached Spain from Africa this year. Out of those, 7,666 have arrived by sea since, at its narrowest point, the straits are 7.7 nautical miles between North Africa and the Spanish coast. An estimated 162 people have died this year while attempting the crossing between Africa and mainland Spain.
Attempts to enter Spain have also increased since 2018 when Italy cracked down on immigration policies and closed ports to humanitarian ships and cut off aid for those who have made it to the country. In 2017, 199,369 immigrants reached Italy compared to 23,370 in 2018. So far in 2019, 1,361 migrants have immigrated to the country.
In comparison, Spain's numbers have increased from 28,707 in 2017 to 65,325 in 2018 as have immigration numbers in Greece where they rose from 35,052 in 2017 to 50,215 in 2018. So far in 2019, 11,943 people have reached the country's borders, mostly by sea, the International Organization for Migration's data says.
The four immigrants discovered in the cars are just the latest instance of dangerous hiding places. In January, two African men were discovered by border police at the Melilla checkpoint as they hide inside two mattresses.
The two men told the Civil Guard that they paid human traffickers $5,100 (4,500 euros) to get them across the border.