Spanish Chain Zara Forced to Apologise for Children's 'Holocaust Shirt'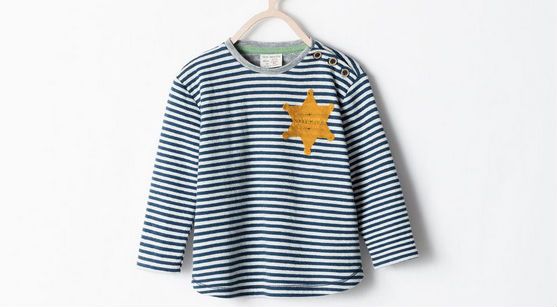 The Spanish fashion chain Zara has apologised after a children's jumper sparked an international outcry and accusations of anti-Semitism for its resemblance to the striped uniforms Jewish concentration camp inmates were forced to wear during the Holocaust.
The shirt, produced in Turkey, was available in Zara's Israeli, French, Albanian and Swedish online stores but has since been recalled from the chain's stores and removed from its website.
A Zara spokesperson claimed that the item in question, part of Zara's Cowboy Collection for babies, was inspired by sheriff characters in Wild West movies.
The company has attracted further criticism from some quarters, for the wording of one apology in which a spokesperson for the company's Israeli office claimed that the product would be "removed from shelves across the world and exterminated". According to 972mag, the spokesperson caused particular offence by "[using] the exact [Hebrew] word to describe the Nazi genocidal practices".
Mark Gardner, Director of Communications at the anti-semitism watchdog The Community Service Trust, welcomed the withdrawal but was surprised that the garment was even cleared for sale. "Whatever [Zara's] intentions, many people will be really shocked that this could ever have made it past the design stage," he told Newsweek.
Commenting on the response to the controversial product, a Zara spokesperson said: "The item in question has now been removed from sale. The garment was inspired by the classic Western films, but we now recognize that the design could be seen as insensitive and apologize sincerely for any offence caused to our customers."
The Swedish fashion retailer H & M triggered similar controversy in April this year when it was forced to withdraw a vest bearing a Star of David skull design. In 2007, Zara bosses pulled back a selection of handbags embroidered with green swastikas from store shelves, after a rush of complaints.