Spanish Class, Preschool and Wall Street: New Yorkers Remember Where They Were on 9/11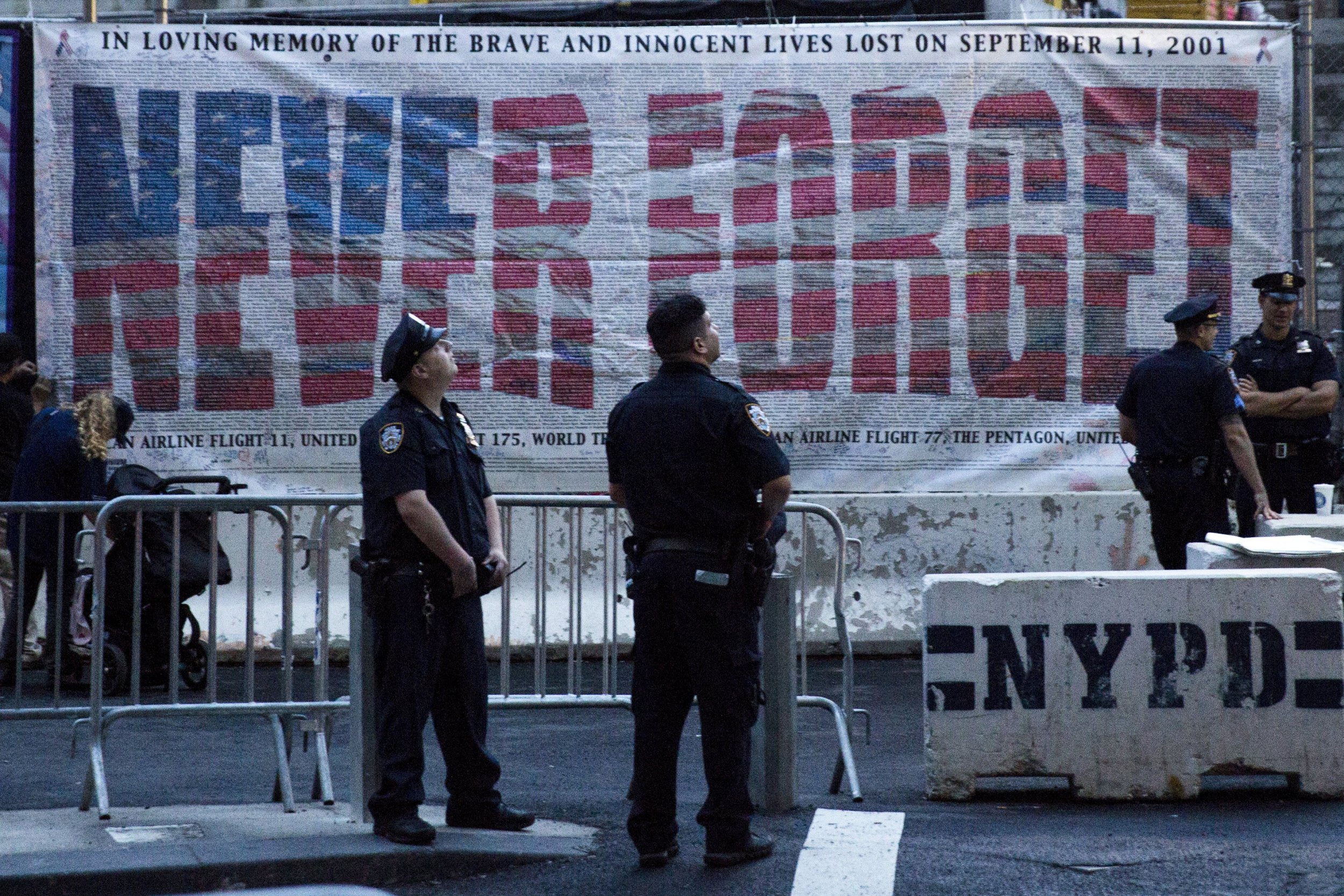 "I came down here and it was like midnight. The sun was blocked. [World Trade Center] number 4 was like Dresden, like the World War Two bombing raids, flames shooting out of the building."
Leaning on his black cane and shaking, 77-year-old architect Michael Murno described the state of Lower Manhattan on September 11, 2001. Murno, who lives in Bay Ridge, Brooklyn, worked on the 23rd floor of a Wall Street building when the first plane, American Airlines Flight 11, hit the North Tower of the World Trade Center 14 years ago.
"We looked through the windows and all we saw was paper coming down and we couldn't figure out why we were seeing paper," said Murno. "The fellas on the lower floor were watching the people jump out of the buildings."
The morning of September 11, 2001, is remembered for its bright blue skies. On Friday morning, the 14th anniversary of the attacks that killed almost 3,000 people in New York City, Washington, D.C., and Pennsylvania, it was cloudy and humid.
New Yorkers hummed along as normal on Friday morning, quickly walking and dodging oncoming commuters and tourists en route to work. Families of some of the nearly 3,000 people who died at the World Trade Center attended a private service at the 9/11 Memorial, which opened to the general public at 3 p.m. Moments of silence were marked at the times when the planes hit the Twin Towers and when they fell, CNN reports. The names of the victims were also read out by family members of those who died.
A moment of silence was also held in Shanksville, Pennsylvania, where United Airlines Flight 93 crashed into a field, killing all 40 passengers and crew on board. Just outside Washington, D.C., a memorial was held at the Pentagon to remember the 184 people who died when American Airlines Flight 177 crashed into the side of the building.
On Beaver Street, east of the World Trade Center in Lower Manhattan, on Friday morning, Tom Skehill, 30, was leaning his arms on scaffolding and smokes a cigarette, taking a break from work. On September 11, 2001, he said, he was in high school Spanish class in Chester, N.Y., when his teacher got a phone call. When she got off the phone she was "obviously upset," he said.
"She told the whole class what happened and told everybody they could go make any phone calls they had to make," said Skehill. "A couple of people were very, very bent because they lost family members."
Since the attacks, Skehill said, people in New York have been "a lot more careful and scared."
Nina Barthelet, 40, also said the attacks changed Americans and made "everybody a lot more aware and cynical." She and her husband Paul Barthelet, a former firefighter, belong to the Connecticut-based Raging Knights Firefighter Motorcycle Club , which helps victims of fires and raises money for the Connecticut Burn Center. They left their Jewett City, Connecticut, home at 2:30 a.m. on Friday and "rode through the rain and everything to get here."
Before the bikers disappeared into O'Hara's Pub and Restaurant on Cedar St., Nina Barthelet recalled the Austin office where she was working dispatching phone, cable and internet technicians on September 11, 2001. She and her colleagues always paid close attention to the T.V., and it soon became clear what was happening in New York.
"It was silent, everybody was traumatized," she said.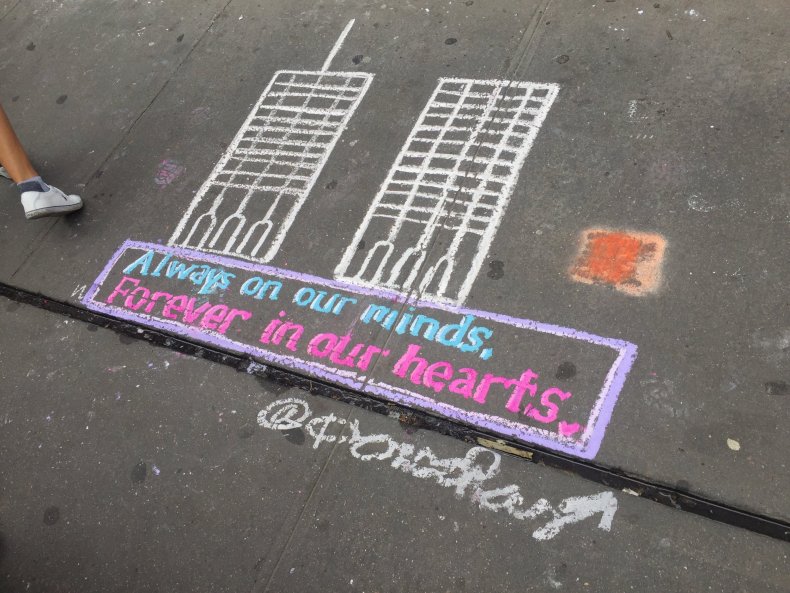 At the family entrance to the 9/11 Memorial, police stood near members of the French National Police and SNCF, the French national rail service. The French representatives attend the ceremony every year and were accompanying a teenage boy who lost his mother in the Twin Towers.
In Zuccotti Park, gaggles of police officers and construction workers surveyed the crowd as men and women from a Western Massachusetts Mennonite community unloaded pamphlets and CDs from cardboard boxes. Women in white bonnets and long pastel-colored dresses joined men in plain button-down shirts to sing hymns, such as "I Have Found a Friend in Jesus." Ron Hess, 37, a Mennonite, said they visit the site every September 11.
Maritza Maestre, a 46-year-old preschool teacher from East Harlem happened to be in lower Manhattan on Friday and paused to listen to the singing, which she said "brings a lot of peace" to the area.
Maestre worked at a preschool in Chelsea, west Manhattan, on September 11, 2001. She first heard about what happened when a panicked and agitated parent came up to her and reported seeing what appeared to be a building or plane exploding. She ran outside, where she saw the second plane, United Airlines Flight 175, crash into the South Tower of the World Trade Center. She was told by the school's director to remain calm in front of the children—several of whom lost family members, she said—but struggled, concerned about her 4-year-old daughter who was attending a preschool near the site.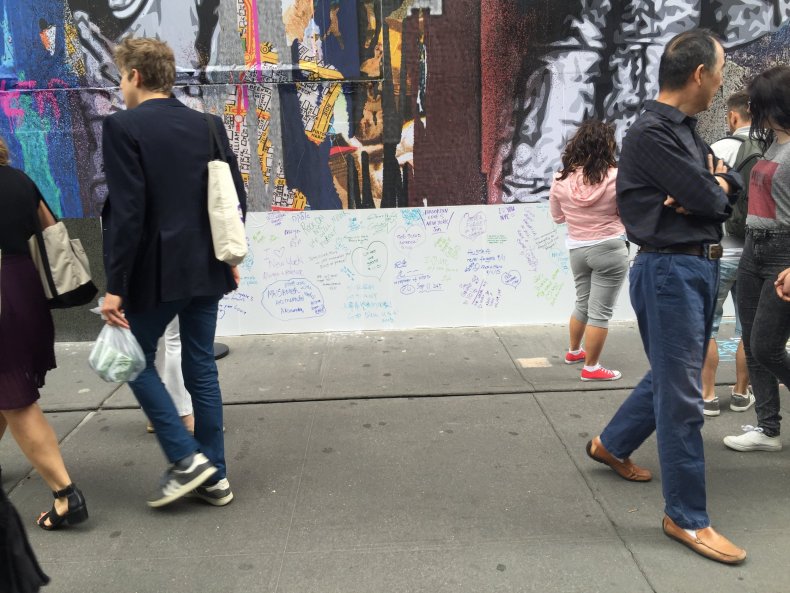 "I felt that I was being selfish just thinking about my child and just wanting to run to my child and make sure she was OK," said Maestre. "I was worried about her and also annoyed that I had to keep up a front." Her daughter was fine.
After the attacks, Maestre said, she couldn't stop watching footage of the attacks. "Not matter how many time they were reporting it on TV, I just wanted to [keep watching]. I couldn't quite grasp it," she said.
On Wednesday, a large mural was unveiled on one side of the Century 21 department store along Church St. Underneath the mural is a long white board for the public to write messages of condolence and remembrance. Clifford Archer, a tall man wearing a Levittown, Long Island, volunteer firefighter's uniform, came to lower Manhattan to commemorate the anniversary. Archer said he was at a baseball tournament in upstate New York waiting for a game to start when a TV news report in his hotel said a plane flew into one of the World Trade Center towers.
"You saw the smoke and you said, 'Well, wait a minute, that's not right'," said Archer, a buildings code official for the state of New York.
Archer went down to Ground Zero a few days later after then-Gov. George Pataki said anyone with proper credentials should go to help. The leader of the command center Archer was posted to said engineers weren't needed immediately, but that he should stay around and find something to do.
"You did whatever had to be done," Archer said. "I noticed there were cases and cases of food starting to show up for the rescue workers. I used to work in a catering hall, so I went to the command head and said, 'Want me to set up a commissary?' And he said, 'I'd give anything for a cup of coffee right now'."
Murno, the architect, stood next to Archer in front of the mural; he said this was the first year he "had the guts" to visit the area near the World Trade Center since the attacks. While he lost a colleague from his architecture firm, Murno didn't lose any family members. But, he says, every New Yorker was affected: "We all lost 2,800 people."