Spanish Enclave Sees Record Number of Migrants Enter Region in Single Day
At least 6,000 people reached Spain's Ceuta enclave on Monday, marking the largest number of migrants attempting to cross into the area in a single day, according to Spanish authorities.
The migrants, which included at least 1,500 minors, mostly came to Ceuta from neighboring Morocco. According to CNN, the migrants largely swam over portions of the Mediterranean Sea, entering the city from two beach locations.
Ceuta is an enclave of some 84,000 Spaniards bordered by Morocco on Africa's north coast. The city is considered to be on European Union soil, marking a crucial aspect for people seeking to cross over from Africa.
"I have never seen a situation like this one, it is unprecedented, I have never felt so frustrated and sad," Ceuta President Juan Jesus Vivas, told Spanish broadcaster TVE on Tuesday, CNN reported.
"This is a chaotic situation, so chaotic that we can't tell the exact number of migrants at the moment," he added. "We need to gather all the ones who have arrived and allocate them in a specific location, so they are not just wondering around the border."
Spanish authorities said Tuesday that they have already sent roughly 2,700 adult migrants back to Morocco. Spanish Prime Minister Pedro Sanchez said he would travel to Ceuta and the city of Melilla, another Spanish enclave that lies further east, to address the growing issue.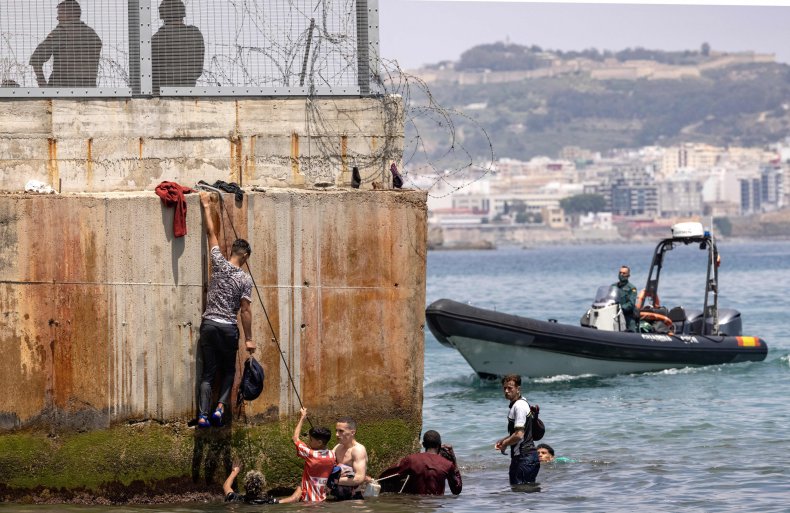 Both Ceuta and Melilla have been under Spanish rule since the 17th century, though Morocco has long laid claim to the areas as well, according to the BBC. The two port cities have a semi-autonomous status under Spanish control, and are the only two EU territories that border Africa.
Most of the migrants attempting to reach Ceuta were young men, though authorities reported that several families had attempted to cross over as well. According to the BBC, the influx may have been sparred by renewed tensions between Spain and Morocco over the Western Sahara.
At least one person died during the Monday migration attempt, as many tried to cross over using inflatable flotation rings or rubber dinghies.
On Tuesday, Sanchez promised to "reinstate the order," and said Spain will "immediately" return all migrants who entered illegally, in accordance with existing agreements between Spain and Morocco, CNN reported.
Spanish troops have since been deployed to Ceuta's main entry points along the border. Interior Minister Fernando Grande-Marlaska said 200 troops and 200 additional police officers will assist the city's 1,100-strong border force moving forward.
Ylva Johansson, European Union Commissioner for Home Affairs addressed the issue in a statement on Twitter Tuesday.
"It is worrying that at least 6,000 people, a big number of them children, have been swimming to Ceuta. Putting their life in danger. Many had to be rescued. One person died. The most important thing now is that Morocco continues to commit to prevent irregular departures and that those that do not have the right to stay are orderly and effectively returned," Johansson said.
Newsweek contacted Spain's Interior Ministry for additional comment, but did not hear back in time for publication.