Spanish Official Calls for End to Shows After Bull Escapes Ring, Is Killed by Resident
Sergio Torres, head of the Spanish government's directorate general for animal protection, supports ending shows that use bulls for entertainment after an animal escaped over the weekend, reportedly goring two people before being hit with a car.
Late Saturday night, a bull named Campanito escaped a ring in Brihuega during a concurso de recortadores, in which participants try to prove they're the most courageous by performing jumps and other tricks. A resident repeatedly rammed the bull with a car, killing the animal, in a move that was lauded by some for preventing disaster and condemned by others for demonstrating the mistreatment of the animals.
Torres called the images from the small town in the Guadalajara province "shameful" and "terrible." He questioned why the concurso de recortadores is considered art and said it should be "harshly sanctioned." He also supported moves to "eliminate these shows" so they "do not continue to be the shame of our country."
Torres shared an article from El Diario about the event that included video footage of the moment the bull was hit. The video showed the driver appearing to speed up before hitting the bull from behind.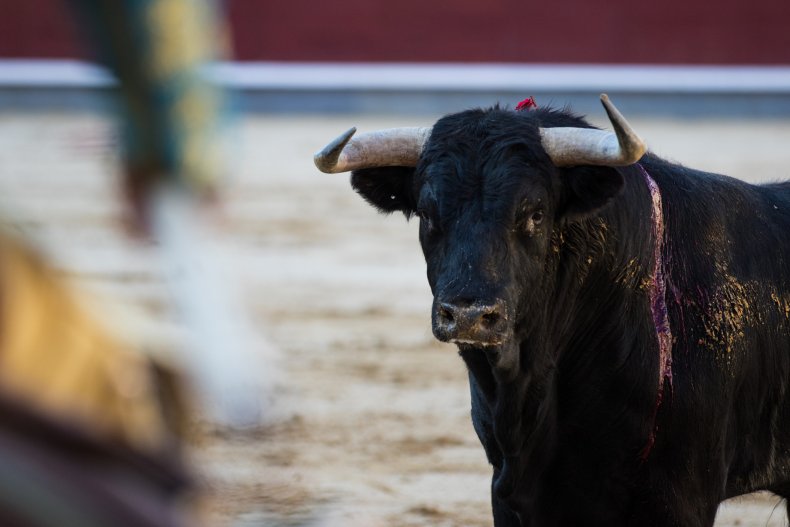 The Animalist Party Against Mistreatment of Animals (PACMA), a Spanish political party, also posted the video on social media, calling the images "terrible." PACMA said the party was working on a complaint and vowed to fight so that the people involved are held responsible.
AnimaNaturalis, an international animal rights organization, also plans to file a complaint. and Aïda Gascón, director of the organization in Spain, said it will enforce the "imperfect" law "until the last consequences."
Two people were injured from being gored by the bull, according to The Guardian, and had to be transported to the hospital. Spain's Guardia Civil told The Guardian that officers identified the driver of the vehicle but said no one has been charged and there have been no arrests. The case remains open, and officers are working to clarify what happened.
Newsweek reached out to the Guardia Civil for comment but did not receive a response in time for publication.
While the show and the bull's death were condemned by some, Guadalajara's bullfighting federation praised the residents for their quick thinking.
"They organized and this rapid intervention prevented the animal from reaching other areas of the village where the tragedy could have been far worse," the federation told The Guardian in a statement.