Spanish Sex Workers Deserve Full Employment Rights, Says Human Rights Group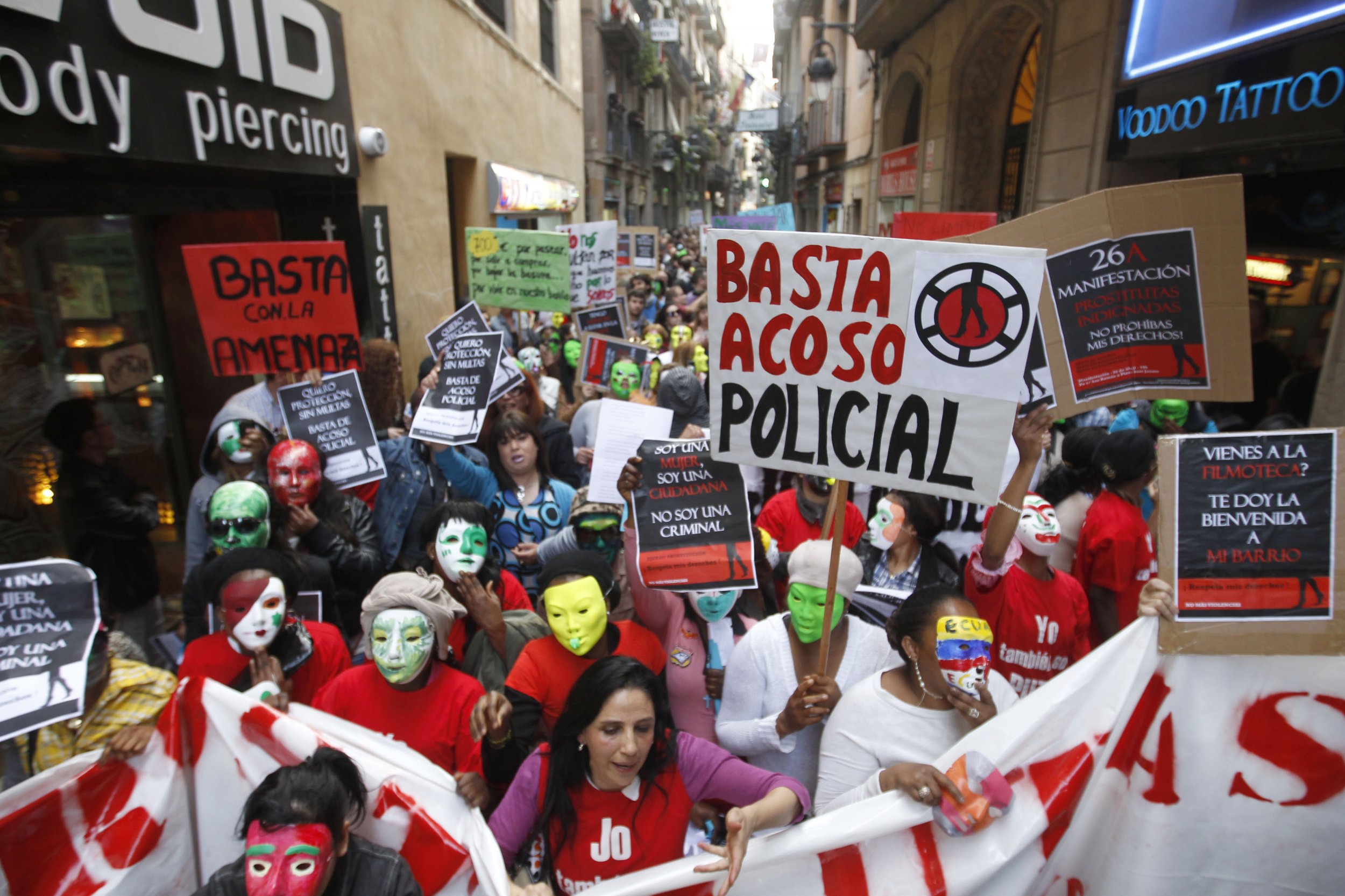 Spanish prostitutes must be given full employment rights and stigmatisation of the sex industry must be tackled, according to a sex worker support group.
Colectivo Hetaira, a Madrid-based human rights groups which campaigns on behalf of sex workers, says that the decision of a Barcelona judge that employers must issue prostitutes with contracts and cover their social security payments will help protect the human rights those involved in the sex industry.
The Times reported the decision by Judge Juan Augustín Maragall in the case of Xcenter, a business suspected of offering the services of prostitutes, despite appearing to be a massage parlour. The judge ruled that the business had violated the employees' rights and ordered it to repay the social security payments of three prostitutes backdated to 2012.
Johannes Mahn, spokesman for Colectivo Hetaira, says that the group hopes the ruling will become legally binding soon and that it could be the first step for full recognition of sex workers' rights in Spain.
"This decision is great and just what sex workers in Spain need. Sex workers need social, labour and human rights. There is always this debate about sex work and abolitionists want to prohibit all sex work supposedly for the sake of women's dignity, but it's an academic debate which ignores the reality and, even worse, the sex workers themselves."
Prostitution is not illegal in Spain but some authorities have imposed checks which prevent sex workers trading in public. In 2012, Barcelona introduced fines to clients, who face €300 penalties for openly negotiating with prostitutes in the street and €750 fines for doing so near to a school.
Yet the industry remains popular in Spain, with a 2007 parliamentary report that the country's 400,000 sex workers generated around €50m per day. A 2009 Spanish Health Ministry survey put the proportion of one-time prostitute users at 32%, much higher than 14% in Holland, where prostitution is legal and the famous red-light districts of Amsterdam are found.
Mahn says that prostitutes often experience unfair harassment by the police and that preventing human trafficking was used as an excuse by the government for clamping down on sex workers.
"Sex work is neither forbidden nor allowed in Spain. Nevertheless, sex workers are often treated like criminals," he says.
"A huge problem is also that the national government as well as regional governments constantly mix up sex work and trafficking of human beings. For them, all sex workers are victims of trafficking and so they can cover their whore-phobia with anti-trafficking policies."
Mahn also says that, if the ruling becomes binding across the country, it would benefit migrant sex workers with gaining full residency in Spain. Sex work isn't currently recognised for a certificate of employment, which is required for the legalisation of migrants' residence permit status.
Patricia Ferrer is the president of Sealeer Cooperativa in Ibiza, which in January last year became the country's first legally-approved cooperative for sex workers. Prostitutes take out contracts with the cooperatives, rather than the clubs in which they work. Members pay taxes and benefit from national insurance schemes, such as emergency healthcare and pensions. Ferrer says the group has around 80 members, 80% of which are women.
While she praised the judge's decision, Ferrer says she prefers the cooperative method, whereby members take out contracts with the cooperative, rather than directly with employers. Members are therefore self-employed and not tied directly to particular employers.
"It is good that they recognise the rights of the workers but [it is] not the way for us. The way for us is autonomous," says Ferrer.
Nevertheless, for Colectivo Hetaira and its members, the ruling is a step in the right direction.
"Nobody lives better without rights. As a slogan of the whore movement says: only rights can stop the wrong. And this sentence could be a first step for sex workers' labour rights in Spain," says Mahn.