Spanish Soccer Clubs Decline Coronavirus Tests to Give Kits to the General Public: 'Other People Need Them More'
A number of Spanish soccer clubs have declined to receive test kits for coronavirus, suggesting they should go to the general public instead.
La Liga, the country's top-flight league, was suspended indefinitely last week in the midst of the COVID-19 outbreak. La Liga chiefs offered 500 tests to clubs to test their players and staff.
The offer, however, was rejected by a host of teams on ethical and medical grounds.
On Thursday, Celta Vigo explained the decision to refuse the tests, suggesting that "there are other groups in greater need".
That came a day after Real Valladolid cited similar reasons.
"La Liga offered them to us [the tests] but we have not taken them for medical and social reasons," club spokesman David Espinar said in a statement.
"No player has presented any symptoms and we believe that there are people out there who are much less well off than we are who need them far more than we do. It is those [people] who should have priority."
Spain is among the countries that have been hit the hardest by the coronavirus outbreak and has been in lockdown since earlier this week.
As of Friday morning, almost 20,000 cases have been reported in the country—the third-highest tally behind mainland China and Italy—with over 1,000 deaths and almost 1,600 people recovered, according to Johns Hopkins University.
Soccer hasn't been exempt from the pandemic. On Wednesday, Deportivo Alaves announced 15 people working for the club, including three players, were infected.
Espanyol, Barcelona's local rivals, reported six team and staff members had tested positive, while Valencia said 35 percent of its team and coaching staff had tested positive to COVID-19.
On Tuesday, Luis Rubiales, the president of the Spanish soccer federation, hit out at clubs for testing their players and staff ahead of the general public.
"Knowing the lives of many people are at stake it seems out of place to me to use tests on footballers when there are people that need them," he said in a press conference.
"The result for the player is the same, if they are positive and don't have severe symptoms they will be confined at home. Testing players seems unsupportive and absolutely anti-patriotic in these conditions."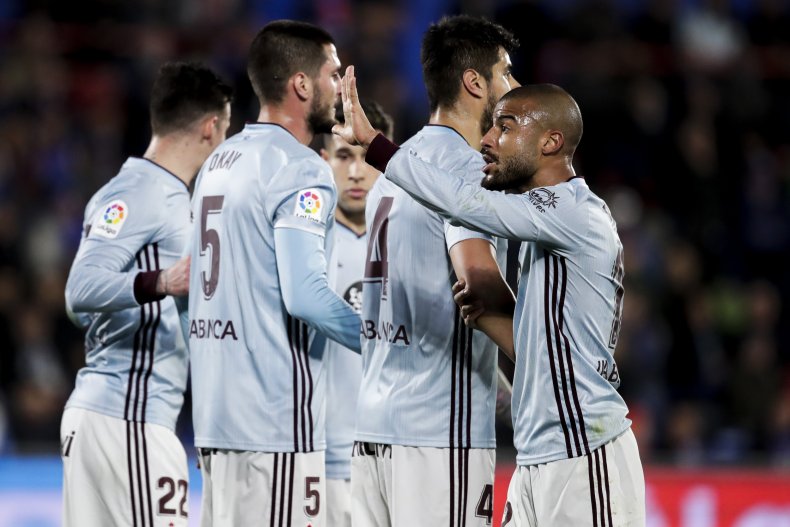 The NBA found itself in a similar situation earlier this week, when New York City mayor Bill De Blasio criticized the Brooklyn Nets for testing their players, after the franchise announced four players had diagnosed positive and the whole team had undergone testing.
The Nets released a statement saying the entire team had undergone testing, which De Blasio suggested showed a lack of respect for ordinary people who were waiting to be tested.
"We wish them [Nets] a speedy recovery," the New York City mayor tweeted.
"But, with all due respect, an entire NBA team should NOT get tested for COVID-19 while there are critically ill patients waiting to be tested.
"Tests should not be for the wealthy, but for the sick."
The Nets subsequently defended their stance, indicating they had acquired the testing kits from a "private company and paid for them ourselves because we did not want to impact access to [the Centers for Disease Control and Prevention]'s public resources."
The NBA also stood by the Nets, suggesting the tests had to be carried out as the players could be the perfect vehicle to spread the virus, due to their proximity to the fans and frequent travel.
"Following two players testing positive last week, others were tested and five additional players tested positive," NBA spokesperson Mike Bass told Newsweek.
"Hopefully, by these players choosing to make their test results public, they have drawn attention to the critical need for young people to follow CDC recommendations in order to protect others, particularly those with underlying health conditions and the elderly."
As this map provided by Statista shows, over 10,000 people have died since the outbreak of coronavirus began in Wuhan, a city located in China's central Hubei province, late last year. There are over 250,000 cases globally, with more than 87,000 recovered.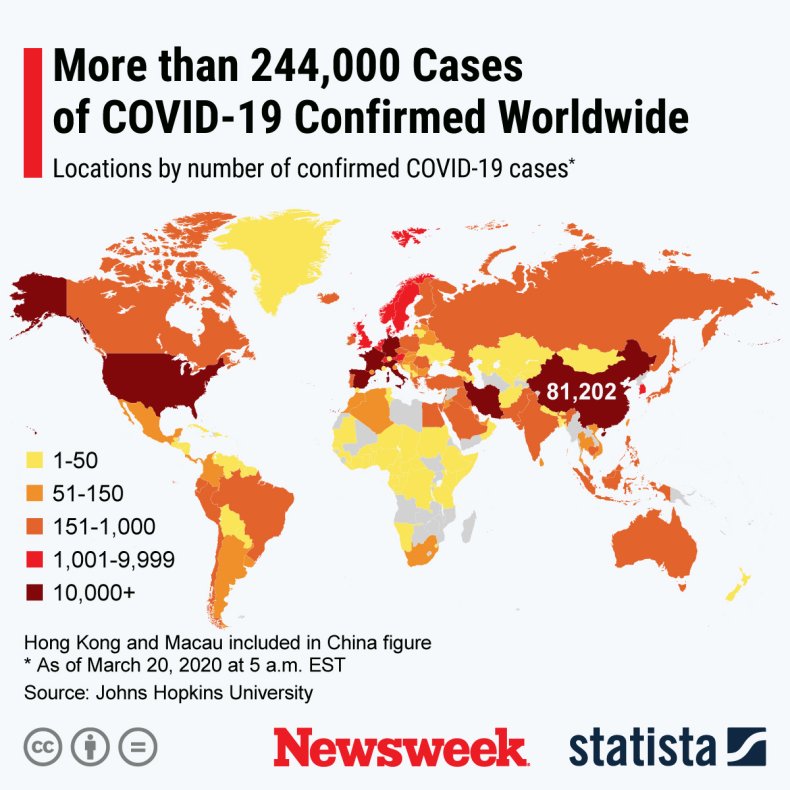 Spanish Soccer Clubs Decline Coronavirus Tests to Give Kits to the General Public: 'Other People Need Them More' | Sports