Spark One Grill Review: Fancy Technology Meets Backyard BBQs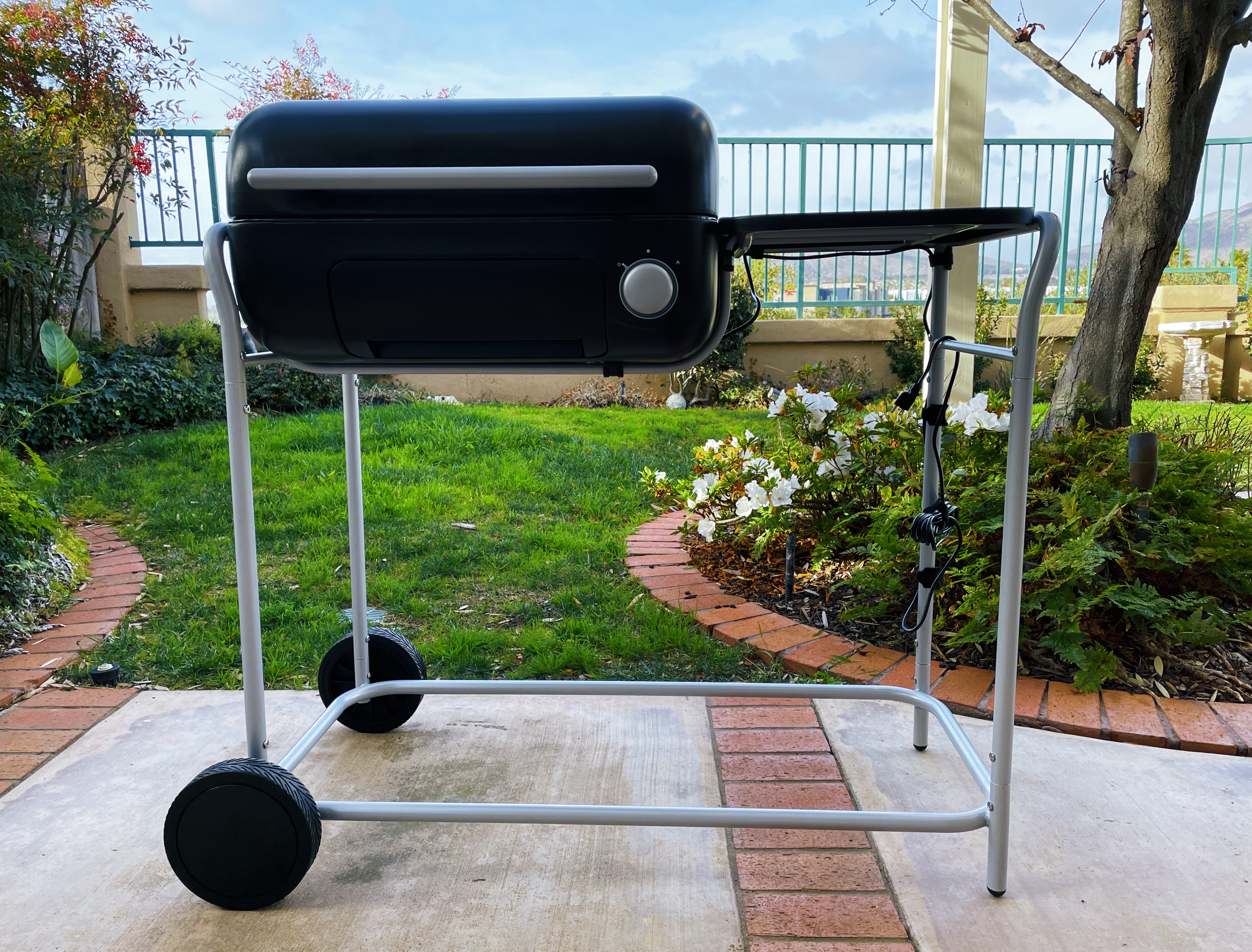 Hello, backyard barbecue season! Sometimes it's rewarding to labor over a charcoal grill in order to cook up the most delicious burgers or steaks, but mostly it's just work. Outdoor grilling with gas is simple enough, but it can lack the extra-smoky flavor. The Spark One grill is here with the promise to fix all those problems, and more, making grilling with charcoal as simple as igniting a gas grill. But does it live up to the hype?
The Spark One grill uses proprietary charcoal Briqs, lit with the flick of a switch. That's enabled by plugging its power cable into electricity; the cable also powers an internal fan for precision grilling. Has it ever been possible to cook with charcoal and set a specific temperature by simply rotating a dial?
I've never fully ventured into charcoal grilling because of the work involved, before and after. But now, after making a range of meats and vegetables on the Spark One, it's likely I'll never use a standard charcoal barbecue, ever. This product has spoiled me.
Please keep reading, but suffice it to say: Yes, the Spark One grill is great and makes it easy enough for beginners to jump right into charcoal grilling.
Setup and Design
The Spark Grill is a simple piece of backyard art. Whether it's your idea of what an outdoor grill should look like may be another story. Personally, I really like its modest and subtle appearance. It seems to get its inspiration from the now retro, stereotypical circular charcoal grill, with its mostly black exterior and contrasting handle. The grill does come in other colors, too, if you want even more style.
Most of the space taken up by the Spark One is from its metal frame cart. It's a little larger than it looks in pictures, but the most surprising thing is how heavy it is. Luckily, the setup process is not overwhelming for newcomers to the sport of outdoor grilling. There are no instruction papers; the manual and setup videos are all digital. This is fantastic in that you can actually watch people putting the pieces together, but also a bit frustrating having to go back and forth between a mobile device and the building process.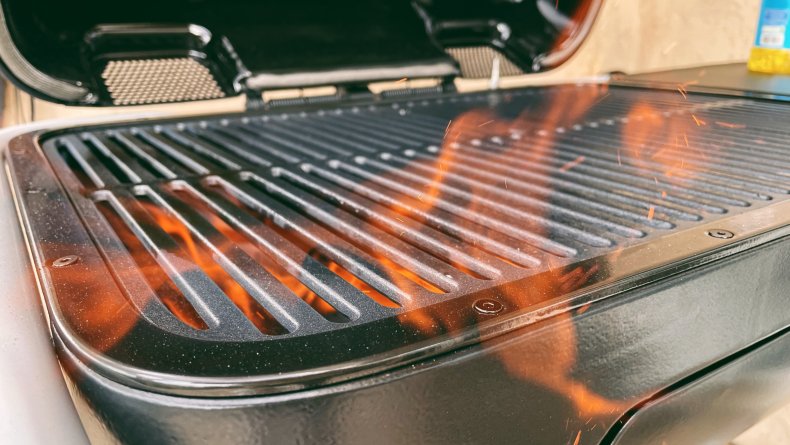 You'll definitely want to build the grill in the area it will be residing in because if you have a small patio or side yard, it could be difficult to maneuver the cart after it's assembled.
Most of the construction of the cart was as easy as it looked in the videos, but at the end, I did run into a fit issue with the top tray. It took some force to get it on, but eventually, I wedged it into place. Because of the grill's size and the meticulous way it's packed for shipping, if you do run into a problem, it could be quite a headache to get it back into the box for return shipping.
Features and Specs
The Spark Grill's advertised specs:
45 inches by 42.5 inches by 23.5 inches
368-square inch cooking area (about 12 burgers)
Cast iron grates
Double-walled, porcelain-enameled steel kettle (77 pounds)
Steel cart (28 pounds)
Plugs into a typical three-prong outlet (120V AC)
Set and hold temperature up to 900 degrees Fahrenheit
Performance
Part of the setup process includes doing the first burn with a special first-time-use Briq that comes included. Doing this initial burn helps acclimate you to how the grill works in practice. First, you pull out the center drawer and lay the Briq into the cast iron tray. Each corner of the tray is rounded except the bottom right's, which is flat, to indicate the Briq's orientation. Then you hold the ignition switch to the right for a few seconds before letting it go. The temperature ring will glow, and a few seconds later, flames should poke through the metal grates as it lights.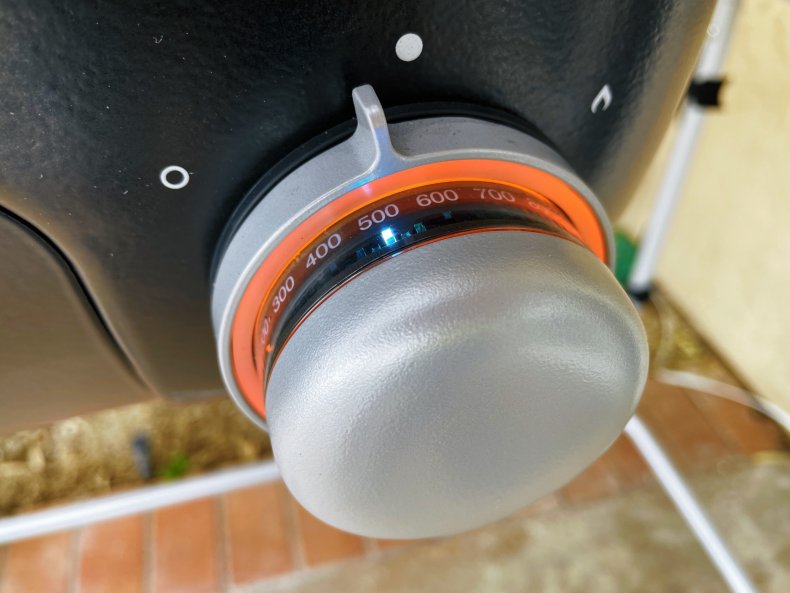 It really doesn't take much effort to get the Spark One going and ready for some food. Of course, my first time was filled with caution, but the next time it felt quickly second nature. I did ease into grilling with some hamburgers to start but moved on to Tri-Tip and New York strip steaks after to see how those fared. Everything tasted great.
For fun, I even compared the Spark One directly against a Traeger. A friend prepared two identical Tri-Tip steaks, and then he used his wood-pellet Traeger grill while I used the charcoal Spark One. The Spark One meat had a noticeably smoky charcoal taste, while the other one came out a bit juicier. Both tasted really good. The two grills overlap in use but probably aren't direct competitors. Even though the Spark One lists temperatures as low as 200 degrees on its dial, it had a hard time staying below 375 to 400 degrees with the lid closed. And to be fair, the Briq doesn't list the lower temperature, either. The comparison mostly highlighted how much the Spark One makes charcoal grilling feel like cooking with propane gas: Turn it on and set the temperature—that's it.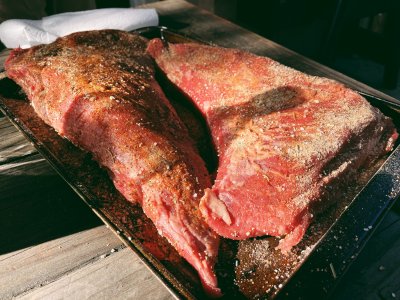 Spark One has built-in Bluetooth connectivity that displays the temperature in its app. Its mobile app has a lot to do with its ease of use, too. If you purchase Spark's temperature probes, they plug directly into the side and display their readouts in the app alongside the grill's heat level. Inside the app you can re-order Briqs—six for $30—see temperatures and set a cooking timer. Instructional videos remain present, as well, in case you want to dig in again. I do wish there were food guides inside the app. Long term, I could see recipes and other guides as a great source of supplemental content for the company.
The cleanup situation is the part that's a little more complicated than using a propane grill. In fact, it's a little annoying and is the one thing that brings back those memories of watching others deal with charcoal grilling. The Briq remains hot for hours after cooking is done. While the Briq is solid out of its packaging, it does turn completely to ash after it's been used—even though the ash holds the same shape. You'll need to safely dispose of the hot ash the same way you would under any other circumstance.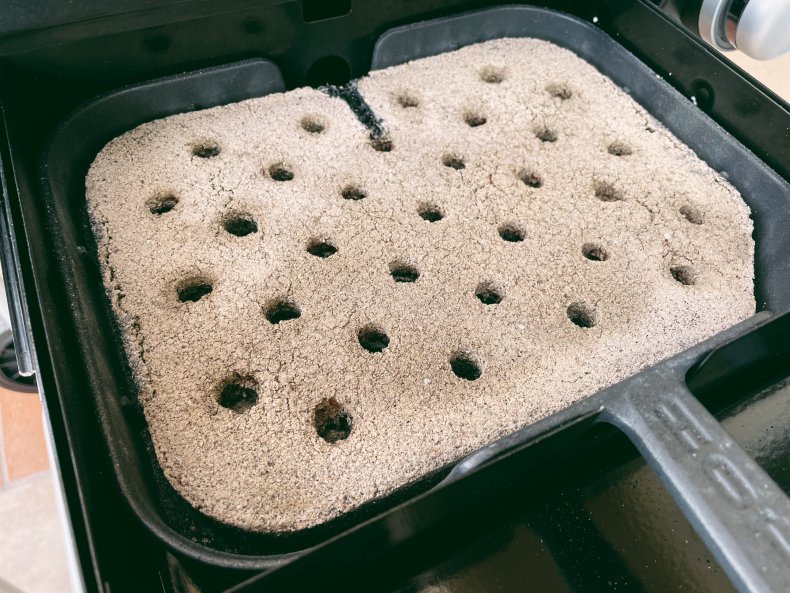 Should You Buy a Spark One Grill?
The Spark One makes grilling with charcoal as easy as using propane gas. But, unlike propane, it also includes a rich, desirable smoky flavor that cooks into your food. It's a masterful technology advancement in backyard barbecuing. I know I found myself considering lighting up the grill more often than I might have otherwise.
The Spark One doesn't do away with all of charcoal's quirks and annoyances, but it changes the conversation for most of them. You'll still need to have Briqs on hand for the grill, and because they're proprietary you'll need to order them ahead of time from Spark. The grill starts at $899, but you'll probably want the $999 starter bundle, which includes the temperature probes, a bamboo cutting board and 10 Briqs. This is not an inexpensive barbecue, but it's a solid investment if you think you need more outdoor cooking in your life.
Buy at Spark Grills.
Newsweek may earn a commission from links on this page, but we only recommend products we back. We participate in various affiliate marketing programs, which means we may get paid commissions on editorially chosen products purchased through our links to retailer sites.