Over a career that has lasted more than 50 years, Sparks, the Los Angeles-based art-rock/pop outfit of brothers Ron and Russell Mael, have released 25 studio albums, scoring occasional chart success in various parts of the world and influencing countless other musical acts. Their idiosyncratic yet ruthlessly catchy music has encompassed various genres, among them glam rock, power pop, synthpop, techno and classical, with quirky and ironic lyrics, Russell's vocals and Ron's keyboards the only constants. On stage, they've cultivated two of the weirdest and most distinct personas in rock.
One thing they've aimed for that has eluded them till now: bringing their vision to the silver screen. The brothers had started out as film fans who studied cinema as students at UCLA during the late 1960s but their subsequent collaborations with directors Jacques Tati and Tim Burton never bore fruit (Sparks' only notable film credit was a cameo appearance in the 1977 disaster movie Rollercoaster). Russell recalls working with Tati over a period of several months in the 1970s. "At the time we were incredibly excited," he tells Newsweek. "Now looking back, it would have been even more of an amazing thing because Tati's legacy is so amazing. But c'est la vie."
This summer, Sparks have two movies out. The first is The Sparks Brothers, a documentary opening in theaters on June 18 directed by British filmmaker and Sparks fan Edgar Wright (Shaun of the Dead, Hot Fuzz, Baby Driver). The second is Annette, a musical drama by the Maels directed by French filmmaker Leos Carax. "It's surreal and unbelievable, and also just the fact that Annette is opening up the Cannes Film Festival [on July 6]," Ron says. "We're such film geeks that to have in any small way our name connected with Cannes is kind of ridiculous."
Sparks are neither a mainstream band nor a cult act: they never had a gold or platinum album in their native U.S. but have had hits in Europe. To their very loyal fans, they are the greatest band that most people have only vaguely heard of. The main premise of The Sparks Brothers: How is it possible for a band to be successful for so many years and yet still stay under the radar?
"The thing that's a mystery to us," Ron says, "is why we've had some commercial success, which usually was only in one country and not others. Record company people never seemed to really have a handle on it. But the one thing we do know is that if we were to put ourselves in the position of analyzing how to go about getting that more universal commercial appeal, it wouldn't work for us either."
Told through new interviews with the Maels accompanied by decades' worth of archival footage, The Sparks Brothers traces the band's history going back to their 1971 debut album when they recorded as Halfnelson. When the record didn't sell, their then-manager thought a new name would help and with Groucho, Chico and Harpo Marx in mind suggested "The Sparks Brothers." The Maels were cool to the idea and shortened it to "Sparks."
In 1974 they released their breakthrough record Kimono My House and its single "This Town Ain't Big Enough for Both of Us." Musically it's much closer to Kurt Weill or Gilbert and Sullivan than anything most American rock groups would attempt. The lyrics, sung in an oddly clipped falsetto by Russell, are (or at least seem to be) the tortured inner dialogue of a paranoid young man trying to make a good impression on the ladies. Some members of European TV audiences watching the group mime along to the recording at the time laughed, but most seemed a little stunned: Were these guys kidding or what? To the amazement of the Maels, the record became a hit and briefly made them superstars in the U.K. but they couldn't follow up on that success commercially. A recurring theme of the Sparks story is the duo periodically getting a taste of the mainstream big time and then slipping off the charts only to then reinvent their sound, resulting in such radically different albums as the pioneering electropop of No. 1 in Heaven (1979), the house/techno-sounding comeback of Gratitutious Sax & Senseless Violins (1994); and the classical influences of Lil' Beethoven (2002). "I think part of the thesis that Edgar wanted to get across in the film," Russell says, "[is] that Sparks is doing some of their best work now, which is not consistent with the traditional career arc of bands that have 25 albums...Is [success] selling the most amount of records? Or is it having a creative body of work that you're really proud of and you feel is really vital now?"
Russell says he and his brother were initially skeptical about a documentary, doubting that such a project could capture the spirit of the band and its music. Throughout their careers, the Maels have been careful to cultivate and maintain a certain level of mystery: You get them or you don't, but either way they're not going to explain anything to you. Fortunately, they were fans of Wright's work just as he was of theirs. "We didn't want him holding back on his eccentricities," Ron says. "One thing that we really felt we had in common with Edgar was using the kitchen-sink approach and throwing in everything stylistically and somehow having it work. All of Edgar's films are really fast and kinetic. I think that sort of tone really matched the nature of Sparks as well."
The ultimate tribute paid to Sparks in Wright's film is the many interviews with numerous musical acts who consider themselves the band's fans, such as members of Duran Duran, Erasure, Faith No More, Franz Ferdinand and New Order, as well as non-musical admirers like Mike Myers and Patton Oswalt. "It was just so all over the map," says Russell about Sparks' diverse celebrity fanbase. "We had no idea that these people, the majority of them, even knew about Sparks, let alone were fans of Sparks. To see Neil Gaiman discussing the meaning of the artwork from the [1974] album Propaganda....it's kind of amazing."
Given the Maels' interest in filmmaking, it is no surprise that their songs have a cinematic and narrative quality to them with titles like "When Do I Get to Sing 'My Way'?" "Thank God It's Not Christmas," "Angst in My Pants," "What Are All These Bands So Angry About?" and "Sainthood Is Not in Your Future." Ron, the band's primary songwriter, says, "The songs are never based on a particular situation that happened. But obviously there's some kind of connection between your whole personality and what you're writing about. Even though maybe that they could be seen as imagined scenarios, it's really important for us to have a very real emotional side to at least most of the songs so that they're not just seen as a frivolous joke, that there is kind of another deeper side to it."
As detailed in the film, through a long professional partnership the brothers have never had a public spat or falling out. It may help that their roles and stage personas are so sharply defined. Especially during the 1970s and 1980s, Russell was the pretty, long-haired rock idol while Ron cut a sinister figure with his '30s wardrobe and Charlie Chaplin/Adolf Hitler mustache. "Our roles don't overlap," Russell says. "I sing and Ron doesn't want to be the singer of the band, he's the keyboard player and predominant writer of the band. There's not an ego thing about one getting more of the limelight. We both have just a really common vision about what Sparks is and should be."
Their first narrative film project Annette stars Adam Driver and Marion Cotillard and tells the story of a couple—he's a comedian, she's a famous singer—whose lives are upended by the birth of their child Annette. "Not only have we finally gotten a film musical made that was initiated by us, but that in the end, it really is uncompromising as well," Ron says. "Leos [Carax], to his credit, shares a sensibility about not necessarily following the rules. We had a discussion very early on about the sensibility of movie musicals, and sincerity was really an important thing. Maybe that sounds strange,--some people don't link sincerity with Sparks necessarily, but it is the case that we really were not trying to distance ourselves from the emotions of the film. We couldn't be prouder."
Whether the two new films will change or heighten Sparks' profile is uncertain. According to Russell, "The early reaction we're getting from both films has been really positive. What's really satisfying is to get feedback from people that have had no knowledge of Sparks. They're going, 'Well, I love music, but how did I not know about this band?' And so they have to take this huge, deep dive into our repertoire. It's kind of surprising to them, going, 'Wow, it's really consistent, uncompromising and cool...I'm now a huge fan.' For us, that's kind of the best reward."
"We do hope that it opens up other areas that we can work on in a musical sense," Ron adds about the movies, "perhaps other film musicals or other projects. But we will continue, despite doing any of the extra things, to make Sparks albums."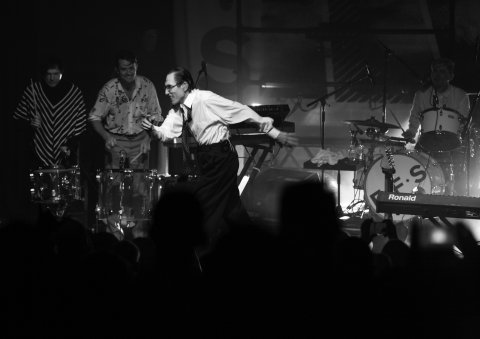 Sparks for Beginners
Sparks has produced 25 albums in five decades. Every Sparks fan is going to have their favorites. I tend to lean towards the Mael brothers' later productions because I have been on and off with them for years depending on their style at the time. (Pitchfork's' description of their music: "operatic art-rock, new wave, house music, classical, metal...") If you're new to the band, though, you can't go wrong with these.–Hank Gilman
Kimono My House (Polygram, 1974) Contains the band's biggest hit "This Town Ain't Big Enough for Both of Us." The songwriting, from "Amateur Hour" to "Here in Heaven," make it one of my desert island LPs. Still dominates their live shows because it's that good.
Lil' Beethoven (Palm, 2002) They kind of lost me with the Giorgio Moroder pop-synth stuff, but this brought me back into the fold with its piano-centrism, lyrical twists and general weirdness. "Suburban Homeboy " is a favorite. With characters like "Miss Missy Tannenbaum" from "the projects in St. Tropez," how can you go wrong?
Hello Young Lovers In the Red Recordings, 2006 My kids loved "Perfume," which Sparks performed on Gilmore Girls and "Metaphor." I loved "Dick Around," in which Sparks rock and roll. In a way. One of the coolest videos ever, too.
Hippopotamus (BMG, 2017) From beginning to end, one of the great Sparks albums. It actually charted in England. Great playing and songwriting from "Edith Piaf (Said it Better Than Me)" and "Missionary Position" to "Life with the Macbeths."
A Steady Drip, Drip, Drip (BMG, 2020) The latest and the continuation of a long winning streak. Both brothers are in their 70s now. I don't know how much longer they'll grind it out, but try and catch them in your town when they next tour the U.S. "All That" has got to wrap up the set.
Extras: Here are some other favorite tracks off various albums: "Sex Town U.S.A," "Never Turn Your Back on Mother Earth"(Greatest environmental protest song ever?), "Angst in My Pants," "The Number One Song in Heaven" (Thanks, Moroder, I guess.), "Good Morning," "Sherlock Holmes" and "Johnny Delusional" with Franz Ferdinand.