'Speak English. This Is Not Mexico,' County Commissioner Tells County Judge in Texas
A county commissioner from the Greater Houston metropolitan area went to a local TV station's website to tell a county judge she should speak "English," because "this is not Mexico."
Harris County Judge Lina Hidalgo, whose elected jurisdiction covers not only Houston, but some of its suburbs, held a press conference Monday to provide an update on the ITC Deer Park fires. While answering local Spanish media questions in Spanish during a Facebook live stream, nearby Chambers County Pct. 2 Commissioner Mark Tice went to the Houston CBS affiliate's website, KHOU.com, to say "She is a joke. English this is not Mexico," according to KHOU.
Local Houston media attempted reaching Tice at his home, but the best they could gather was this Facebook post by the commissioner, who claimed any statements by county officials like Hidalgo must have some type of interpretation into English.
The city of Houston has several officials who speak both English and Spanish, including Houston Police Chief Art Acevedo, who often addresses the nation's fourth-largest city in both languages.
Texas borders Mexico for more than 1,200 miles, and many along that border speak both English and Spanish.
Judge Hidalgo's office, after numerous local media requests, issued this statement on the matter:
"As the Head of Emergency Management, Judge Hidalgo is directly responsible for the safety of all 4.5 million residents of Harris County, a third of whom are Spanish speakers," said Kiran Khalid, who's Hidalgo's head of communications. "The vast majority of the public relies on local news for information in a time of crisis. Judge Hidalgo represents all of Harris County and given the county's composition and her bilingual skills, she will continue to communicate as broadly as possible especially when public safety is at stake."
Tice spoke to a Houston Chronicle reporter after the fact, stating his post had "nothing to do with race," but he seemed to keep his rhetoric throughout the article.
"It's real simple. This is the United States. Speak English," Tice said in the article. He went on to say, "This has nothing to do with race. If you come to this country, learn the language or get an interpreter."
Tice went on to say that if Hidalgo was going to speak in a different language, then she should speak "Arabic" to satisfy local Muslims. And as for calling the Harris County judge a "joke," he said, "It's nothing personal. It's nothing against her. She's probably a great lady. The bottom line is I don't think she's prepared to do the county's work."
Chambers County Judge Jimmy Sylvia said Tice's statement did not represent sentiments of the court.
"Commissioner Tice is an elected official, and he has been an asset to Commissioners Court thus far in his term," Sylvia said. "However, the statements he made are his and are not made on my behalf, or on behalf of the Court. I am currently in the process of reaching out to Judge Hidalgo and have left a message with her office.
The graphic below, provided by Statista, illustrates the percentage of Spanish speakers in the U.S. who report speaking English "less than very well."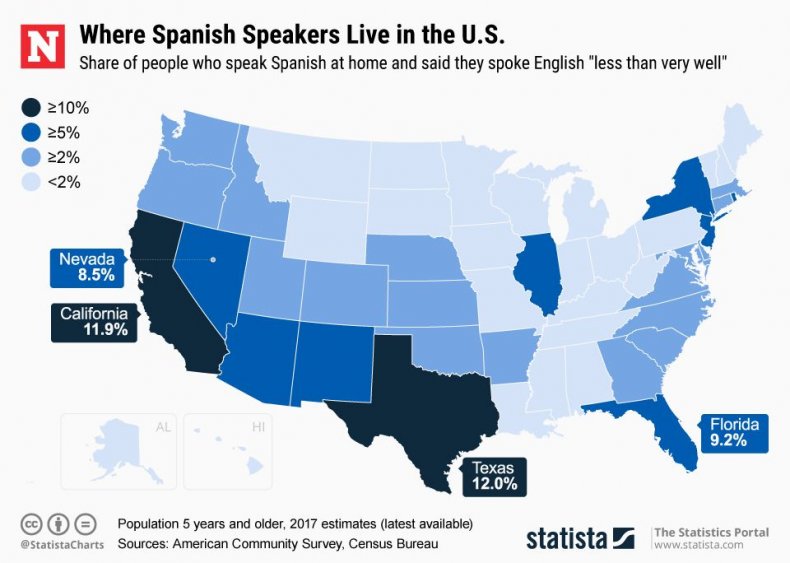 This article was updated to include an infographic.