'Speaker Pelosi' Trends As Followers Praise Her for Using Trump's 'Unhinged Meltdown' Image As Her Twitter Cover Photo
"Speaker Pelosi" began trending in America on Wednesday evening after President Donald Trump accused House Speaker Nancy Pelosi of having an "unhinged moment" by sharing a photo of her taken during their meeting earlier today. Shortly after the president's tweet, Pelosi made the image her Twitter cover photo.
"Nervous Nancy's unhinged meltdown!" Trump wrote on Twitter, alongside an image that appears to show Pelosi standing up to him during a meeting in the White House. "The Do Nothing Democrats, Pelosi and Schumer stormed out of the Cabinet Room!" the president added in another tweet.
After the meeting, Pelosi told reporters that Trump was "shaken up" over escalating GOP criticisms of his actions taken in Syria. "It comes at a very difficult time for him," she said outside the meeting.
Earlier today, the House overwhelmingly voted to pass a bipartisan vote on a resolution that opposes Trump's decision to withdraw U.S. troops from a location in northern Syria. "It's probably getting to the president because he was shaken up by it," Pelosi said. "And that is why we continued in the meeting, but he was just not relating to reality."
She added: "I pray for the president all the time. I pray for his safety and that of his family. Now we have to pray for his health—because this was a very serious meltdown."
Senate Democratic leader Chuck Schumer revealed that Trump called Pelosi a "third-rate politician" during the meeting. "He was insulting, particularly to the Speaker. She kept her cool completely, but he called her a third-rate politician," he told reporters. "This was not a dialogue, it was sort of a diatribe. A nasty diatribe, not focused on the facts." Pelosi later clarified that Trump had actually called her a "third-grade politician."
Soon after Trump's harsh criticisms and tweet, Pelosi made the image he shared of their meeting her Twitter cover photo in an apparent move to show pride in shutting the president down.
More than 100,000 Americans took to Twitter to comment on the events that unfolded during and after the meeting, with many praising Pelosi for schooling Trump while others expressed confusion as to why Trump would share a photo of the House Speaker standing up to him in the first place. As of Wednesday evening, "Speaker Pelosi" rose to the second most-trending topic on the social media platform in the United States.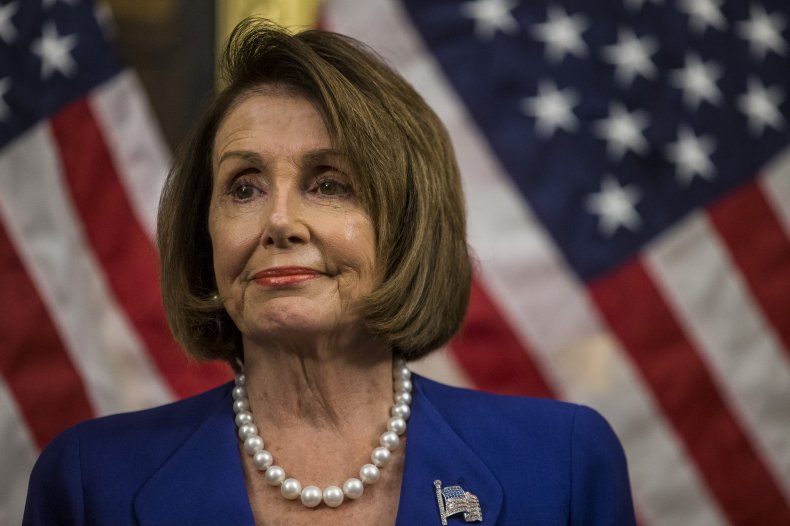 "President Trump can always be understood in reverse. So if he's accusing Speaker Pelosi of suffering a meltdown, that's confirmation of his own meltdown," New York Times columnist Nicholas Kristof tweeted.
"Imagine Trump tweeting this out and thinking it makes Speaker Pelosi look bad," Human Rights Campaign's Charlotte Clymer tweeted.
"Speaker Pelosi: 100000. Donald Trump: 0," Twitter user @RachelRGonzalez wrote, alongside screenshots of the president's tweet and Pelosi's new Twitter cover photo.
"Actually, it looks more like Speaker Pelosi is scolding an immature little brat whose emotional development arrested at age 13 when his father sent him to military style reform school for being a lying little punk. Iconic," American surgeon Eugene Gu, one of the president's most vocal Twitter critics, tweeted.
"I LOVE that Speaker Pelosi made this her cover photo! Send the dog home with his tail between his legs," Twitter user @Rainee1 wrote, alongside a screenshot of Pelosi's Twitter page.
"How Trump thinks this photo makes him look good—and Speaker Pelosi look bad—I will never understand," Twitter user @rsg wrote. "She looks confident & resolute. The sole woman at the table, literally standing up to the most corrupt President of our lifetime—perhaps ever."
"Happy #NationalBossDay Speaker Pelosi!," Twitter user @TVandSheetMasks wrote, alongside a GIF of Pelosi holding a gavel.
"A guy who claims to be a genius in branding just gave us an iconic official White House picture of Speaker Pelosi standing up to him," Democratic strategist Adam Parkhomenko tweeted. "For the first time in far too long a time, thank you, Mr. President."
"Trump got that.... 'you're gonna eat that broccoli or no dessert' treatment from Speaker Pelosi! #trumppresser Go Nancy," Twitter user @ImKnotTheOne wrote.
"Game. Set. Match. Speaker Pelosi!!! @SpeakerPelosi #TrumpMeltdown," Twitter user @frankelrichard1 wrote, alongside a screenshot of Pelosi's Twitter page.
Correction (10/17/2019): The headline has been changed to more accurately reflect the story.