Speaker Ryan Is at Risk, Whoever Wins the White House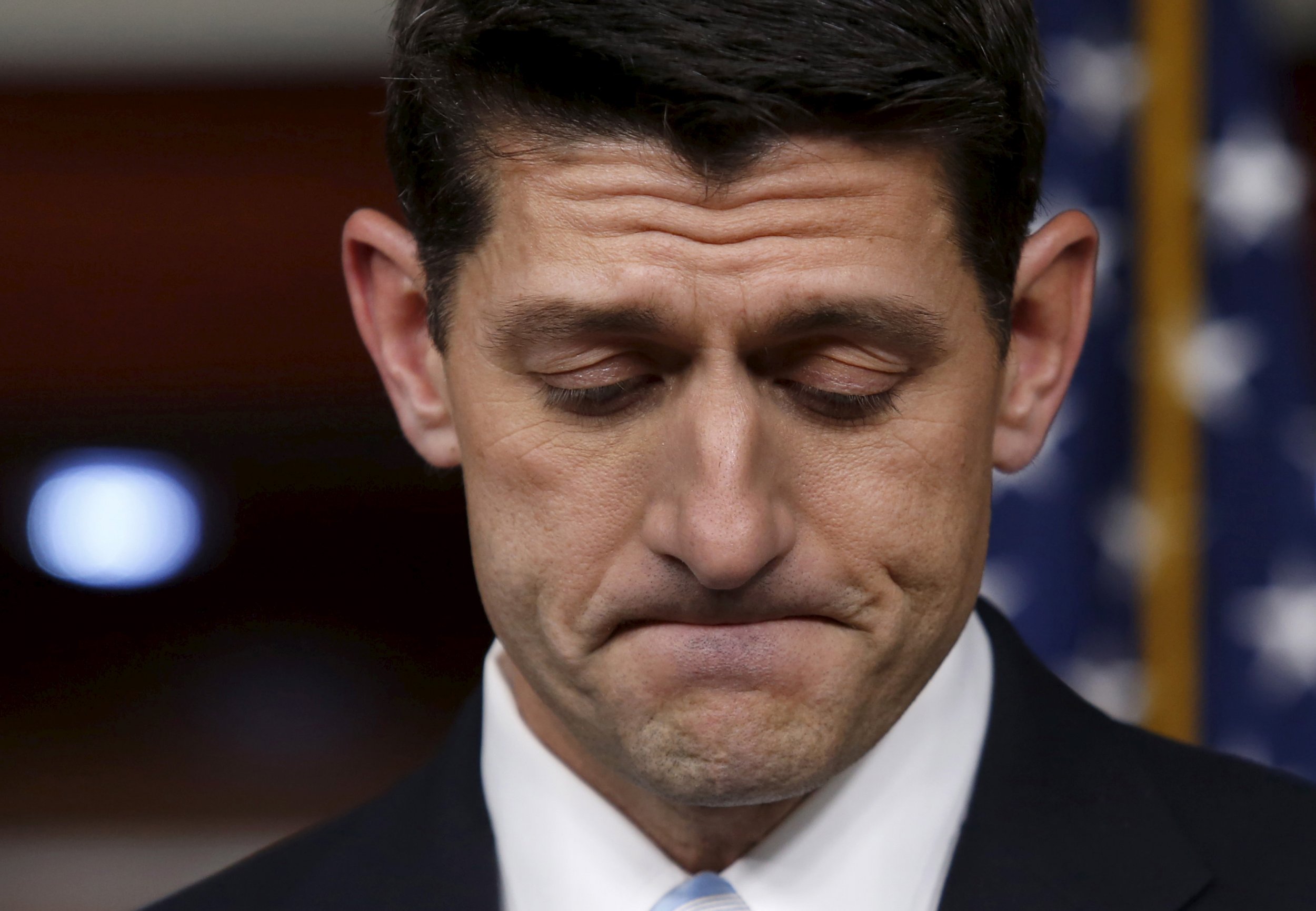 This article first appeared on The Daily Signal.
Paul Ryan says he's running for House speaker again, but the Wisconsin Republican's air of confidence belies divisions within the GOP and a deep-seated disdain for the party establishment from conservatives.
"I am going to seek staying on as speaker," Ryan told Wisconsin talk-radio host Jerry Bader in an effort to quell speculation Friday. "There's a lot of unfinished work to do, and I think I can do a lot to help our cause and our country."
Returning to the job he's held since October 2015 won't be easy. The results of Tuesday's election—regardless of who wins the presidency—are likely to bring calls for new leadership on Capitol Hill. Plus, with several House Republicans in danger of losing their seats, Ryan will face a more conservative caucus, potentially with fewer allies in his own party.
Conservatives, however, aren't the only lawmakers creating headaches for the 46-year-old speaker from Janesville, Wisconsin.
Last weekend, the latest challenge came not from the conservative House Freedom Caucus but instead a centrist Republican from Ohio. Politico reported Saturday that Representative Jim Renacci is circulating a letter seeking to delay GOP leadership elections. The vote is set to take place November 15, just one week after Election Day. It is a precursor to the official vote for House speaker in January.
"There are fractures in the conference which truly need to be discussed, vetted and healed," states the Renacci letter, which was obtained by Politico. "Asking members to vote for a leadership team within 24 hours of their return to Washington without time to reflect on ways of coming together as a conference is truly ill advised. That in itself ignores the reality that the conference is divided.… There is no reason to hastily hold elections."
In a subsequent interview with Politico, Renacci also declined to endorse Ryan for speaker.
"At this stage of the game, I don't know who all is running," Renacci told Politico. "I'm very supportive of Paul, but when it comes to elections I want to see who's in before committing [to] who I'm supporting."
Renacci isn't the first lawmaker to complain about the hurried nature of the leadership vote. In September, the Freedom Caucus mulled pushing for a delay as well. Conservatives wanted to evaluate Ryan's handling of the lame-duck session of Congress before committing to support him.
There's also another factor at play: Republican supporters of Donald Trump are unhappy with Ryan's treatment of the GOP presidential candidate, and according to Politico, "they'll lay the blame at Ryan's feet if the GOP nominee loses narrowly."
One such lawmaker, conservative Representative Jim Bridenstine of Oklahoma, announced last month he wouldn't support Ryan as speaker.
Another conservative, Representative Thomas Massie of Kentucky, cited a different reason for his opposition to Ryan.
"It would be very difficult for him to get my vote based on what I assume his motives are, which are to run for president in 2020," Massie told The Huffington Post last week.
Massie, who voted against Ryan for speaker in 2015, also outlined a series of conditions he would use to judge the next speaker. In a statement to The Huffington Post, he wrote:
The next speaker shouldn't send the House on vacation for five weeks in August unless the appropriations bills are done. The next speaker needs to make good on the broken promise to give members and the American public time to read the bills.

The next speaker should immediately put a stop to the institutionalized extortion that requires members to pay for their committee assignments with lobbyists' money.

Finally, the next speaker needs to allow a debate on whether or not to authorize the military conflicts the president has unilaterally engaged us in around the globe.
Under his leadership, Ryan failed to complete the annual appropriations process, prompting the need for a lame-duck session of Congress next month to fund the government. Conservatives opposed the post-election session because some members who are retiring or lost their elections will no longer be accountable to constituents, yet voting to spend billions in taxpayer money.
While Ryan put significant effort into the "A Better Way" agenda, there were few legislative accomplishments for conservatives to cheer about this year. One of the few cited by Ryan's office—the fiscal relief package for Puerto Rico—was unpopular among conservatives.
"The American people are calling for action, not just ideas," Representative Jim Jordan, chairman of the Freedom Caucus, told The Daily Signal last month.
"The American people already understand the difference between what the parties stand for," Jordan added. "What they want to see from Republicans is a willingness to stand firm and get something done."
Ryan has pointed to 2017 as an opportunity to enact his agenda. In the radio interview with Bader, he said, "I've led us to offer a very comprehensive agenda to take to the country, and I want to execute and implement that agenda."
Executing and implementing that agenda could help win over some of Ryan's critics. But for conservatives like Representative Dave Brat of Virginia, Ryan needs to do more. That includes opposition to a trade deal negotiated by the Obama administration and a firm stance against amnesty for illegal immigrants.
"If he commits to regular order—in writing—and no Trans-Pacific Partnership until we reduce regulations and no amnesty bills and a commitment to reduce federal spending, then I will vote for any candidate who backs these conservative positions that 80 percent of Republicans share," Brat told CNN.
"Each of these issues should just be reflexive for any Republican," Brat added. "They should not take more than five seconds to say 'yes.'"
Like Massie, Brat voted against Ryan for speaker in 2015. They were two of the nine Republicans who cast a ballot for Representative Daniel Webster of Florida. The others were Representatives Curt Clawson of Florida; Louie Gohmert of Texas; Paul Gosar of Arizona; Walter Jones of North Carolina; Bill Posey of Florida; Randy Weber of Texas; and Ted Yoho of Florida.
Many members aren't saying publicly if they'll support Ryan until after Election Day.
"I'm not commenting on leadership elections until after November 8," Representative Mark Meadows of North Carolina, told CNN. Meadows is a candidate to succeed Jordan as chairman of the Freedom Caucus if he decides to step down.
Jordan, meanwhile, was pressed by CNBC's John Harwood last week on Ryan's future, but he wouldn't commit either way.
"There's time to deal with who's in leadership, who may not be in leadership, how leadership is done, what the rules are, what we're going to focus on in the lame duck," Jordan said on CNBC.
Jordan's group of 40 Freedom Caucus members hold the most sway over the speaker election in January. Members of the conservative caucus huddled at Meadows's Washington, D.C., apartment last week to plot their strategy.
Following the meeting, Politico reported that Freedom Caucus members might support Ryan if one of their own secured a seat at the leadership table. At least a couple lower-tier leadership roles could be available—vice chairman of the conference and secretary of the conference—if incumbents decided not to seek re-election to those roles.
But one Freedom Caucus member, Representative Justin Amash of Michigan, suggested such a deal with GOP leadership wasn't in the cards.
The uncertainty, at least for now, puts Ryan in a precarious position. Last year, he initially rebuffed the speakership before eventually emerging as John Boehner's replacement. Since getting the job, he's made defending the Republican majority a top priority. The GOP's 2012 vice presidential nominee is using his national profile to raise money and campaign for incumbents. That includes members of the Freedom Caucus.
Ryan recently visited the districts of two vulnerable Freedom Caucus members: Representatives Rod Blum of Iowa and Scott Garrett of New Jersey. They've returned the favor by supporting Ryan.
He's also donated to the campaigns of more than a quarter of Freedom Caucus members, according to The Daily Caller News Foundation. They include Representatives Mick Mulvaney of South Carolina; Alex Mooney of West Virginia; Mark Sanford of South Carolina; Barry Loudermilk of Georgia; and Warren Davidson of Ohio.
Ryan will need as many of those conservative members in his corner given the probability that some of the 246 House Republicans won't be back in January.
Even if he wins the initial backing of his GOP colleagues on November 15, there's still the possibility that Ryan won't have the votes in January when the full House votes for speaker. To be elected speaker, Ryan needs 218 votes. Because no Democrats will support a Republican speaker, Ryan must limit the number of defections within the GOP to remain in the job.
"The final exam for Paul Ryan will be in January 2017, when there is a speaker election," Representative Raul Labrador of Idaho told The New Yorker last year, "and we will look at his body of work and determine whether he gets a passing grade or not."
Ryan won 236 votes last year. With a smaller GOP majority likely in January, it will be in the hands of House conservatives to ultimately decide if Ryan deserves to remain in the job.
Rob Bluey is editor in chief of The Daily Signal.
Speaker Ryan Is at Risk, Whoever Wins the White House | Opinion