Speaking Can Transmit Coronavirus Due to Tiny Droplets of Saliva, NIH Study Suggests
Early results of a study from the National Institutes of Health (NIH) suggest that coronavirus can be transmitted through the air from tiny saliva droplets that are expelled when people speak.
Although the research is yet to be published or peer reviewed, the preliminary findings could have major implications in developing strategies for halting the spread of the COVID-19 pandemic, according to a Monday letter from the study's authors.
"Further studies are needed to assess the viral titer [concentrations] present in speech-induced droplets in asymptomatic COVID-19 positive persons, but our results suggest that speaking can indeed be a major mode of SARS-CoV-2 transmission," wrote the researchers.
The study used laser imaging to detect thousands of droplets ejected when a person said the words "stay healthy." Researchers said that although droplets produced during speech are tiny, they can transmit a broad range of respiratory diseases. Speech is also said to produce more droplets than coughing, which may be a more obvious mode of transmission.
"Droplets emitted while speaking are much smaller than those emitted when coughing or sneezing," the researchers wrote. "Nonetheless they are sufficiently large to carry a variety of respiratory pathogens, including the measles virus, influenza virus, and Mycobacterium tuberculosis. Moreover, multiple studies have shown that speaking actually produces significantly more droplets than coughing."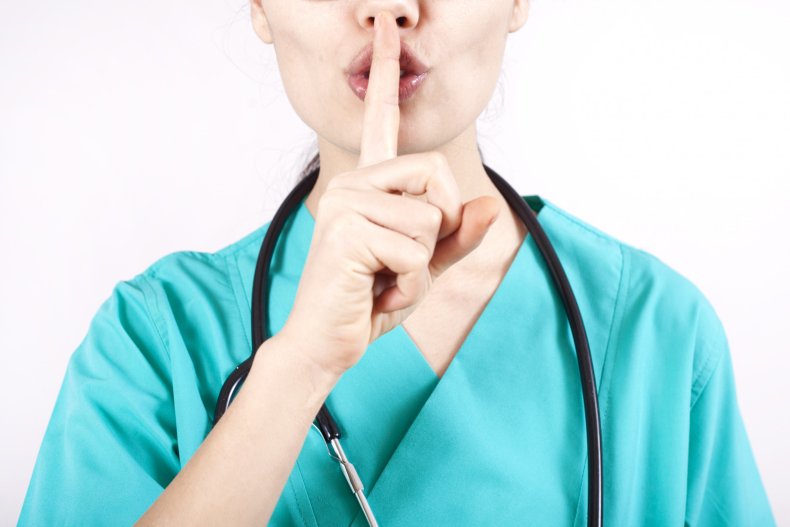 The research also found that wearing a cloth mask while talking reduced droplets produced to background levels. If the findings of the study are confirmed, researchers suggested wearing a face covering could help reduce the spread of COVID-19, especially when combined with other widely recommended public health measures.
"If speaking and oral fluid viral load proves to be a major mechanism of SARS-CoV-2 transmission, wearing any kind of cloth mouth cover in public by every person, as well as strict adherence to social distancing and handwashing, could significantly decrease the transmission rate and thereby contain the pandemic until a vaccine becomes available," they wrote.
The advice mirrors updated guidelines by the Centers for Disease Control and Prevention (CDC), which began recommending the public wear cloth face coverings on Friday. The World Health Organization reviewed guidelines but still had not recommended masks or face coverings for healthy individuals as of Tuesday.
The CDC's decision was based partly on recent research that has indicated a significant portion, perhaps the majority, of COVID-19 cases are acquired from people without any symptoms of the illness.
Other research has suggested that the virus can remain suspended in the air for hours, making it possible in theory for a person to acquire the virus by breathing in an area that an infected person passed through, although this is not believed to be a major mode of transmission.
Newsweek reached out to NIH for comment but did not receive a response in time for publication.
Centers for Disease Control and Prevention Advice on Using Face Coverings to Slow Spread of COVID-19
CDC recommends wearing a cloth face covering in public where social distancing measures are difficult to maintain.
A simple cloth face covering can help slow the spread of the virus by those infected and by those who do not exhibit symptoms.
Cloth face coverings can be fashioned from household items. Guides are offered by the CDC.
Cloth face coverings should be washed regularly. A washing machine will suffice.
Practice safe removal of face coverings by not touching eyes, nose, and mouth, and wash hands immediately after removing the covering.
World Health Organization advice for avoiding spread of coronavirus disease (COVID-19)
Hygiene advice
Clean hands frequently with soap and water, or alcohol-based hand rub.
Wash hands after coughing or sneezing; when caring for the sick; before, during and after food preparation; before eating; after using the toilet; when hands are visibly dirty; and after handling animals or waste.
Maintain at least 1 meter (3 feet) distance from anyone who is coughing or sneezing.
Avoid touching your hands, nose and mouth. Do not spit in public.
Cover your mouth and nose with a tissue or bent elbow when coughing or sneezing. Discard the tissue immediately and clean your hands.
Medical advice
Avoid close contact with others if you have any symptoms.
Stay at home if you feel unwell, even with mild symptoms such as headache and runny nose, to avoid potential spread of the disease to medical facilities and other people.
If you develop serious symptoms (fever, cough, difficulty breathing) seek medical care early and contact local health authorities in advance.
Note any recent contact with others and travel details to provide to authorities who can trace and prevent spread of the disease.
Stay up to date on COVID-19 developments issued by health authorities and follow their guidance.
Mask and glove usage
Healthy individuals only need to wear a mask if taking care of a sick person.
Wear a mask if you are coughing or sneezing.
Masks are effective when used in combination with frequent hand cleaning.
Do not touch the mask while wearing it. Clean hands if you touch the mask.
Learn how to properly put on, remove and dispose of masks. Clean hands after disposing of the mask.
Do not reuse single-use masks.
Regularly washing bare hands is more effective against catching COVID-19 than wearing rubber gloves.
The COVID-19 virus can still be picked up on rubber gloves and transmitted by touching your face.