Children With Disabilities 'Utterly Abandoned', Say Charities
Children with special educational needs and disabilities (SEND) have been forgotten and need more support following the nationwide COVID-19 lockdown, according to parents and charities.
One parent said she was left on the point of burnout and had found the lockdown "traumatic" as her three-year-old daughter, who has complex needs requiring round-the-clock care, had support suddenly "fall off a cliff edge" as lockdown measures were imposed.
Charities told MPs on the Education Select Committee that parents of children with SEND felt "utterly abandoned" due to the lack of support available, with some schools in England using COVID-19 risk assessments to prevent pupils from attending classes.
Dee, whose three-year-old daughter has Rett syndrome, a rare genetic neurodevelopmental condition that means she can't walk, talk, use her hands or do anything without help, told Newsweek that she felt that issues affecting children like hers aren't given the importance that they should be by society.
Dee says that the experience of her and her partner having to provide support for her daughter, who requires 24-hour care, has been relentless without any let-up and has left them worn out.
She said: "It's really challenging having a child who needs 24/7 care and you get on with it because it's your child and its unconditional love and of course you do, but you have the respite in the form of when she goes to nursery.
"It gives you a sense of normality that you can keep, and you've got a really tight support team wrapped around you: an occupational therapist, speech therapist, physiotherapist, she would have a physio at nursery, she would have one-to-one three days a week at nursery, all of that suddenly stopped."
Before the lockdown, Tilly would be given 30 hours of education at a nursery, where she would also receive one-to-one support, funded by the local council, giving her parents crucial respite while also allowing the more time with her five-year-old sister.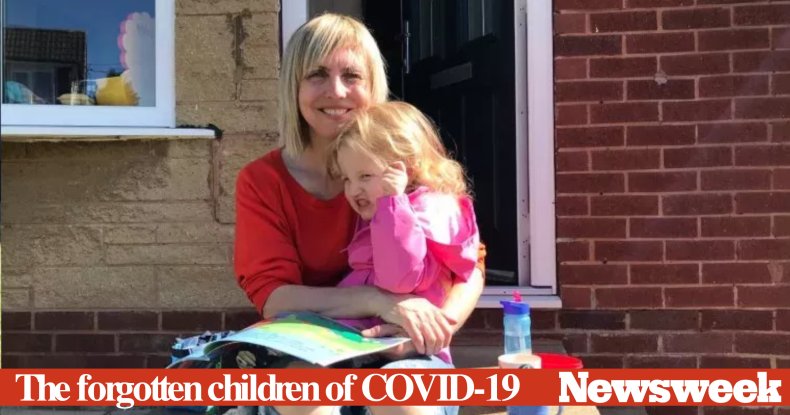 Dee describes an entire system of interventions involving several therapists and a physio that was so crucial to her daughter's care and development, which were suddenly stopped, leaving her and her partner on their own.
According to the latest figures from the Department for Work and Pensions, there are around 1.1 million children in the U.K. with a disability.
"There's no evidence to suggest that Tilly isn't intellectually completely aware like any other child her age," Dee said.
"She shows that because she uses an eye gaze device (a way of accessing a computer or communication aid using a mouse that can be controlled with your eyes) and she can communicate well on that, but she's locked into a body that doesn't work.
"She can't talk, she can't walk, can't use her hands she has to have all her food blended, she'll eventually need a feeding tube.
"The cruel thing with Rett syndrome is as children get older it gets more complicated.
"Tilly could develop seizures, she could develop breathing problems, epilepsy, she could die all of a sudden, her heart rhythm could be interrupted suddenly, she could die really young or she could live till middle age, no one knows. You don't know the path she is going to walk.
"The only thing we know, it will get worse."
According to research conducted by the University of York, in England, there are nearly 87,000 children and young people with life-limiting or life-threatening conditions.
Dee says she gets up at 5am to begin her day, otherwise she is left with no time to do anything for herself.
She has noticed this and the lockdown have an impact on Tilly.
"She gets bored and frustrated because she doesn't have that interaction with anyone other than her family and not having any interaction with her peers," she said.
Dee has just been able to take Tilly back to nursery for a couple of hours as part of a "settling-in day" to get young people back into familiar environments.
"She just sort of came alive because she's around other people, the pediatrician said she needs to be around other people," Dee said.
Yet even as lockdown measures are eased, Dee is among many parents who want to know what support is available for her daughter.
"Why isn't anyone having the conversation around what the plan looks like going forward?," she said.
"How are we getting children out of lockdown, including those who are still shielded? And how are we supporting them going forward? I see the big debate around care homes and that was awful, and schools and getting children back into education and the detrimental effect on them.
"What about those children that have no voice at all? They literally can't speak and their parents are too exhausted and worn down to say anything, what about those children? Who is speaking up for them?"
Dee also says that Tilly never received a shielding letter from the government but she took precautions nonetheless, isolating the family.
Tilly's illness has also taken a toll on her five-year-old sister who doesn't understand why she requires so much care.
Dee said: "She doesn't understand why her sister has got all this equipment and needs so much care, she asks, 'Mummy can I have a sister that doesn't have Retts syndrome please?'. 'Why can't I have a sister that plays with me?'.
"I mean, how do you answer that as a parent? I have no idea."
Dee says that if someone had just told her when the support was being stopped before the nation went into lockdown, or even just contacted her, it would've made a significant difference.
"If someone had just picked up the phone and said 'Dee all of this has been pulled in the middle of a pandemic, she can't go to nursery, we've got to keep everyone safe, is there anything we can do, will it be worth us ringing you once a week to check-in and see how you are?' then [it would have been better]."
"Because you're in no man's land, you're having to fend for yourself."
Charity coalition The Disabled Children's Partnership (DCP) said many parents had been left abandoned.
A DCP campaign manager said: "Lockdown has been difficult for many families, but particularly so for families with disabled children. Many have seen the services on which they rely stopped and they have been left abandoned and isolated to cope on their own.
"As we move out of lockdown, it is vital that the right support is put in place. The health and social care system for disabled children was already in crisis. It will be even more stretched in future. The government needs to start planning now for enhancing funding for disabled children's health and social care so that they are not left even further behind their peers."
The Department for Education said it had set aside £1 billion for a COVID catch-up fund for children, which would also include those with SEND.
A spokesperson said: "We have prioritized the safety and wellbeing of vulnerable children, including those with special educational needs and disabilities (SEND), throughout this pandemic. We have worked with the sector to provide guidance on how to assess whether individual children with education, health and care plans should attend school.
"We have asked local authorities, educational settings and parents to work together to make sure that children who remain at home are supported properly at this time.
"We have published high-quality online learning resources to help them continue learning, as have Oak National Academy and the BBC. At the same time, we have also launched £1 billion COVID catch-up fund to directly tackle the impact of lost teaching time as a result of the pandemic, including those with SEND."