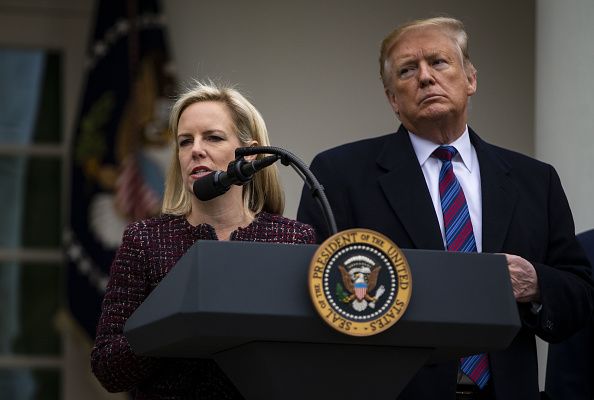 As Donald Trump continues to fight for his long-promised border wall amid a partial government shutdown, top officials in his administration have bolstered the president's campaign by claiming that many terrorists and "special interest aliens" have been stopped at the southern border.
But the claim is misleading, as officials are overgeneralizing the ties between terrorists and special interest aliens.
Last week, Department of Homeland Security Secretary Kirstjen Nielsen said in a news conference at the White House that Customs and Border Protection had already stopped more than 3,000 special interest aliens.
"Those are aliens who the intel community has identified are of concern," Nielsen said. "They either have travel patterns that are identified as terrorist travel patterns, or they have known or suspected ties to terrorism. So we have 3,000 that we know about."
Vice President Mike Pence made a similar remark during an appearance on ABC's Good Morning America on Tuesday, claiming that "3,000 special interest individuals, people with suspicious backgrounds that may suggest terrorist connections were apprehended at our southern border."
But special interest aliens are not necessarily terrorist themselves, they just come from countries that are regarded as potential sources of terrorism.
"In recent days, the terms 'Special Interest Aliens' (SIAs) and 'Known and Suspected Terrorists' (KSTs) have become more frequently used as part of discussions about the federal budget and border security," the Department of Homeland Security wrote in a press release on Monday.
"These terms are not synonymous nor interchangeable, but are two separate terms that are commonly used in the national security community to describe different types of potential threats," the agency clarified.
A special interest alien is a person whose travel patterns to the United States are known to have a possible connection to terrorism. According to Homeland Security, the term "does not indicate any specific derogatory information about the individual."
Homeland Security data indicates that 3,755 known or suspected terrorists were prevented from entering the U.S. in 2017. That same year, the agency also encountered more than 3,000 special interest aliens at the U.S.-Mexico border.
In the press release, the agency said that these "figures are not the same and should not be conflated."
According to the libertarian CATO Institute, since 1975 just seven special interest aliens who entered the U.S. illegally have been convicted of planning a terrorist attack, though none of them ever successfully carried out the attacks and none of them crossed the border from Mexico.
The administration's increased rhetoric on immigration policy comes as the partial government shutdown enters its third week. President Trump has so far refused to sign a spending bill that does not include his requested $5 billion to fund the border wall.
Trump will deliver a prime time address on border security and immigration on Tuesday at 9 p.m. ET.
But top Democrats have demanded equal air time for their own speech directly following Trump's national address.
"Now that the television networks have decided to air the President's address, which if his past statements are any indication will be full of malice and misinformation, Democrats must immediately be given equal airtime," House Speaker Nancy Pelosi and Senate Minority Leader Chuck Schumer said in a joint statement on Monday.