Special Team Called in to Help 12-Year-Old Endangered Orangutan Through Birth Process
An endangered orangutan was given critical help through the birthing process at a Louisiana zoo.
Twelve-year-old Sumatran orangutan Menari gave birth to a healthy baby boy on Christmas Eve at New Orleans' Audubon Zoo. However, she later experienced complications. When outside medical professionals were called in to examine Menari, they found that she had a stillborn twin fetus still inside of her in a bad position. The team, which consisted of professionals that usually perform on humans, was able to remove the fetus without having to conduct a Cesarean section on Menari.
"This is a bittersweet time for our team, but, given the very serious complications with the second infant, we are extremely happy that Menari and the surviving infant are together and doing well," said Bob MacLean, the zoo's senior veterinarian, who thanked the special team of OBGYN specialists for "guidance and expertise" that will allow Menari and her surviving son to recover.
The Audubon Zoo currently houses several Sumatran orangutans, including Menari's mother, Feliz, and her child's sire, Jambi. The zoo said that seeing fellow orangutans give birth in recent months helped prepare Menari for her own motherhood. Further, they see the birth as an important step toward moving the species off of the critically endangered list.
"We are grateful for the opportunity to contribute to the conservation of this critically endangered species, and I am incredibly proud of our dedicated veterinarians and animal care team," said Ron Forman, the president and CEO of the Audubon Nature Institute. "The orangutan group at the zoo serves as ambassadors for their species, teaching guests about the plight of Sumatran orangutans in the wild due to human-wildlife conflict."
Menari and her child are under the close care of the zoo's veterinarians and primate care specialists.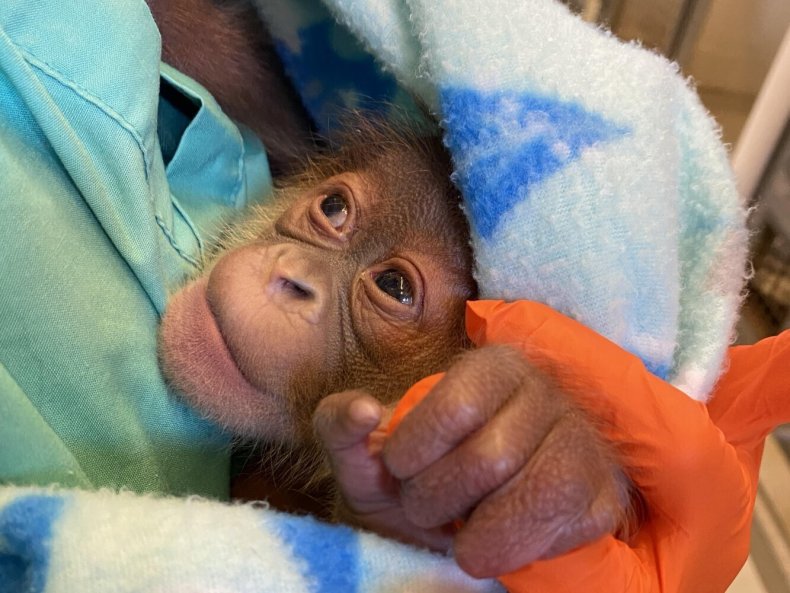 The great apes named for their long red hair are considered critically endangered by the International Union for Conservation of Nature. Threats include hunting and the destruction of the forests and peat swamps where they spend nearly all their time up in trees.
Fewer than 14,000 live in the wild and their numbers are declining as palm oil plantations spread into their forest habitat, according to the Audubon Nature Institute, which runs the zoo.
When Menari's pregnancy was announced in October, the zoo said there was about a 1 percent chance of orangutan twins. Twin births are inherently high risk.
The Associated Press contributed to this report.